View our current opportunities here.
Every day, ASSA ABLOY helps billions of people move through a safer, more open world with ease. If you've ever walked through an automatic door, stayed in a hotel, or gone through passport control, you've probably used one of our products or services.
We are committed to a diverse workforce and ensuring equal opportunities for all. Our values of Empowerment, Innovation & Integrity are core to everything we do and underpins our commitment to our people from providing best-in-class employee benefits from flexible/hybrid working, to maternity, to health & lifestyle programmes and a lot more. All this comes with a proven record of people development realised via internal promotion throughout the organisation across a vast range of opportunities.
What we offer: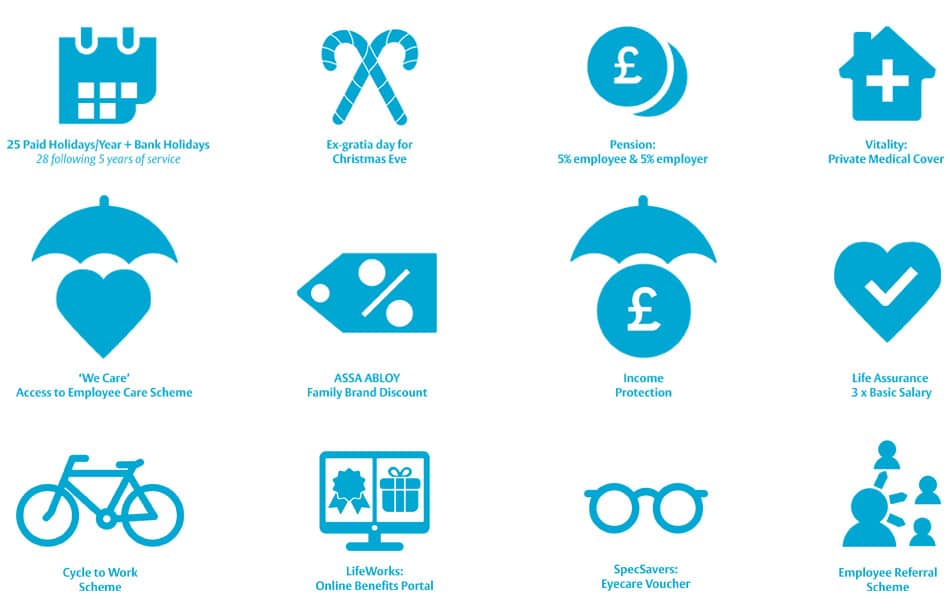 What we're about:
ASSA ABLOY is global organisation, founded in Sweden in the late 90s and currently has operations in over 70 countries worldwide supported by over 52,000 employees. The group is comprised of three division; Opening Solutions (door locking devices), Entrance Systems (door systems, roller shutters), and Global Technologies (safety & security systems). Global Solutions is a sub-division of Global Technologies and ensures safety and security for the staff & guests across a number of industries from hospitality to education, from data centres to theme parks via a range of solutions to keep people & assets safe & secure.
ASSA ABLOY Global Solutions UK consists of 3 business areas:

Traka is the global leader in intelligent management solutions for keys and equipment. Our solutions help all types of organizations better control their important assets (for example; keys to all the test drive cars in a car dealership, tablets for retail personnel to do stock-checks, etc.) , improving productivity and accountability, and reducing risk in critical processes.
We all know how frustrating it is when we lose our own keys or phone; imagine that in a multimillion business… that's the problem Traka fixes!

Offer an extensive range of advanced security access solutions designed to cater to the precise needs of any hotel property. Available solutions include VingCard door locks, Mobile Access, Elsafe safes, access management software as well as location-based staff safety and hotel asset management technology. With hotel technology needs continuously evolving, company solutions are designed to keep pace with the latest trends. This includes Mobile Access-ready VingCard locks and cloud-based access management platforms that receive automatic software updates.

Technology-enabled solutions that optimise safety, efficiency and compliance on construction sites and ensure only authorised people are granted access. Biometric access control and workforce management technology, alongside solutions to support fire safety, security and delivery management on construction sites.