The vibrant centrepiece of the global Women In Tech Event Series is returning on 16th – 20th November 2020. Join this week-long online festival to celebrate the power of resilience amongst female tech professionals as we shine a light on the transformative tech engineered by women of all diverse backgrounds across the world.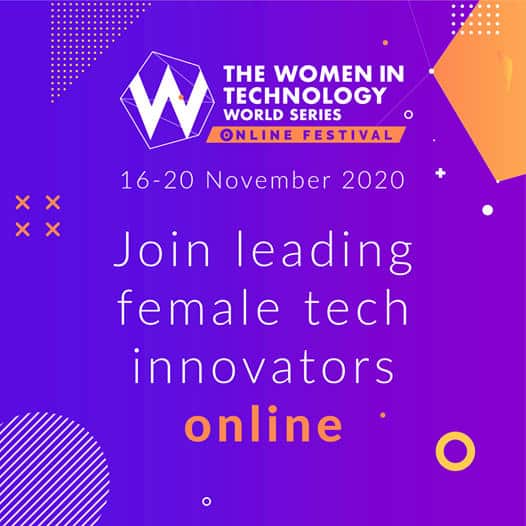 Confirmed speakers currently include: 
Tina Tchen – President & CEO @ TIME'S UP & Former Chief of Staff to the First Lady Michelle Obama

Rahma Javed – Director of Engineering @ Deliveroo

Jayne Opperman – Chief Operating Officer @ Barclays UK

Sheree Atcheson – Global Director of Diversity, Equity and Inclusion @ Peakon

Nicola Gleeson – Global Lead of Engineer Experience @ JPMorgan Chase & Co

Ben Churchill – Senior Manager Corporate Responsibility @ KPMG

Karina Govindji – Director of Diversity, EMEA @ Google

Eliza McNair – Software Engineer @ The Walt Disney Company

Li Qun Taylor – Co-Head of Digital Channels @ Natwest Group

Cait O'Riordan – Chief Product and Information Officer @ Financial Times

Jane Mustoe – CIO @ Tesco
…. and many more!
We will provide all the content and networking opportunities needed to boost your skills and
supercharge your career, whilst addressing how to close the gender gap.
See full speaker list.