We interviewed Kathryn Yardley, Engineering Manager at Frazer-Nash Consultancy on her thoughts and experience on women in tech.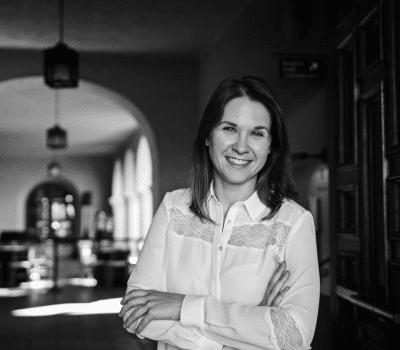 What does your job role involve?
I'm an Engineering Manager for a department of around 60 people within Frazer-Nash called Systems Integration. We help our customers in the design and build of some the UK's most complex systems through our knowledge and experience of systems engineering. I lead the development and implementation of a five-year strategy for Systems Integration, which is going to take us from where we are today to a future where we are delivering bigger, even more impactful projects.
In addition to driving strategy for the department, my day-to-day responsibility is to make sure everyone feels supported in their work and are given the tools they need to succeed. This can involve a wide range of activities from pastoral care, to engaging with the market and winning new work for the team to deliver.
What made you choose a career in technology?
From a young age I always had an interest in maths and science. I was fortunate to have very supportive parents and teachers which helped foster this interest in STEM subjects. These are the subjects I focussed on as I progressed through my education, which naturally led me to an engineering career. I was drawn to the logical thinking, analytical skills, and problem-solving opportunities they offered.
Did you study an IT or technology related subject at GCSE, A-Level or University?
I studied General Engineering at Oxford University which was a really fantastic experience. It was great to be immersed in an environment with really diverse, talented people with a passion for engineering and technology, which pushed me to be the best that I can be.
Did you get any work experience in IT or technology before this role?
Between my third and fourth year at university I applied for a summer placement with my current company, Frazer-Nash Consultancy. I enjoyed the experience so much I joined Frazer-Nash straight after graduating and I haven't left! Frazer-Nash has been instrumental in my personal and professional growth and provided me with the platform to transition from a summer intern to where I am today in my career.
Do you think there is a lack of females in the IT and tech sector?
I do believe that there is a lack of females in the tech sector. Despite progress being made in recent years, the industry still remains predominantly male-dominated. It's really important that we keep a focus on addressing this issue and actively work towards creating a more inclusive and diverse environment and workforce.
Do you find there is a stereotype that a career in IT or technology is just for men?
Throughout my career, I have had the privilege of working alongside incredibly talented individuals, both men and women, in the industry. They have not only shared valuable knowledge with me but have also judged me based on my skills and abilities, rather than my gender. While stereotypes may exist more broadly in the industry, I have been fortunate enough to be surrounded by colleagues who recognise and appreciate the contributions I make based on my capabilities.
What would entice women to study technology related courses?
There are multiple approaches to consider when it comes to women entering the technology profession because women are not a single, homogeneous group, and each woman has her unique path towards it. One effective strategy to attract women to technology is by providing them with increased exposure to technology options from a young age and consistently reinforcing the idea that technology is a viable career choice. It's important to recognise that various barriers can prevent people from pursuing their interests, and it is our responsibility as a profession to remove those obstacles and create equal opportunities for everyone.
Are there barriers when it comes to women getting into tech?
One of the main challenges I have observed is the perception of the tech industry being a male dominated industry. When women who lack direct experience in the field are making career decisions, they often rely on the industry's reputation and perception. Even if those perceptions are no longer accurate, they can still influence their choices. While significant progress has been made in diversifying tech hiring, there is still work to be done in challenging and changing outdated perceptions. We need to continue to promote diversity and inclusion in the tech industry, creating an environment that attracts and supports talent from all backgrounds.
How could we encourage more women to start a career in tech?
There is no single solution or instant remedy for the challenge we face. Regardless of the approach we adopt, consistency is key, and we must commit to it for the long haul. The development of talent often takes a significant amount of time so it's crucial that we provide support to women at every stage of their journey, ensuring they have the necessary resources, mentorship, and opportunities to grow and excel.
What advice would you give to young women at the start of their career?
As young women starting in their career, I would say believe in yourself – you will be your own biggest critic. So set ambitious goals, embrace challenges, and learn from failure. There is a network of strong women behind you to provide support every step of the way. Just reach out!