We interviewed Anna Maltzoff, Head of Early Careers at Vantage Point on her experience and thoughts on women in tech.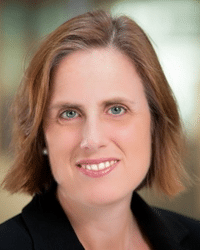 What does your job role involve?
There are a number of different aspects to my role at Vantage Point, but the most important elements are helping our (tech and non-tech) consultants be the very best they can be by encouraging them in their learning and development, supporting them in their client projects, and helping them when things don't quite go to plan.
Supporting junior talent navigate through their first few roles in Financial Services and helping them realise their potential is my absolute dream job so it's a privilege to be Head of Early Careers at Vantage Point. What VP does is a brilliant concept. And while it's not a new idea, how we deliver it is really classy, high-end, best in class.
I'm also really lucky in that my role is part time (4 days a week) and although we have lovely offices in the City, I have the flexibility to work from home regularly.
What made you choose a career in technology?
I fell into a career in technology by chance.
I studied music at university and had always assumed I'd be a professional musician. However, in my final year as an undergrad studying music at Trinity College Dublin, I tagged along to some careers "milk round" events – mainly because my boyfriend at the time was thinking about a career in management consultant or as an actuary…
At these events, I chatted some fabulous tech professionals. And what's more, they seemed to think I might be a good fit in IT. Incredibly, they weren't put off by my degree subject and were impressed by the extras I'd been doing (I was chairman of the Music Society, part of the Irish Youth Orchestra, the conductor of Chapel Choir and had organised a series of events to raise the money for a new public piano, etc.) Apparently, these evidenced the sorts of skills tech companies love: someone who was bright, organised, a strong communicator, a team-player, someone who was able to step up and lead, someone who's not afraid of going the extra mile, etc. When I said I was worried about my lack of computing skills, they told me they'd teach me everything I needed.
So I applied and was lucky enough to be offered a trainee IT management consultant role with Andersen Consulting (now known as Accenture). There were seven of us who started on the same day as I did, and most of the others had Engineering backgrounds or had been exposed to technology in some capacity beforehand. I was a complete novice and had a bad case of what we'd now call "imposter syndrome". But, true to their word, Andersen's provided top class IT training, and within a couple of months I was coding on client sites.
Turns out I LOVED technology.
After years of striving for perfection in the music world, I found technology to be such a rewarding contrast. No amount of practicing music can guarantee perfection when you perform live, but with technology the code either works or it doesn't. It's unbelievably satisfying to come up with elegant solutions that work perfectly every time! Such a buzz.
Since those early days, I've held a variety of tech roles (developer, business analyst, tester, project manager, business manager, product owner, portfolio manager) across a variety of business areas (Investment Banking, Corporate & Institutional Banking, Retail banking) using a variety of technologies (from COBOL through to AI – and everything in between) and have experienced virtually every methodology out there.
Did you study an IT or technology related subject at GCSE, A-Level or University?
No, I didn't study IT or a technology-related subject. However, my music background taught me to think creatively and be really tenacious – to persevere until whatever I was working on was as good as I could manage. Those traits have definitely helped me throughout my career.
Did you get any work experience in IT or technology before this role?
No, I didn't have any IT work experience before I got my trainee IT management consultant role at Andersens, but I had completed various summer jobs throughout Uni, which helped when I applied.
Do you think there is a lack of females in the IT and tech sector?
Absolutely. It's a real issue that there aren't more females in technology, especially in financial services technology.
We should aim for a gender split that represents society – 50:50 – all the way up through the ranks to senior management. After all, women use technology all the time, so it stands to reason we should be studying it at school / University and be involved in it's development.
Over the last decade there's been a real push encouraging more women into the tech industry, but we aren't there yet and there's loads more to do.
Do you find there is a stereotype that a career in IT or technology is just for men?
There's a stereotype that technologists are young, introverted, geeky men. And (by implication) women are unable to succeed in the technology world. The stereotype is just plain wrong.
From Ada Lovelace through to the modern day, we have loads of examples of fabulous female technologists. But we need even more women in the industry to balance things properly.
Over the last 30 years, I've had the pleasure of working with so many amazing technologists. While it's difficult to shake off the unhelpful stereotype, I've found that the crème de la crème of techies have been men and women, introverts and extraverts, young and old, nerds and people-people, etc. It takes all sorts.
What would entice women to study technology related courses?
Women might be more inclined to apply for tech courses if they know:
There's an fairly even split of men / women on the course
Some of the subjects might be taught by women and / or there is female pastoral care
The assignments are women-friendly
There's genuine evidence of (rather than lip service towards) a diverse culture
That the skills women tend to naturally associate themselves with are valued (e.g. attention to detail, communication, team work, creativity, etc.)
That there are internships which are women-friendly and plenty of women-friendly IT jobs to apply for at the end
They can see and talk to female role models doing a variety of really interesting roles, from programming, business analysis, designing, UX / VI, testing, project management, tech architecture, data, programme management, PMO, CTO, etc.
Are there barriers when it comes to women getting into tech?
Many technology recruiters have a rule. They will only consider applications from those who have a STEM (Science, Technology, Engineering, Maths) university degree. I get it: STEM backgrounds help recruiters minimise their risk and reduce training costs.
But the rule is intimidating / infuriating if you are not a STEM-girl per se. Many young girls can be good at maths, for example, but don't see themselves necessarily as a STEM-girl because they are even better at other subjects just at the point they are having to narrow their subject choices. (Sadly, the option to drop STEM subjects happens way too early in the UK education system – and it's notoriously difficult to re-join the STEM-stream later on.)
I'm fully bought into the idea that STEAM is better than STEM. (The A stands for Arts & Humanities.) We need the creativity and innovation that the A brings to tech teams in order to deliver awesome solutions. The more diverse backgrounds we have in the workplace, the better
I'd love to see recruiters consider a broader spectrum of applicants and I'd love to see companies take the chance and invest in those bright young sparks who have all the qualities necessary but just need technical training. Arts and Humanities graduates make really well rounded IT professionals.
So, to summarise, in the short term I'd love recruiters to be more open minded about what degree subjects are suitable for tech roles, and for tech companies to provide on-the-job training which assumes no prior knowledge. In the longer term, I'd love to see a complete reform of the British education system – a system which encourages students to keep going with STEM subjects all the way through secondary school… and where creativity, innovation and resilience are recognised as an integral and valued part of the curriculum.
How could we encourage more women to start a career in tech?
The tech industry recognises what a huge asset women are. And technology is a rewarding industry to work in – both professionally and financially. That's a great start.
However, more female tech role models must get out to encourage girls to start (and continue) careers in tech. It would be great to see successful female technologists talking to girls in schools, raising their social media profiles, sitting on boards and encouraging women coming up the ranks or paying for Arts graduates to learn coding.
When I was very junior at Andersen's, I remember being told by a female technologist a few years ahead of me "you can do it!" and "your skills are really valued" and it was super-encouraging to hear that. It genuinely helped my confidence and it was really reassuring to have someone sponsor me through the ranks.
Finally, women who have successfully established careers in tech are in high demand.
What advice would you give to young women at the start of their career?
Extraordinary people are ordinary people who do the extras. (Take up every opportunity that comes your way. Say "yes" to organising an event, study for that additional certification, help the other team with that problem they're having, anticipate what your boss needs next, etc. It all helps in the long run and builds your profile in the short term.)
Ask questions. (Don't be afraid! You aren't expected to know everything at the start. If you don't ask, the expectation is that you know already.)
Be yourself. (Don't be tempted to behave / think like a man – we've enough of those already. You've been hired because you are you!)