Many people think that a technology career means spending hours reading and writing code. Whilst this can be the case for some roles, there are plenty of alternative jobs in tech which don't require coding at all. Whether you're just starting your working life and are choosing which path to take, or if you have previous experience in sales, marketing or really any business function, a career in tech could be for you. In this article, we'll look at 5 jobs in technology which don't require coding.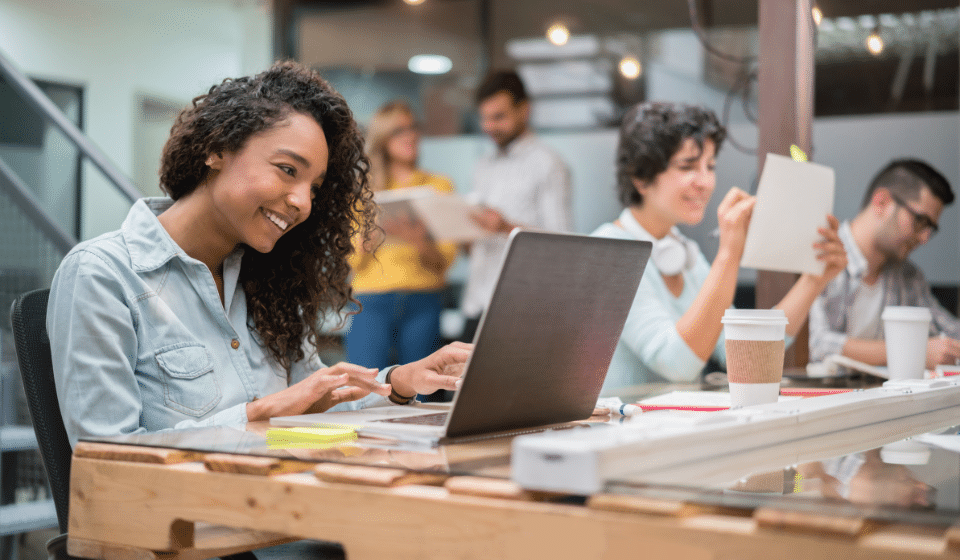 1. Project Manager
Average salary: between £49,000 – £73,000
5 key skills required:
Communication

Leadership

Problem-solving

Time management

Teamwork
If you're the type of person who likes to take charge and plan, a career in project management could be ideal. A project manager is responsible for tracking multiple work projects from start to end, managing people, deadlines and problems along the way. You'll need to make sure a project is delivered on time, on budget and ticks all the boxes it sets out to. Communication skills are essential as you will liaise with many stakeholders and have to adapt for each one to effectively communicate and get the work done.
What is it like being a project manager?
Being a project manager can be a very rewarding career and the salary reflects that. The role can be challenging and demanding, but it also gives you a chance to make a real difference to your company. Big projects need lots of people from different work streams and by organising all the stakeholders and ensuring everyone is meeting deadlines, you can deliver the end result.
See the latest Project Management jobs for Women in Tech.

2. Business Analyst
Average salary: between £43,000 – £73,000
5 key skills required:
Critical thinking

Confidentiality

Resource management

Analytical skills

Communication
A business analyst's job is to help companies make informed decisions based on the analysis of data, processes and systems. If you're someone who likes critical thinking and you're always looking for solutions to problems, you could be a great fit for a business analyst role. In order to excel, you'll need to have a keen knowledge of the sector your employer operates in as well as the business as a whole. You'll also need to be a great communicator and will often need to present results to different areas of the company in a way everyone will understand.
What is it like being a business analyst?
Business analyst roles often appear as freelance or contract roles due to a company needing to make a decision on something. That said, lots of businesses do have permanent positions too. The job can be demanding and stressful due to juggling different projects at once, but it's also a rewarding career as you get to make a significant impact by informing decisions.
See the latest Business Analyst jobs for Women in Tech.

3. UI/UX Designer
Average salary: £45,000 – £65,000
5 key skills required:
Attention to detail

Teamwork

Adaptability

Visual communication

Problem-solving
UI/UX designers have a similar role but not identical. User interface (UI) designers focus on how the end product looks to customers whereas user experience (UX) designers look at the functionality of the end product and the logic behind the customer journey & experience.
The type of person who will thrive in a UI/UX designer role should be someone who is curious about the customer experience and the product or service being offered. Whilst a degree in something like graphic design or web design can be useful, these are not essential. Much of the role will be about troubleshooting and working out solutions to problems, so it['s good to have problem-solving skills and also attention to detail for smaller issues.
What is it like being a UI/UX designer?
Being a UI/UX designer is a varied role and day-to-day can be quite different depending on what you're working on. Another great part of the job is that it combines both creativity with analytical thinking – usually a job is more one than the other. The nature of UI/UX design means that the demand is going up – employers are now focusing more and more on diversity and accessibility, something a UX designer will typically think about when designing a website or journey. Therefore job security is a benefit of this career, as the need for UI & UX designers is unlikely to go away anytime soon!
See the latest UI Designer and UX Designer jobs for Women in Tech.

4. QA Tester/Engineer
Average salary: £42,000 – £49,000
5 key skills required:
Adaptability

Analytical thinking

Communication

Time management

Discipline
A quality assurance (QA) tester or engineer's job is to test the application in question and to prevent any bad technology being seen by the customer. They are tasked with 'trying to break' whatever they're testing by exploring every possible avenue and looking for problems/bugs. A QA tester will work closely with the software developer and pass on any bugs or mistakes to them to fix, then re-test the application to make sure that the fix has worked. An understanding of the software you're testing is key, so it's essential to be a fast learner in a QA testing role. Another key skill to have is discipline, this is due to the repetitive nature of the job – you need to have attention to detail every time you test so as to not miss possible issues.
What is it like being a QA tester/engineer?
To be a QA tester you will need to learn a small amount about coding, but not in a large capacity. Having a basic knowledge will help the way you look for problems and bugs. QA testing is a great option for someone who enjoys breaking things – this is what you'll spend your days trying to do! It's also a common route people take to becoming a software developer as they work so closely together. Entry-level positions will require little more than basic clicking and filling in forms, so it's a career where it's easy to learn on the job as you progress in your career path.
See the latest QA tester jobs for Women in Tech.

5. Scrum Master
Average salary: £64,000 – £82,000
5 key skills required:
To know what a scrum master is, it's easiest to explain what 'scrum' is. Scrum is an agile framework which helps IT teams work together effectively. The scrum framework acknowledges that during a project or work task the team involved need to learn along the way and be adaptable to change.
A scrum master is in charge of the framework and helping to facilitate scrum to the team ensuring it's followed correctly. To be a scrum master, it's important that someone has excellent communication skills and is able to adapt their leadership style to suit individual needs and personalities. As a scrum master, you act as a buffer between the team you're supporting and external stakeholders, so that people's opinions & complaints don't interrupt the work the team is doing. A scrum master will usually hold daily meetings where they will capture any feedback or problems and find a way to solve them. They also manage workloads and deadlines. This job is similar to being a project manager but it's more of a people management role.
What is it like being a scrum master?
Being a scrum master is not an easy role, which is reflected in the higher salary bracket. Working with multiple personality types is never simple, as people have differing views on how work should be done. During the role you will have to deal with resistance to change, possible conflicts and pressurised demands. However, the job can also be hugely rewarding – you spend your days helping people and facilitating great work. The job role is also in high demand currently, so job security is another benefit of this career path.
See the latest Scrum Master jobs for Women in Tech.
It's easy to think that a tech career means coding and coding only. However, there's plenty of varied and interesting roles that you could take on. Many technology jobs don't require technical knowledge, especially at entry-level so the world really is your oyster in this ever-growing sector.
Read more about 8 varied jobs for women in tech and 5 tech skills in demand for 2022.