Serco is a FTSE top 250 company that operates internationally across four geographies: UK & Europe, North America, Asia Pacific, and the Middle East. Across Europe, Serco continuously have exciting operations and opportunities in technology across eight countries including Belgium, France, Germany, Italy, Luxembourg, the Netherlands, Spain, and Switzerland.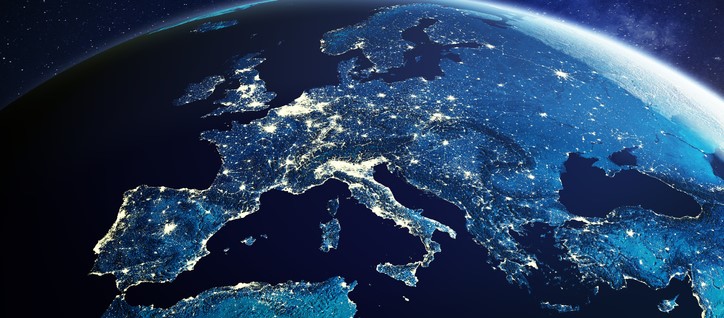 Committed to redesigning and improving public services, Serco strive to ensure their employees make a difference every day whilst playing their important role for the company whether it involves caring for vulnerable people or managing complex public services. Serco employees are responsible for delivering essential public services around the globe in various areas including defence, transport, justice, immigration, healthcare, and citizen services.
Throughout this article, we investigate how well Serco are combating the European Space, Defence, and International Organisation markets by utilising their 40 years' experience within the field and showcasing how effective their services are whilst also achieving company goals.
Space
Across Europe, Serco and their employees provide services including Front End and User Services, Satellite & Ground Systems Engineering and Operations, support to astronomy and planetary archives, Data Processions and Quality Control, Earth Observation Data Access and Exploitation, Ground Segment Infrastructure operations that all help contribute to the successful implementation of Serco's space contributions. With over 40 years' experience in supporting the space sector, Serco is currently amongst the top leading Space Industry and Services Companies. Over this time period and since the creation of the European Space Agency (ESA), Serco's employees have been striving for excellence everyday by providing their technical, scientific, and management skills that are extremely beneficial to a wide range of European cornerstone space missions.
One key element of Serco's contributions to their space market would be their efforts towards Earth Observation. Earth Observation satellites are an effective way of gathering information not only about the Earth's environment, but they can also help to address global environmental issues. Serco are proud of the work and the roles their employees play in supporting European programmes, such as the EU Copernicus programme for example, where employees provide key services in support to Sentinels Ground Segment and Data Access and dissemination operations. Serco also provide support to the Earth Observation community using smaller operations such as help desk, service desk and data access services. They also provide larger factors including engineering services for the management, development and maintenance of applications and catalogues. Serco Italy, in particular, has a long history of providing Earth Observations operations and front-end services that heavily contributed to winning a five-year contract resulting in a continued support service to the European Space Agency (ESA).
Serco Europe also have a long-standing partnership with OVHcloud. These two key companies working together, are helping to create an innovative European space project that will utilise Artificial Intelligence (AI) to enhance the exploitation of satellite images. Due to the increase of satellites being sent into orbit, the space economy has continued to rapidly grow therefore resulting in an increased needed performance of the onboard sensors in acquiring information. The result of these actions means an influx amount of data has been produced and made available to users which has created the perfect opportunity for these two companies to play an important role in exploiting the data and usage, enabled by AI technology. By Serco Europe and OVHcloud joining forces, they have helped to meet the growing demands of the Earth Observation community.
International Organisations
Serco is a proud partner of choice to the European Institutions and other International Organisations and these key relationships are just one way in which Serco help make a difference every day. Serco provide flexible and reliable ICT services including support, infrastructure, operations, and development whilst also helping manage several different contact centres for key European and International Institutions across Europe. Serco are extremely proud of the work and support they have provided for the Council of the European Union throughout the years that have contributed to the constant evolution of delivering their services in order to keep ahead of their competitors.
Serco Europe take great pride in delivering excellent quality service across the International Organisations they represent and support. The Serco Belgium team are ensuring they stay ahead of quality service standards by implementing several elements of performance analysis across all levels. One example would be their use of a quality manager on site who has a main mission of analysing performance to see exactly how it can be utilised and improved, which then found a 96% satisfaction rate from their International Organisations. Serco Belgium also allow their infrastructure to be chosen by the customer, this allows them to select the option best suited for their wants and needs which is then deployed by Serco and feedback is given which helps provide a constant process of learning how to improve their quality service.
Serco's effort to put Operational Excellence as its primary focus has resulted in them becoming a European leader in Service Integration and Management (SIAM). SIAM is used to provide a single point of accountability for the management and delivery of services delivered by both internal and external service providers.
Defence
Having gained several years' experience and expertise operating main military settings, including space, marine, land, and air, Serco support European countries and their respective military forces. Due to their incredibly reliable and trust-worthy reputation, Serco is trusted to deliver services as well as operate sensitive facilities on behalf of military organisations around the globe which can easily be seen as an excellent achievement for the company. Serco's defence involves three main areas; Integrated Base Operations, Maritime Services and Training which all contribute massively in their own aspects.
Serco Europe provide a unique attitude and capability in delivering operational excellence and cost effectiveness in relation to the military which allows a wide range of services to be integrated successfully and helps to enable military outputs to be effectively provided. Alongside supporting the military, Serco is now responsible for the complete range of services under the Provision of Marine Services (PMS) and provide sensitive maritime support operations to the Royal Navy and other UK Government departments when required to. Due to their experience dealing with technical maritime capabilities, Serco is now relied upon to support and provide extensive marine services to the US Navy and the Royal Australian Navy. All of these factors adding to Serco's reputation help to prove how they are respected in all fields of defence.
Finally, Serco continue to show their passion for the defence market by providing globally respected academic, operational, and resilience training opportunities which helps to improve and upskill leaders and managers to achieve excelled results within mission-critical and other operational areas. These training opportunities surround providing masters and degree level education through cooperation with the UK military, Cabinet Office, and Universities. All of these efforts are put forward by Serco to help develop and retain skilled and motivated leaders, technical specialists, and business emergency planning experts.