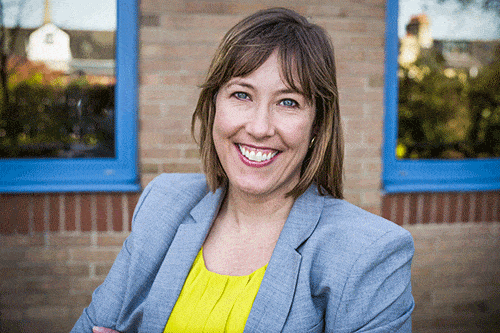 We recently interviewed Lauren Kisser, Director at Amazon Web Services on her thoughts and experience on women in tech.
1. What does your job involve?
I am Director for AWS S3 and in this role, I lead a team of top-notch engineers who are innovating for customers at the intersection of compute and storage. Outside of my day-to-day responsibilities, I am a champion for diversity and a STEM supporter. I am the executive sponsor of the Diversity Working Group at Amazon's Development Centre in Cambridge, which aims to create and foster a diverse workplace. Under my leadership the Diversity Working Group focuses on: building the recruiting pipeline to get more women into key positions; fostering internal knowledge and skill building for women already in key positions; and inspiring young women to get into the STEM field.
2. What made you choose a career in technology?
When I graduated college, the commercial aspects of the Internet were just taking off and the dotcom boom was underway. It was an exciting time to be a part of a burgeoning industry. The day-to-day problems were interesting and the money was good.
3.Did you study an IT or technology related subject at A-Level or University?

I studied Public Relations at university and, after getting my first job at America Online, I quickly realised that I needed more digital skills. I took night classes in information systems and computer networking. From there, I landed a job as a IT technician. Still wanting to pursue my education, I went on to gain a Master of Science in Information Technology and a Master of Business Administration from the University of Denver.
4.Did you get any work experience in IT or technology before this role?
I have been lucky to have worked in technology for my entire career. I started as a network administrator and IT support technician for a small marketing firm. Through on the job training and some great mentorship, my career grew. I took on increasingly bigger roles, leading teams from information security to capacity planning.
Most interestingly, prior to joining AWS S3, I was Director for Amazon Prime Air – a delivery system designed to safely get packages to customers in 30 minutes or less using unmanned aerial vehicles, also called drones. In that role, I led global teams of world‐renowned roboticists, scientists, and aeronautical engineers.
5. Do you think there is a lack of females in the IT and tech sector?
There is definitely underrepresentation of women overall in the tech industry. WISE (the campaign for gender balance in science, technology and engineering) say that currently just 22% of the UK's core STEM occupation workforce is made up of women in 2018. This is what inspired me to help other women to pursue STEM careers. It's also why this year, we launched Amazon Amplify to boost gender diversity and inclusion across our UK business, and AWS Get IT to increase the number of young women taking up a career in technology.
6. Do you find there is a stereotype that a career in IT or technology is just for men?
I think that has been the case in the past, but there are plenty of signs that this view is quickly becoming outdated. Diverse teams working in an inclusive culture is now widely recognised as a business enabler. This is helping shatter the stereotypes.
7. What would entice more women to study technology related courses?
The solution to addressing that gender imbalance requires intelligent, long-term initiatives from a combination of government, business, community and education. We need to drive change by addressing the barriers and improving the representation of women in technology.
Last year, Amazon partnered with WISE (the campaign for gender balance in science, technology & engineering) to conduct research and help build a roadmap for companies across the UK to improve gender diversity, with the findings helping inform the new programme.
The report outlines a roadmap of recommendations that drive change by addressing barriers and improving the representation of women in innovation. Covering all age groups from childhood through to college and careers, the recommendations focus on important areas like outreach to parents, STEM-focused learning, business role models, mentoring, reskilling and flexible career pathways.
8. Are there barriers when it comes to women getting into tech?
As a society we are facing a huge digital skills gap and there are things we can do to make it easier for everyone to get into technology. One of the most rewarding things I do is to be a role model for young girls and women. I know that having a relatable role model is a key enabler for girls to follow a career in technology.
Additionally, it is important that I build a culture of inclusion and support. Amazon Amplify is a programme to further ramp up the recruitment and retention of women employees; encourage more women to consider careers in technology and innovation; and help prevent some of the biggest barriers to career progression cited by women in STEM roles across different sectors.

9. How could we encourage more women to start a career in tech?

I've learned that you need to put yourself out there and be a role model. It's very important that young women see people like themselves pursuing technology as a career. Having relatable role models is a key enabler and to have a big impact you need to start early. In the past, I've led outreach efforts to inspire girls to continue studying STEM subjects at school by inviting them to Amazon's drone lab in Cambridge and regularly visited schools as a Prime Air STEM and AWS Cloud Computing Ambassador. The AWS Get IT programme is another good example of how we approach this at Amazon, as part of the programme AWS ambassadors from across the business spend time at schools talking about the benefits of working in the tech industry.
More recently, I've started to lead code club at my kids' primary school. Code club is a great way to give every child digital skills, confidence, and opportunity to change their world.
10. What advice would you give young women today at the start of their career?
Working in technology offers financial and personal rewards. For starters, our research with WISE revealed that women working in innovation roles earn £11,000 more per year on average compared to other careers. In addition to the monetary rewards, it is personally rewarding to innovate on customers behalf and to help others solve problems.
The advice I give to women starting their careers is:
APPLY, APPLY, APPLY: Industry research shows women tend only to apply when they meet all the criteria, while men may feel they only need to meet some of the criteria. If you don't ask, you won't get.
MAKE TIME TO LEARN: Dedicating time to learn skills doesn't need to be a huge commitment. Podcasts, videos and books can be a great way to learn while commuting
FIND A MENTOR AND BE A MENTOR: Whether formal or informal, a strong role model providing guidance is key. Then be that person yourself.
DON'T DWELL ON MISTAKES: Acknowledge your mistakes and learn from them. Focus on the learning rather than the mistake.
LEARN THE "I" WORD: Don't downplay your accomplishments by hiding behind "we" or "team". Saying "I" will clearly articulate your role in that success.
PLAN WITH INTENTION: Thinking "intentionally" helps to reduce anxiety and make us happier. Planning your career two or three steps ahead is a great way to start.