We interviewed Annie Martin, Principal Test Engineer at GoCompare on her experience and thoughts on women in tech.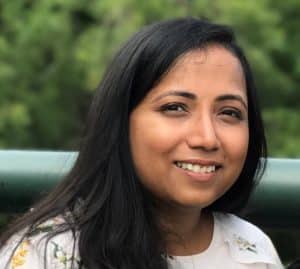 What does your job role involve?
As part of the Engineering Strategy Team in GoCompare, I identify problems faced by Business, Engineering and Operational teams in delivering value to our customers from a Quality perspective and help solve them. I research solutions, put together proof of concepts and support delivery teams in adopting solutions. Occasionally, I also get the opportunity to use my Tester's mindset to improve product quality, which I thoroughly enjoy.
What made you choose a career in technology?
I had the option to choose between a degree in dentistry or engineering after my A-Levels. I decided to go with engineering because I enjoyed Mathematics in school. I got a work placement in a consulting firm during my final year at Uni. I trained here as a Software Engineer. One of my early projects involved testing a banking application and I realised that I had an aptitude for identifying risks and issues in the product and solving problems in the delivery process.
Did you study an IT or technology related subject at A-Level or University?
I studied Mathematics at A-level and B.Tech in Electrical and Electronic Engineering.
Did you get any work experience in IT or technology before this role?
Yes, I've had about 15 years of experience working in IT across various industries before this role. I've worked as a software developer before I made the switch to Quality Assurance and Test Engineering.
Do you think there is a lack of females in the IT and tech sector?
I would say that there are not enough of females in the IT and tech sector, but things are definitely improving with a lot of companies including GoCompare promoting diversity.
Do you find there is a stereotype that a career in IT or technology is just for men?
I think it is more a lack of awareness rather than a stereotype.
What would entice women to study technology related courses?
Increase awareness in schools about the various options available in the technology sector, help students discover careers in IT or technology based on their strengths and identify suitable courses that would give the students a stepping stone in starting these careers.
Are there barriers when it comes to women getting into tech?
I believe most barriers are self-imposed. Being a mum to two young girls, I believe in fostering an environment where they believe they can achieve anything with hard work. I've had multiple occasions when my daughters have said that Mathematics is hard until they found a technique that works for them.
How could we encourage more women to start a career in tech?
In addition to increasing awareness at an early age in school and providing opportunities to learn, it also helps if tech companies promote a diverse and inclusive environment. Women's roles have changed dramatically over the past few years, but women are still the primary caregivers in most families. It is important that tech companies provide flexible working options, so women do not have to choose between having a successful career and their care giving responsibilities.