We interviewed Emina Cholich, Principal Developer at Auto Trader on her thoughts and experience on women in tech.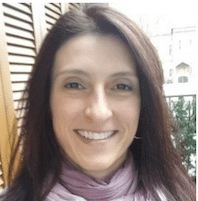 1. What does your job role involve?
As a member of the Customer Tools tribe, I write code and troubleshoot incidents as well as provide technical leadership within the estate that serves Auto Trader's commercial customers. I also help with the hiring process and coach early careers and other less senior developers.
2. What made you choose a career in technology?
I'm afraid mine is a predictable origin story – I loved maths in school and by recommendation of my maths teacher I joined a coding club. It became fairly obvious even to my muddled teenage mind that I enjoy programming and am not half bad at it. I followed with a Computer Science course at uni and have been having a rewarding career since.
3. Did you get any work experience in IT or technology before this role?
I was lucky to graduate during the time of elevated need for software developers in the dot-com boom of the late 90s . While I did not get the benefits of a graduate programme like the ones available these days, I was afforded some great opportunities. I have been in various engineering roles for over 20 years now, each one providing me with rich experiences and interesting challenges.
4. Do you think there is a lack of females in the IT and tech sector?
Research unequivocally shows that improving diversity improves organisation's results. What I believe is important is not to simply recruit more women in the IT sector to improve those stats but to demonstrate that women are presented with equal opportunities for professional growth and career advancement.
5. Do you find there is a stereotype that a career in IT or technology is just for men?
I think that up until few years back that was definitely the case. But I am very encouraged by the buzz as of late. The topic of gender-specific jobs went from something about which we in non-traditional roles grumbled to each other, to something discussed and challenged on an international scale.
6. What would entice women to study technology related courses?
Ensuring that girls are offered equal representation as they first encounter technology topics and that those topics are taught in a way that appeals to them.
7. Are there barriers when it comes to women getting into tech?
I think that barriers exist for women getting into any of the STEM disciplines. Undoing this injustice to generations of girls and women will take a while and responsibility to do so lies with all of us – from parents and educators to STEM professionals of all genders.
8. How could we encourage more women to start a career in tech?
Remind that any career is an option regardless of one's gender – while traditionally female jobs are a perfectly valid choice, there is so much more out there, everyone should find their own path.
Raise awareness of how rewarding a career in IT can be and how it can provide for flexible work/life blends.
Ensure that this profession provides for equal treatment, pay and advancement opportunities for technologists of all genders.
9. What advice would you give young women today at the start of their career?
Despite some level of job title standardization in the industry, every role is different. Look for one that's your best match, including the company's dedication to gender balance and equality and availability of positive role models.