We interviewed Angeliki Patsiavou, Change Management – Senior Consultant at Avanade on her experience and thoughts on women in tech.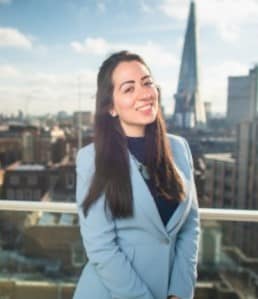 1. What does your job role involve?
I work in Change Management at Avanade. This entails a range of transformational and behaviour-shaping activities to help clients navigate a world of continuous change. It ranges from user tech adoption, organizational to cultural change among many other things.
2. What made you choose a career in technology?
I chose a career in technology to channel my creativity in a way I could explain the world and influence it. During my Economics degrees, I was fascinated by the way programming was used to predict and drive market trends. As a professional, I fell in love with CRM systems and how they could drive innovative user experiences. I have been hooked ever since.
3. Did you study an IT or technology related subject at GCSE, A-Level or University?
In a way yes. I have a M.Sc. in Economics which included statistical computing with the R programming language. Having done something similar in my B.Sc. piqued my interest in following a technology career.
4. Did you get any work experience in IT or technology before this role?
I have worked in various other roles previously, with the latest one being at HSBC. There, I was part of the digital transformation programme which rolled out Dynamics 365 CRM globally for the wholesale bank.
5. Do you think there is a lack of females in the IT and tech sector?
From personal experiences, I have observed that sadly. In certain IT areas more than others. Recently, it has slightly improved. Nevertheless, I am confident we can do more to inspire the next generation of female colleagues to join us in IT and the tech sector.
6. Do you find there is a stereotype that a career in IT or technology is just for men?
Yes, in certain IT areas more than others. These are stereotypes we need to eradicate, both within the industry and outside of it. And of course, empower everyone to feel welcome and excited to join no matter their gender or background.
7. What would entice women to study technology related courses?
Studying technology provides quantitative and qualitative abilities which are transferrable in many areas. In essence, it is a field for those who love creating things in the digital world, want to witness and use innovation first hand, and be part of a very interesting community in the process.
8. Are there barriers when it comes to women getting into tech?
Misconceptions and stereotypes to begin with. It starts from the educational system and how it can guide women into tech. There should be enough support early on for women, and a clear message that technology has a wide array of roles. It is not just for people who "want to code". It should be anyone with an interest and passion for tech.
9. How could we encourage more women to start a career in tech?
STEM programs in education are a great start in conjunction with other ones, such as Girls Who Code. Another interesting movement is within companies, who have programs to convert women from a non-tech background into it. This means that no matter at what point you are, you can still pursue it.
10. What advice would you give to young women at the start of their career?
Give yourself the time to follow your passion so hard work will have a purpose. Do not be deterred by norms, imposter syndrome or your current reality. A single dream can be more powerful than a million realities.