We interviewed Rebecca Kemp, Director of Customer Journey at Citizens Advice on her experience and thoughts on women in tech.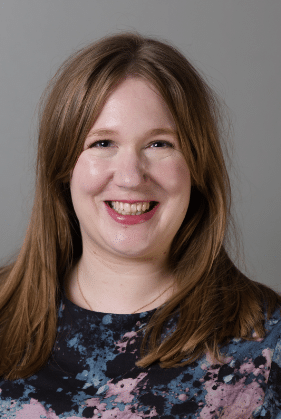 1. What does your job role involve?
At Citizens Advice, we give people the knowledge and confidence they need to find their way forward – whoever they are, and whatever their problem. No one else sees so many people with so many different kinds of problems. That presents an amazing opportunity for technology, and is really, really motivating. If I do my job well, more people will get help when they most need it.
I lead the customer journey team. We work to develop a seamless customer journey for all our clients, across all our services and channels. We also lead on Citizens Advice digital services, including our online advice which has 29 million visitors a year. We've got particular interests in innovation and how we can use technology to meet more of our demand.
As part of the leadership team at Citizens Advice, I'm jointly responsible for delivering our Future of Advice strategic framework. This is an ambitious, 3-year roadmap which will help us transform the way we do things, to meet the changing needs of our clients.
2. What made you choose a career in technology?
It was an accident at first. I lived in Cambridge, there are lots of technology companies, and I needed a job. Once I started working in the sector, I found it interesting, and appreciated the opportunities for earning, travel and flexibility that the sector can provide. As my career progressed, I became more and more motivated by how we can use technology to help with social issues, hence moving to Citizens Advice.
3. Did you study an IT or technology related subject at A-Level or University?
Nope – I did English at undergrad and I did a masters in Gender and Social Policy part-time while I was working, a few years later.
4. Did you get any work experience in IT or technology before this role?
Yes. As well as the technology companies I worked at earlier in my career, I worked at the Government Digital Service and then consulted on digital transformation for a few years. I've worked in the tech sector, elsewhere in the private sector, in government and the non-profit sector. I've found that the challenges are similar across the board. Lots of our work as technology leaders is about making the case for being ever-more user-focused and agile, creating great work environments, and hiring excellent people.
5. Do you think there is a lack of females in the IT and tech sector?
I do think there's a lack of women – and also people with disabilities, people from Black, Asian and other minority ethnic backgrounds, LGBTI+ people and working class people. I think that talent and interest are equally distributed across the population, so if a particular sector doesn't include all sorts of people, something needs to be fixed.
6. Do you find there is a stereotype that a career in IT or technology is just for men?
I'm not sure that's the stereotype exactly, but I do think it's obvious the sector is not as diverse as it should be. Across the technology sector it seems like sometimes people can be treated differently depending on who they are, how they present or where they come from.
7. What would entice women to study technology related courses?
I think the onus is on the providers of courses to create environments that are accessible and inclusive to women and other minorities within the sector.
8. Are there barriers when it comes to women getting into tech?
There are barriers but they are easy to overcome, and again I think the onus is on employers to remove these barriers. My team is diverse in terms of gender (women, trans and non-binary and men), including at leadership level. But we need to make sure we're not just thinking about gender – we need to think about gender alongside ethnicity, class, sexuality and ability / disability.
In my team at Citizens Advice, we offer part-time and flexible working and make it very clear that we're interested in receiving applicants from diverse candidates. We also publicise our roles in places that diverse people look for jobs, such as Ada's List, UK Black Tech, Even Break and Diversity Jobsite.
9. How could we encourage more women to start a career in tech?
I think we can make clear the benefits of tech careers, like earning potential, the variety of roles and sectors you can work in, and the flexibility available. But employers need to make sure those things are a reality for staff and they are providing an inclusive environment when people arrive.
10. What advice would you give young women today at the start of their career?
Find out what motivates you because that will make going to work feel worthwhile. You might need to try a few jobs to figure that out, and that's ok. The start of your career is a good time to experiment.
Balance what you learn about your motivation with where you want to live, how much you want to earn, your caring responsibilities, the type of work environment you like, and so on. There will be times in your life and career where different things are important to you and it's fine to move across, up, down and between sectors to make that happen.
Just as important, find other people in similar jobs and befriend each other. You're likely to have similar experiences – good and bad – and can support and guide each other through them.