We interviewed Donna Seneca, Quality Assurance Manager at Clifford Chance, on her experience and thoughts on women in tech.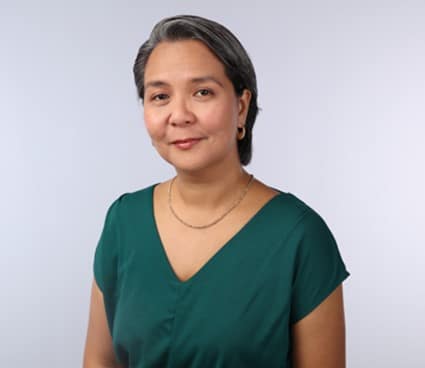 What does your job role involve?
At a high level, I provide leadership and strategic direction for the quality assurance process of Clifford Chance's IT division. It's a crucial role in ensuring that our lawyers and the business professionals who support them have, not just a working application, but applications that meet the high standard they'd expect.
My team's scope of work includes maintenance of existing software and IT services, as well as the implementation of new applications and systems. Our work varies in complexity and demand. Thus, our team count can go up and down throughout the year. This frequent attrition is expected. As with any managers, I rely on my team's support to ensure we remain accountable to our stakeholders.
In my job, "collaboration, risk management, and negotiations" are not just corporate jargons. These are practiced on a near daily basis. So does "continuous improvement", which is my team's mantra. Through streamlining of processes, rationalization, and adoption of new tools and practices, I seek ways for us to be more efficient and effective.
Outside of the day job, I join Clifford Chance's volunteering programmes. For the last two years, I have been mentoring secondary school girls. I also regularly volunteer in helping young adults prepare for employment through CV reviews and mock interviews.
What made you choose a career in technology?
I'm going to date myself here, computers were rare when I was growing up. Lacking school facilities meant I didn't use one until the early 90's. But I'm a sci-fi nerd and technology had always fascinated me, even made-up ones. I felt tech will always play a big part in our future. And I wanted to be part of it.
Did you study an IT or technology related subject at GCSE, A-Level or University?
I took a Bachelor of Science in Computer Science at university.
Did you get any work experience in IT or technology before this role?
I did an internship at a media company which was very interesting. Since they're a frontrunner in their sector I got exposure to new technologies which weren't covered in university at the time. I would add though, I got that internship through my student organization's alumni. In fact, all the interns from other universities came through similar avenues. This sounds terrible now but back in those days, these positions were not published.
Do you think there is a lack of females in the IT and tech sector?
Since around 2015 I've seen various "Women in Tech" movements in private companies, in collaboration with other organizations, and in multiple geographical locations. I see more female applicants and employees in the recent years. However, the pipeline is still predominantly male, especially for senior or higher positions – which is to be expected as IT had only started actively enticing women in the last 10 years.
Do you find there is a stereotype that a career in IT or technology is just for men?
This was true up to early- or maybe mid-2000's. The overall push for STEM degrees has dampened this perception. However, more can be done to make this career path not just appealing but commonplace to girls and women. For one thing, there should be more mainstream and social media representation of female technologists. Ada Lovelace and Grace Hopper should be household names.
What would entice women to study technology related courses?
I supported the UK-wide "Computing At School" initiative when it started. Through Morgan Stanley, where I was working at the time, I went to primary and secondary schools running workshops, coding, even school visits to the IT department.
That's where we should start, get to them while they're young. Technology should not only be interesting, but it should also be exciting enough for young children to dream about it.
Are there barriers when it comes to women getting into tech?
Economic disparity remains a barrier. While not specific to gender, those with little access to higher education or opportunities like degree apprenticeships can find it harder to get into tech.
How could we encourage more women to start a career in tech?
It's about awareness and ease of access.
Awareness: You have school guests, talks, workshops, company invites. All good and relevant and can give women an idea on the prospects a tech career. Nowadays, this is not just about the job, it's the work-life balance and the economics. These could form part of the narrative. Of course, there are exceptions, but tech can offer workplace flexibility and often quoted for high earning potentials.
Access: While schools are obvious targets for NGOs and the government, communities can use the same support, especially for their adult learners. At the most basic, sometimes it's taken for granted that not all have access to a computer, often people rely on libraries or community centres.
What advice would you give to young women at the start of their career?
Some would say it's foolhardy to set a goal when you've just embarked on a career. I disagree. At the start of their working lives, most will be enjoying their access to cash and learning on the go. You can do all these, but set short term career goals – how far do you want to go? Most women do not consider this in their early 20's. You'll be missing a trick. Do not be shy in talking about your aspirations with your lead or manager, better yet find a mentor. Be confident in yourself, if mistakes are made, you will learn and get better.