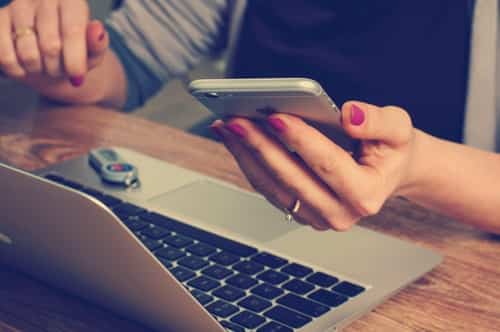 Inspiring women to pursue a career in tech starts as early as the classroom. By providing young women with the confidence to study STEM subjects and carry their studies through to GCSE's and A levels, more female students are viewing tech as a natural career path after graduating with STEM degrees. However, despite this the gender gap is still present in STEM jobs. This is due to a number of factors such as lack of awareness of a company's diversity and inclusion policies, perceptions of gender pay gaps and inflexible working solutions.
However, there are many companies currently making a huge difference for women in tech. More and more companies are recognising that early exposure to STEM subjects as well as continuous opportunities to gain technical qualifications are really important for the future of recruiting and retaining women in tech. Here are 5 companies currently making a difference for women in tech:
1. Salesforce
Four years ago Heather Black Managing Director of Economic Change CIC, a Salesforce Consultancy launched Salesforce Supermums, a training programme aimed at enabling women to gain technical skills to achieve flexible work as a woman in tech. The programme involves various six month training courses for women in areas such as Salesforce administration skills, tech consultancy, business analysis, marketing automation solutions, platform development and project management. Salesforce are a pioneering force for change in women in tech because of their ability to upskill women. This provides them with not only the relevant skills to provide genuine value to the tech industry, but most importantly inspire a confidence in women to enter tech employment.
2. PwC
Professional services firm PwC are making a difference for women in tech by helping young women to access the relevant resources and training to prepare them for a career in technology. PwC are proactive at going into schools to educate and inform young female pupils on their options for studying for a career in tech. They recently conducted extensive research that shows that the gender gap starts at school. These findings reinforce the value PwC offer women in tech through their close work with teachers, carers and universities to break down barriers preventing young women entering tech. Their research also informs the Tech She Can Charter which is a commitment by organisations including PwC, to increase the number of women working in tech.
3. Amazon
Winner of Female Tech Employer of the Year in the Women in Tech Awards 2019 and a partner of the WISE programme, Amazon are really making a big difference to women in tech. They are committed to help the STEM skills shortage by creating opportunities for women to achieve technical experience and qualifications. One of the ways they are doing this is through their Amazon Amplify initiative, whereby they are offering a Women in Innovation Bursary funding over £130,000 a year for up to 24 women students planning to study high tech innovation degrees.
Find out more about the Amazon Amplify programme here
4. Sky
Recognised for their work in making a difference to women in tech in The Times Top 50 Employers for Women 2018, Sky are well-known for their efforts in spearheading the initiative to get more women in tech. They currently run a series of training courses for women called Get into Tech that equip women with all the essential skills to assert themselves into the technology talent pool and begin their career. What's so impactful about the difference Sky is making with these courses is that they actively encourage women of any age, any stage of life, and those with little or no experience to apply!
5. BAE Systems
BAE Systems are attacking the gender gap from the foundations of the classroom as well as within the foundations of their own organisation. Each year they visit over 420 schools during their schools roadshow where they take an interactive approach to encourage children as young as 10 to choose STEM subjects. They are doing all the right things to tackle the gender gap by sparking that initial interest in young female pupils that is so key to nurturing a passion for tech. The company also invests around £90 million a year into funding for education.
For more great companies making a difference to women in tech you can check our employer profiles here