We interviewed Dionne Condor-Farrell, Senior Developer at Transport for London on her experience and thoughts on women in tech.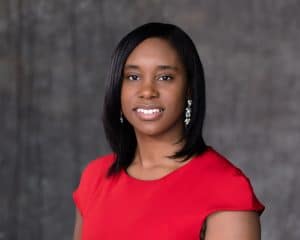 What does your job role involve?
I have been working at Transport for London (TfL) for 11 years as a Senior Developer. From 2007 I gained experience of developing a variety of bespoke Java web applications for use by TfL Surface Transport business areas and externally by the British Transport Police.
In January 2017 I moved to the Customer Technology Mobile Services team where I gained experience developing Java API services to integrate the recently launched TfL Oyster Mobile App and Oyster Online website, ensuring data from the App is correctly validated and transferred into the Oyster database, to keep the data in sync on Oyster Online web application (which is used by thousands of customers to manage their Oystercards). This gives customers confidence that their Oystercard details and balances are correct, no matter which application they decide to use. The project utilised Microsoft Azure Cloud Computing services and Microservices Architecture, which I had no prior experience of, so this presented a huge learning curve and an interesting challenge for me.
From July 2018 I transitioned to Mobile App Development to work as part of a new inhouse team that creates native Android and iOS mobile apps for use by the public and operational staff.
What made you choose a career in technology?
I actually fell into technology by accident. At college I was interested in Business and Maths and I had planned to pursue a Business Studies degree at my first choice university. Unfortunately I didn't get enough UCAS points to get on the degree course I wanted, so as a compromise I ended up on a three year HND in Business Decision Support (which was a mixture of Business, Maths and Technology). I wasn't that bothered about the technology bit to be honest, but I thought I'd give it a go… Turns out I really loved tech, and the rest is history.
Did you study an IT or technology related subject at A-Level or University?
At A-Level no. But at University I studied on a HND that included modules on IT Systems Management, and programming in Visual Basic and databases, as well as Business Accounting and Statistics. After successfully completing my HND and realising I loved technology, I did a further year of study on a Top Up degree in B.Sc. (Hons)Business Information Technology.
Did you get any work experience in IT or technology before this role?
My tech career started in 1999 on a 2-year Graduate Scheme at Electronic Data Systems (EDS) on the Job Centre Plus account in Sheffield. There were only a few females there, and I was the only black female. The scheme allowed me to gain experience of different phases of the software lifecycle, such as System Testing, Business Requirements Capture, and Development. I was sent to Detroit Michigan in the USA for 2 months to EDS University to learn C Programming, and in 2001 I graduated from the scheme and transitioned to an Information Engineer role.
Realising that Java was a more interesting, flexible and popular programming language, I studied the fundamentals of Java during my lunch breaks for 4 months, then completed the Sun Java Programmer Certification in June 2004.
Do you think there is a lack of females in the IT and tech sector?
Definitely. I have been working in the Tech industry for over 18 years and there is still a lack of females in the industry. At most of the organisations I have worked at, I was the only woman on the dev team, or one of only a handful of women in hands on tech roles. And this is the same problem at the tech community events I go to. For example, an event of 100 attendees, you're lucky to see 5 women in the audience. It's really sad and quite disappointing.
Do you find there is a stereotype that a career in IT or technology is just for men?
Yes there is a stereotype that technology is a male dominated industry, and it doesn't help to remove that stereotype when most tech companies only have a handful of women in tech roles. Also the majority of tech conferences and community events are mainly attended by men, and most of the speaker line ups for tech events are men.
What would entice women to study technology related courses?
Knowing what type of careers you can actually have in tech, after investing X years of your life and money studying the subject. There are so many different roles in tech, some are more suited to people who like hands on tech activities (such as programming and testing), others are more suited to someone who is a 'people person' (such as product owner, scrum masters, UX designers), so knowing this beforehand will give women a greater incentive to study at tech related courses.
Are there barriers when it comes to women getting into tech?
The challenges I faced during the early stages of my tech career were mainly battling against certain people's preconditioned mindsets and ignorance regarding black culture, and females and their ability to do a certain job. Being the only black female at EDS at the time I joined, some people seemed to not be able to judge me just by my character. A few people were really great and welcoming, but it took a good year before I felt accepted, and my career development was definitely held back due to managers not taking me seriously as a Developer.
Even after I had proven myself by successfully completing the Professional Java Programming Certification, it took months to convince the project managers to give me a chance to get involved with development of business critical applications, and I had to constantly provide detailed justification to get company training for skills I needed to complete tasks on a projects. Since that experience I have always strived to invest my own time, and in some instances my own money, to progress my tech skills education.
How could we encourage more women to start a career in tech?
Raising the profile of diverse female role models in tech (i.e. women from a variety of backgrounds) and sharing stories of their career journeys (the good and the bad, and the challenges they have overcome), so that other women with an interest in tech can see people who look like them who have been successful at building a career in tech. As the saying goes… "You can't be what you can't see", so raising the profile or female tech role models and showcasing some of the products they work on would definitely help encourage more women to pursue a career in tech