We interviewed Hannah Dell'Armi, Delivery Manager DWP Digital on her experience and thoughts on women in tech.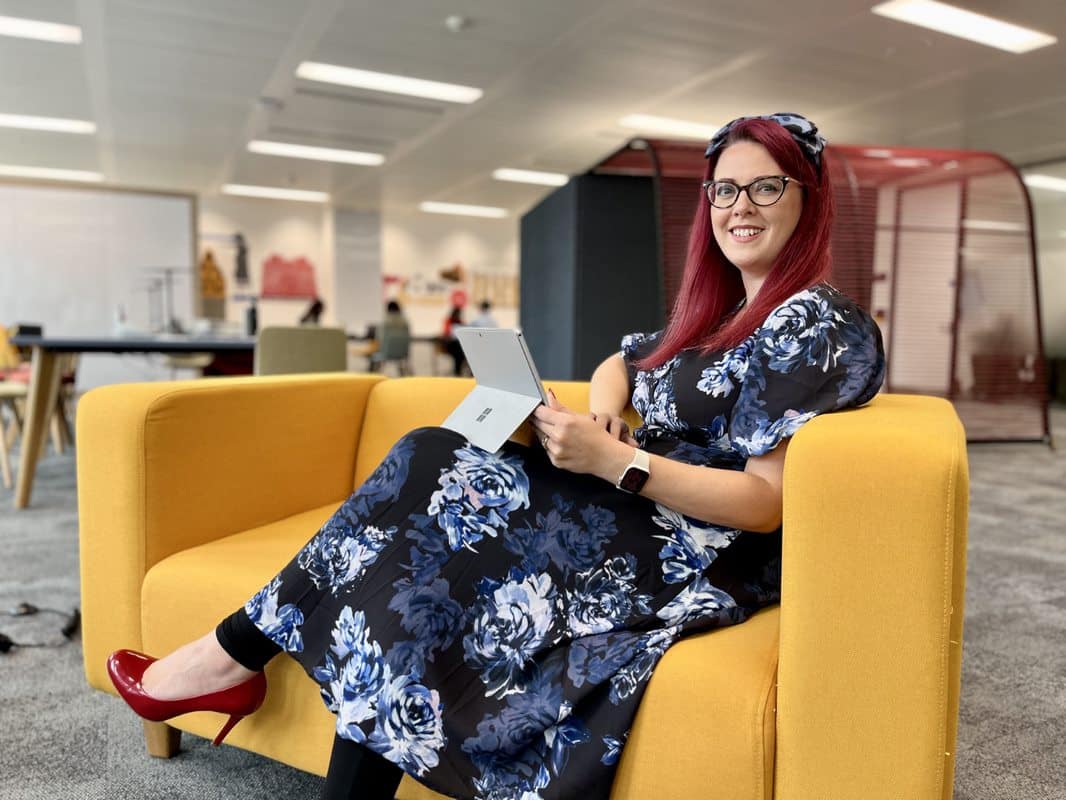 What does your job involve?
I'm an agile delivery manager in DWP Digital working on the Health Transformation Programme. I work with agile teams to deliver the transformation of health benefits to improve the citizen's experience and streamline services.
What made you choose a career in technology?
I don't think I ever set out to work in IT, I always wanted to be an archaeologist as a child. However, when the internet became accessible to me, I became rather obsessed with building and running websites. I remember coming up with names for the website I was going to eventually build and run between placing the connection order and AOL hooking us up…
I wasn't the next Mark Zuckerburg, I was 12, but to me it was fascinating. I don't think I realised then how embedded digital technology would be in our future, it was the opportunities that sucked me in.
Did you study an IT or technology related subject at A-Level or University?
Not at all. Despite enjoying building and coding websites as a hobby I wasn't very good at maths or science. Back then 'computer programming' seemed very scientific. I was much more visual. I did a degree at Northampton University called 'Creative Design with Marketing'. I was hoping to be a designer and work in advertising. At the time the course had a single module covering 'digital' and that was it, so it wasn't really covered in any way.
Did you get any work experience in IT or technology before this role?
After university I started working as a marketing executive at a digital agency. I had applied there on a whim, not really knowing what it entailed as most large advertising agencies were a long commute away at the time.
There I ended up project managing the build of websites, intranets and some very early ecommerce sites.
I spent nearly 15 years doing this. Finally working as a production director at a digital marketing agency before I joined DWP Digital.
Do you think there is a lack of females in the IT and tech sector?
Definitely, although I think it's more noticeable in some roles than others. Delivery Management feels a more even split, but in the more engineering-based roles there's certainly a lack of females.
I do think it's improved. Over the years I've worked in agencies where for a time I was the only female employee, but this did change as 'new blood' came in. There's still a way to go though. Although I see a higher proportion of women in IT there's still a lack of representation in senior roles.
Do you find there is a stereotype that a career in IT or technology is just for men?
I think there is certainly that impression. There's lots of challenge to it at the moment of course and we should welcome that. But I think we are a long way off. I work with a charity that challenges gender bias in primary schools and children as young as 4 already have a very strong bias on what jobs are female and which are male. A majority of that is from years of societal norms and the default male, but that's all the more reason why we should challenge it.
What would entice more women to study technology related courses?
I think if they understood that it's not just about coding what's under the hood. There are many roles in IT that aren't, that can be very rewarding. I'm biased I know, but Delivery Management is one of those roles. I don't consider myself very technical, even after the years I've spent in the industry. My skills lie in team-building, communication, collaboration, problem-solving and coaching. All skills that are transferrable from other industries and not ones I think that are specific to IT.
Are there barriers when it comes to women getting into tech?
Especially in low socio-economic areas. I grew up in what would be considered a deprived area in the Northwest and I think that meant barriers to both further education, to gain the skills needed, and also to an awareness that such roles existed. I think the expansion and variation in apprenticeships has helped since I was at school, but I think it starts earlier than this. Children and young adults look at those around them to understand what job opportunities are out there, we need to be offering opportunities earlier on in and around the traditional curriculum.
How could we encourage more women to start a career in tech?
I think we all need to take responsibility for this. Being role models and taking opportunities to talk to women about what's available and how their skills can be transferred into a tech role.
The tech market is growing massively at the moment and I think now is the best time for anyone considering the shift.
What advice would you give young women today at the start of their career?
Don't be afraid to take risks. You may not think you're good enough, but you are.