We interviewed Jane Kenny, Lead Delivery and IT Service Manager at DWP Digital on her experience and thoughts on women in tech.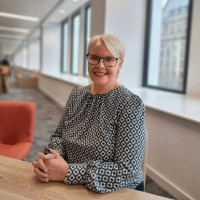 1. What does your job involve?
I work in DWP Digital as a Lead Delivery and IT Service Manager. In DWP Digital, our mission is to design and deliver the services which are critical to 20 million customers; services that are more personal, accurate and efficient.
As part of our digital future, we're transforming services so that customers can access vital services quickly, easily and in a seamless and joined-up way, ultimately improving the customer and colleague experience.
In my role, I'm responsible for the development, implementation and management of IT services that meet the needs of a specific line of business within DWP Digital.
I lead delivery teams, who develop and deploy new and enhanced digital products and services, using a mixture of agile and waterfall methodology.
I'm a service owner for 35 services, my live support teams provide 24/7 expertise to manage and restore services whenever issues occur, ensuring that incidents are resolved with the minimum of service downtime.
As an IT business partner, I build and maintain trusted collaborative relationships with key stakeholders, both internally and externally. I support business strategies and objectives through digital enablement, acting as a DWP Digital ambassador and providing a single point of focus for senior business colleagues to raise issues or concerns.
2. What made you choose a career in technology?
I didn't, it was an accident. I joined the Civil Service over 30 years ago as an admin assistant working in premium bonds. I was studying to be a social worker but when lessons kept getting cancelled due to lack of attendance, I saw an advert in the local job centre and thought I would give it a go until I decided what to do with my life.
I moved to the benefits agency on promotion where I was there at the very start of Disability Living Allowance, initially working on the helpline. Following several operational roles and a stint as a benefit advisor for Freeline, I saw a job advertised in infrastructure management. I thought I had some of the skills required so I applied, and I was successful. That was in 1998 and I have mostly worked in IT ever since.
3. Did you study an IT or technology related subject at A-Level or University?
No, I didn't. My first qualification was PRINCE2, and I was 28. However, when I realised that I enjoyed working in IT, I continued to develop myself. I think it's really important that you continue to learn and grow, especially in IT as it is an ever changing and continually developing environment. Now I have lots of qualifications in project and service management and have recently attend the Managing Successful Programmes course
4. Did you get any work experience in IT or technology before this role?
In infrastructure management, I was responsible for managing IT changes and working on some large projects (who remembers Y2K?). This included a £3billion national project which was the biggest in Europe at the time to provide an IT refresh of new desktops and infrastructure platforms for all staff in DWP. This enabled us to radically change and revolutionise our way of operating as a department, moving away from clerical processes. I then managed the outsourcing of the IT change work to suppliers. After making myself surplus as a result, I decided to take the plunge and leave what was now a 16 year Civil Service career and joined a local authority, leading on similar IT transformation work that I had done for DWP.
From there I went into the private sector, delivering some global IT projects. After having a baby and the need for a better work-life balance and flexibility, I came back to DWP Digital in 2013 as a portfolio manager, before moving into my current role in 2015 which is within children, retirement, and counter fraud.
5. Do you think there is a lack of females in the IT and tech sector?
From what I have experienced – most definitely in the private sector but not so much in government. Even when I look back over 20 years, I've worked with lots of females, but was often the only female in the room when working with external suppliers. I do think that there has been a definite shift in recent years of more women in senior IT roles. Look at DWP Digital – half of our executive team are female and that's just brilliant to see.
6. Do you find there is a stereotype that a career in IT or technology is just for men?
Absolutely, but I think that is because there is a misconception that IT roles are more suited to men.
Also, people don't realise that vast amount of different roles there are in IT. Project management and service management require skills in leadership, communication, stakeholder management, organisation, and planning. I think women may be more drawn to these types of roles rather than programming or architecture for example. However, I know many great women programmers and architects.
7. What would entice more women to study technology related courses?
It starts with schools, getting rid of those misconceptions and promoting the different roles there are in IT. I have been part of education days where we have brought schoolchildren into the office, as well as supporting local community events on the work we do in DWP Digital.
My 13-year-old daughter recently attended a Cyber First Girls in technology event where 500 girls from secondary schools across Lancashire joined in on a day of activities, which aimed to spark girls' interest in technology careers. I don't remember anything like that when I was at school, so it's great to see things like this happening.
8. Are there barriers when it comes to women getting into tech?
Probably our own self-limiting beliefs and imposter syndrome. I'm not suggesting that men don't feel this way, but we have all seen the stats that men are more likely to apply for roles even if they don't meet all of the essential criteria, whereas women are less likely.
9. How could we encourage more women to start a career in tech?
By continuing to tell our story and support, motivate and inspire others. I have talked at our local women's network events about my role and my career progression in over 20 years of working in IT, without actually having studied IT at school or university. I also see many of my female peers and senior civil servants doing the same. This without a doubt plays some part as to why we have been awarded Best Public Sector Employer for Women, Employer of the Year and why we are in The Times Top 50 Employers for Women – because we get out there and tell our story.
Also, don't focus on the job title, instead look at the skills, attributes and behaviours required for the role and look at your transferable skills. If you don't currently work in IT but know someone that does, reach out to them, ask them to be your mentor.
If you want to do the real technical stuff then there are lots of organisations out there that do coding clubs etc, and some specifically for women – Google is your friend here.
10. What advice would you give young women today at the start of their career?
Don't worry if you don't have a plan at first. If you are not sure what you want to do, look at what interests you, what you would like to do and then give it a try.
I started my career path wanting to be a social worker as I wanted to help people, but I ended up working in IT. I still help people though, just in a different context. I help my teams and colleagues develop and realise their potential and I work with some fantastic people to help colleagues and citizens by building and maintaining world class digital services.