We interviewed Kafui Mbrou, Security Risk Analyst at DWP Digital on her experience and thoughts on women in tech.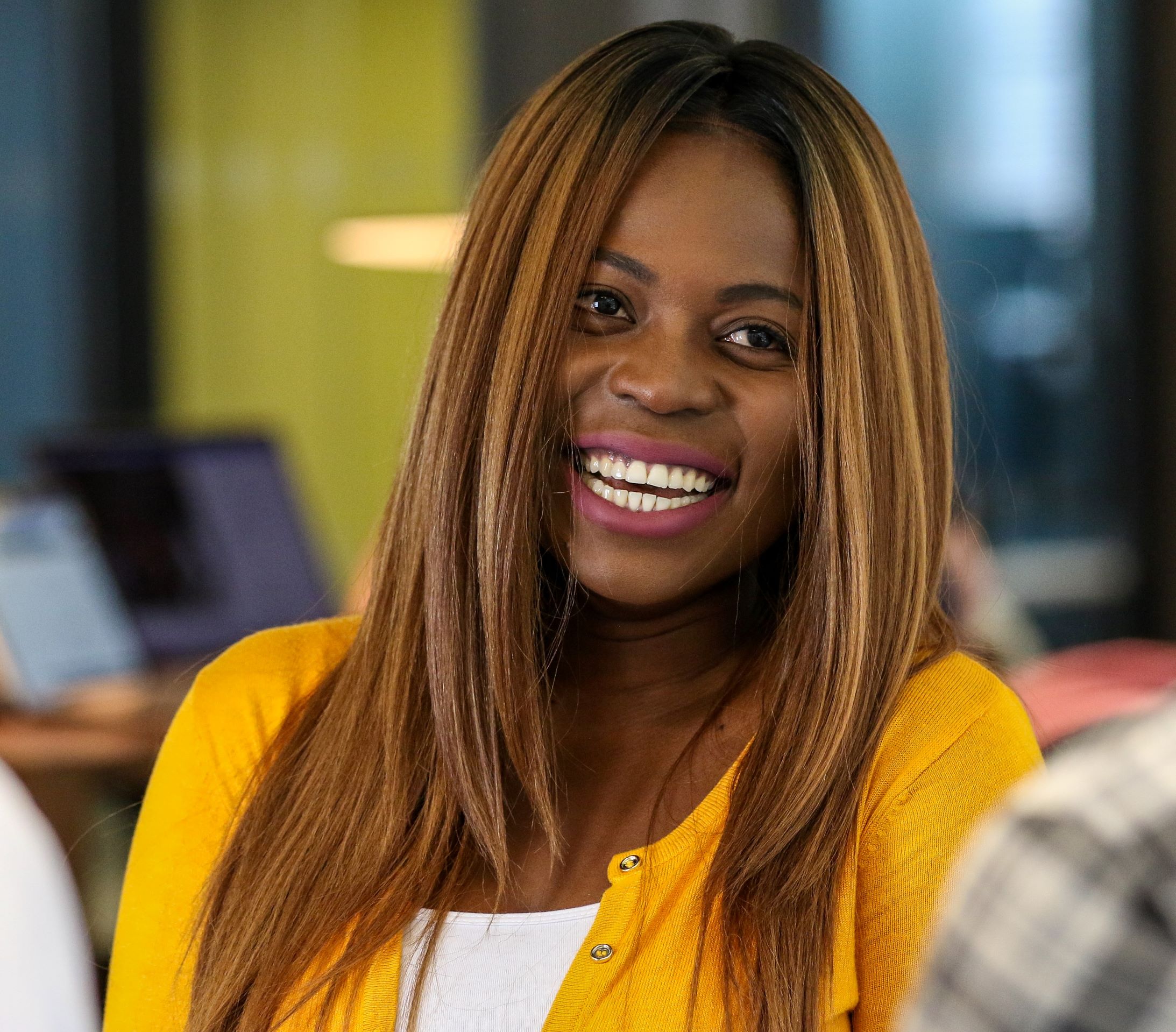 What does your job involve?
DWP exists to contribute towards fair, safe and fulfilling lives, reducing poverty supported by reducing dependency on welfare support whilst providing choice, personalisation, and a high quality of service for all its customers. I work in the Integration Team which is tasked with enabling systems that connect to each other, sharing data and information across DWP, with both government departments and private sector partners. As a Security Risk Manager, I assist diverse digital projects within my team by providing advice and guidance on information security. This involves identifying and recording risk and mitigating them to the lowest possible level.
What made you choose a career in technology?
I joined DWP Digital in 2016 as a consultant with the aim of furthering my career in project management. On my first day of work, I was placed in the Security team within a Product Delivery Unit. As a Business and Marketing Graduate, I wasn't familiar with the Digital world and found myself asking a lot of questions: what is security? what does it mean? Although I was not from a security risk background, I adopted a continuous learning mindset to come up to speed with my roles and responsibilities. I have since grown to love my job due to the continuous development the role provides. The world of Digital is dynamic, and no day is ever the same in my role so after a couple of years, I applied for a permanent role in DWP. I wanted to be part of a team that contributes to making the departments systems safe and secure for the citizen.
Did you study an IT or technology related subject at A-Level or University?
I took AS level IT and found it challenging due to the lack of support provided and having no vision of what a career in IT could look like at the time. I eventually decided to drop the course in my second year of college.
Did you get any work experience in IT or technology before this role?
I was on an eight-week intensive programme management course with my consulting company which covered elements of IT. I have been fortunate to be placed in DWP Digital, a department that encourages continues learning. I've also had the privilege of having great managers with a wealth of experience who have helped propel my development by providing the best on the job training. I also established trusted working relationships with colleagues who had a range of diverse skills that has enabled me to grow.
The world of Digital is dynamic, and no day is ever the same. In my role as the ecosystem is constantly changing with attackers developing new exploits on a daily basis and with the development of new emerging technologies one has to engage in continuous learning and develop the relevant skills required to adapt to the changing environment. For me there are a few things that I've done to enable my development in the industry.
I recently achieved my certification in Risk and Information Systems Control (CRISC) with the Information Systems Audit and Control Association (ISACA), together with successfully completing the BCS Foundation Certificate in Information Security Management Principles (CISMP).
Do you think there is a lack of females in the IT and tech sector?
I believe there is currently an unequal ratio of women to men in IT. This could easily be addressed by encouraging young girls to pursue a career in IT by showcasing the various career possibilities in IT.
Do you find there is a stereotype that a career in IT or technology is just for men?
I think that was an entry barrier to this career initially because of the general misconception. However, this is quickly being debunked by the number of visible women in IT. Within DWP Digital alone there are some great female leaders that are breaking down these barriers.
What would entice more women to study technology related courses?
PwC's research (Women in Tech: Time to Close the Gender Gap) with over 2,000 A-Level and university students revealed 50% of the females interviewed stated the most important factor when choosing their future career is "feeling like the work I do makes the world a better place/has a wider impact". Therefore, it is important to have targeted campaigns for young females reiterating this important message. Digital roles span across several industries and sectors providing females with the opportunities to make the impact they desire.
Having more visible female role models, providing more internship opportunities and grants for women who take up the course could encourage more women to study technology.
Are there barriers when it comes to women getting into tech?
Working in tech is generally perceived as being a difficult subject with limited support.
A research report produced jointly by Accenture and Girls who Code, stated that 50% of young women abandon technology careers by the age of 35 and leave tech roles at a 45% higher rate than men.
Although there are barriers to entry in the sector it is also important to look at the retention rate of women in tech roles and devise the necessary measures to ensure they remain in the sector.
Programmes such as the award winning DWP Digital Voices programme of which I am proud to have taken part in are a great way to provide support and encourage women in digital roles to build their skills and confidence.
Similarly, the DWP Women in Digital network helps women reach their ambitions, build their confidence, and celebrate their achievements so they can inspire others to do the same.
How could we encourage more women to start a career in tech?
Apprenticeships could provide a clear gateway into the industry where women are provided hands-on training to gain a real insight of working in the industry. These guided and supported programmes will help minimise the challenges faced by women at the onset of their career in tech and also change the narrative around the perceived difficulty of working in the industry.
What advice would you give young women today at the start of their career?
Careers in technology span across several industries and sectors with different types of job roles available, providing you with the opportunity to pursue roles in the government, finance, healthcare and other sectors. Therefore, it is important to invest time in researching the opportunities available and reach out to various businesses out there.