We interviewed Ope Anthony, a DWP Digital Content Designer, about her thoughts and experiences as a Woman in Tech.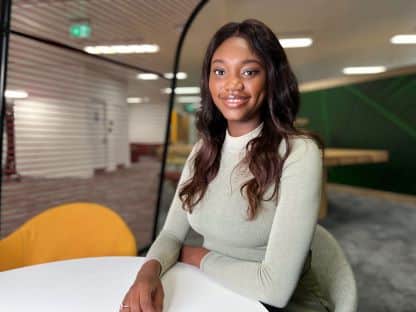 1. What does your job involve?
I'm a content designer for DWP Digital, I joined the team about a year ago and I primarily work in technology services. Technology services is the biggest team at DWP Digital, we focus on making sure 90,000 DWP colleagues have the digital tools, applications, and solutions they need to support citizens.
The role of a content designer across the organisation varies, but my role in technology services specifically involves working on refreshing content on DWP place – the internal platform used by our colleagues if they experience IT issues or need information on a technical matter.
To briefly take you through the user journey, if a colleague experiences a problem with their IT equipment, before contacting a tech support colleague, they are first encouraged to go to the 'knowledge' articles on DWP place to find a solution. However, the uptake of these knowledge articles has not been that high because they're not easy to find and tend to be quite technical.
That's where I come in. I work with subject matter experts to improve the way content is presented, the language used, the lack of consistency, and much more.
Making content accessible is also essential. I work to ensure everyone has access to the same information in the same way. Content needs to be user-friendly for those who may experience barriers when interacting with or accessing content.
I come up with ideas for improvement, feedback suggestions and review ideas from my team. We discuss the best approach to take, considering the pros and cons of each suggestion. I have to say, I don't think I've ever worked anywhere that values collaboration as much as my team does here at DWP Digital. I enjoy that I'm also trusted to work independently.
2. What made you choose a career in technology?
As cliché as it sounds, I didn't choose tech, tech chose me. Seriously, I didn't pursue it actively. I actually come from a legal background, I've just kind of fallen into tech. The role seemed interesting and was an opportunity for me to advance my skills, so I just thought I'd go for it.
3. Do you think there is a lack of females in the IT and tech sector?
I would say so, I've noticed a gap. There aren't that many women entering the industry or being recruited. When I was an IT recruiter, there was a focus on recruiting women which, although a positive thing, was difficult because not enough women were putting applications forward.
It's also interesting that some organisations put more emphasis on diversity than others, which doesn't help to bridge the gap industry-wide.
While it's important to recruit anybody with the relevant experience regardless of who they are and where they come from, that's not always the reality.
4. Do you find there is a stereotype that a career in IT or technology is just for men?
I think it is seen as a male-dominated industry, so I would agree with that.
5. What do you think would entice more women into studying technology related courses?
Aside from highlighting the curriculum on offer at the various educational institutions, I think it's important to raise awareness of the different roles that studying technology can lead to.
Focusing on the recruitment process, it's crucial that employers strive for inclusivity so prospective students know that the IT roles on offer will be available to them post-study.
For example, when it comes to advertisements and job descriptions, making sure the wording used aren't commonly associated with men, such as 'strong', 'driven', or 'decisive'. Even though women can be all these things, it can sometimes be off-putting as job seekers assume that the employer already has a specific gender in mind. The stereotype that the tech industry is male dominated doesn't help, so language needs to be inclusive and gender neural.
From what I've observed, DWP Digital seeks to reduce bias in recruitment. There isn't any gender-focused language in job descriptions and there's been a blind recruitment approach in place since 2015. It's also possible to volunteer to join recruitment panels – diversity on these panels is encouraged.
6. Are there barriers when it comes to women getting into tech?
Yes. Amongst other things, the benefits companies offer in terms of balancing work and life is one. I've recently become a mother and so if I see that an organisation doesn't offer benefits that support that, it would put me off – it can be off-putting for a lot of women who have to balance work, family, and childcare.
I have a great work-life balance at DWP Digital. Flexible working is really helpful, it allows me the freedom to manage my own diary to suit my needs. With DWP Digital's hybrid working benefit, I am able to spend 60% of my time working from home.
7. How could we encourage more women to start a career in tech?
A recruitment drive targeting women alone will likely not be successful if there are still fundamental issues within the sector itself; for example, the assumption that only men can succeed in tech and that women won't be able to have a family (if they wish) and strive for career progression too.
The way to attract the best talent to an organisation is to adopt an inclusive culture. A culture that does away with stereotypes and assumptions about women, and instead focuses on providing mentorship and networking opportunities to everyone equally.
At DWP Digital, there is a focus on encouraging women with initiatives such as reverse mentoring and listening circles, conducted to understand diverse perspectives. There is also access to networks such as Women In Digital and the award-winning Digital Voice's programme which was set up to increase women's confidence and create female role models.
Through mentorship programmes, unbiased recruitment, use of inclusive language enforced through diversity and inclusion policies, and attractive company benefits, more women will likely gravitate towards the industry.
8. What advice would you give young women today at the start of their career?
It might seem quite daunting starting a career, it's not easy. My advice would be, don't feel pressured to know it all or have your next steps figured out because, truthfully, nobody does, male or female.
At the start of my career, I didn't realise there would be so many stepping stones, rejections, and internal battles about what I wanted to do and how I could turn my passion into a career. I dreamt big, started small, and built up to where I am now.
If things don't work out as planned initially, it may be scary, but you can change your mind and choose a path that's more suited for your circumstances. It is never too late to relaunch your career or try something new.
Don't pressure yourself into climbing a corporate ladder because there's a risk you might stumble and find yourself somewhere you aren't completely happy. Take university, if you go, as an opportunity to think about what you want to do. I studied law, I didn't stick with it and I'm still on a road to success; this is true for a lot of people, so remember that.
Find out more about a career at DWP Digital.