We interviewed Rachel, Associate Software Developer at DWP Digital on her experience and thoughts on women in tech.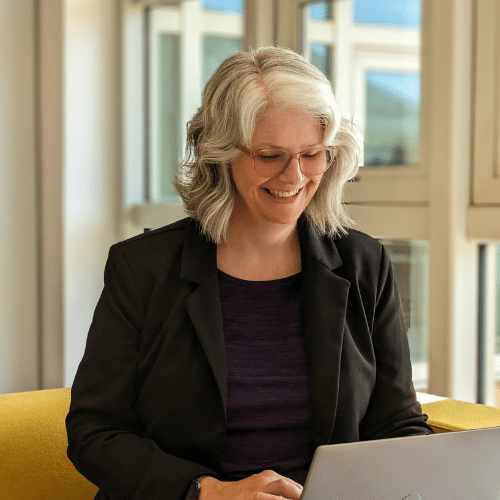 What does your job involve?
My current job title is Associate Software Developer, I joined DWP Digital on a permanent transfer in January as part of a cohort of 12 internal DWP colleagues who wanted to make the move from Operations to Digital.
The end goal is that I'll be a software developer, but this training covers all we need to know from agile working, project management and most importantly for my role the languages that are used in DWP Digital, there are over 100!
I'm part of the Core Digital Services area of DWP Digital, so we're looking at some of the software that goes back to when we first had computer systems. This area includes the systems that pay customers so it's really important.
I like helping people – customers and colleagues – which is DWP's reason for being to enable millions access the help, advice and support they need. I'm a big believer that our customers need extra ways of accessing our services, we're on the other end of the phone or they can write to us but now people are getting used to doing things online, such as online banking. It's great that we're working on providing this as an option for customers to be able to access our services online conveniently, safely, and securely.
So far, I've met lots of knowledgeable people who are all very welcoming, many giving up their time to show us what they do or have us join their scrums. I've been getting a lot of support and I'm really enjoying the role; it's been brilliant.
What made you choose a career in technology?
My kids have grown up now, so I was ready for a challenge. I wasn't focused on a career in tech but when I read the internal job advert, I was really excited. The advert said colleagues who are the end users of DWP systems would be taught how to improve them through software developer training.
This really stuck with me once I'd read it, I mentioned it to friends and family who agreed it would be perfect for me. I thought why not try it; I've got nothing to lose.
When I was working in Operations my favourite changes were always digital, they enabled us to get more done, more people paid quicker and far fewer paper cuts.
My career move to tech is not leaving my old job behind because I'm bringing with me all the experience and expertise I've learned over the past 25 years. I've got the perspective from being a user, I know the systems well and how people are using them. I'm hoping that will give me valuable insight when it comes to developing the systems.
Did you study an IT or technology related subject at A-Level or University?
No, I didn't do any A Levels or go to university.
Tech has always been something I was curious about as I'm interested in gadgets. I'd never developed before, but once I started for this role, I got completely lost in it. I love it.
Did you get any work experience in IT or technology before this role?
I did work in an IT department years ago. This was an in-house training role, but it didn't work with my childcare at the time as my children were young.
I then moved to DWP where I've worked for 25 years, I've been here for so long as the family friendly policies enabled me to have the right work life balance. When I first started, I was working on Disability Living Allowance, the only technology there was back then was one single computer that we had to book time on.
Do you think there is a lack of females in the IT and tech sector?
There certainly seems to be more now than there was back in the 90s.
The women in DWP Digital are in such a variety of roles, from technical to project management, to leadership which spans across all areas of Digital. It doesn't seem to be anything to do with being a women, they are all here on merit. We're just people doing roles that we're good at. It's a really good atmosphere.
Do you find there is a stereotype that a career in IT or technology is just for men?
Not for me personally, my first computer science teacher was female, so it never occurred to me that it was not for girls.
What would entice more women to study technology related courses?
I tried to encourage my daughter, but she wasn't that keen; I think you need to find a way to engage students. You can research online if you are curious as there's lots of free resources out there, but I do think coding should be taught at school from as young as possible as a core subject.
Some of the jobs that people are doing today weren't even thought of 10 years ago, tech is going to keep evolving and be part of everybody's lives in the future. Hopefully, we can get more people in to tech that reflect society, then tech can be even more of a force for good.
Are there barriers when it comes to women getting into tech?
Maybe there are misconceptions about the industry but there shouldn't be barriers. Its not a lad culture, you don't have to be one of the boys. If you're interested, you should go for it.
You don't need to be a genius in all things tech so don't see this as a barrier, I still have to take my laptop to be fixed at the Tech Bar every now and then.
How could we encourage more women to start a career in tech?
I'm not normally one to enjoy the spotlight but I thought this Women in Tech case study would to be good to 'pay it forward' opportunity after all the people that have helped and inspired me.
Tech roles aren't just coding, even in my role. Software development also involves communication skills, planning skills, interrogation skills. There are lots of aspects to it, so promoting this may help other women identify their transferable skills.
There should be more opportunities to move internally within organisations like I did, as then you have nothing to lose. Because if you're not successful or don't enjoy it, it's been an experience you have learned from, rather than a complete risk of moving to a new company.
I also think everyone needs to be careful of language used, we all need to contribute to this. For example, when I was back in school, others would say things like 'you've beaten the boys' if we did well at certain subjects. We need to be mindful of the language we use with the children in our lives, as that could impact young minds and viewpoints.
What advice would you give young women today at the start of their career?
Don't be afraid to talk to others and get others' opinions. I wouldn't have been able to get through the interview process without a critical friend.
If where you wanted to go, isn't where you end up wanting to be then broaden your search a little bit. Every job you do you learn something from, pick up all those bits of learning, take them forward to your next role and then you can only get better and closer to where you want to be.
There's lots of roles in tech, mine happens to be in engineering but in large organisations like DWP Digital there is such a variety to choose from including business analysts or product managers as well as recruitment roles, all are within the digital world so remember there are lots of options.