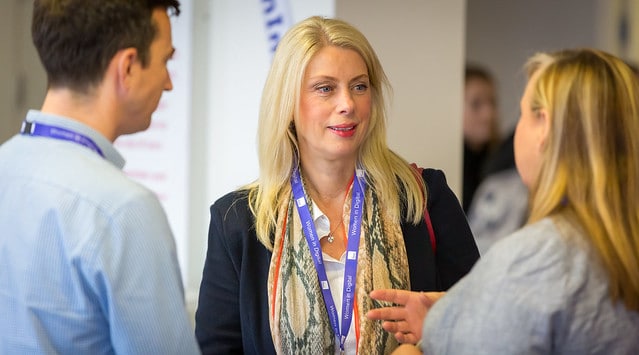 We interviewed Sue Griffin, Head of User Support & Practice for Service Management at DWP Digital on her thoughts and experience on Women in Tech.
What does your job role involve?
I'm the Head of Practice for the Service Management profession in DWP Digital. I lead a team of around 600 people who provide support to over 80,000 colleagues across DWP and subject matter expertise for Incident, Problem, Request and Knowledge service management disciplines. My team help colleagues to get the best out of their digital products and services and provide guidance or resolution to fixing any issues they may have on their digital services.
I'm also sponsor of our Women in Digital network. The aim of the group is to develop women in their careers to help us deliver exceptional services. It provides excellent networking and training opportunities that help build confidence and engagement skills. It's something I'm very passionate about.
What made you choose a career in technology?
I worked in DWP Commercial Group procuring IT services from suppliers, I really enjoyed working with colleagues in technology and the fast paced nature of the work so decided to make the move into a technology role.
Did you study an IT or technology related subject at A-Level or University?
No. I started in 1987 straight after my A-Levels, on a 12-month temporary contract in a local benefit office before going to university.
However, I never made it to university and 30 years later I'm still here!
Did you get any work experience in IT or technology before this role?
Yes, through working in DWP Commercial Group procuring IT services. I worked as part of a commercial team in outsourcing DWP's IT contracts.
Do you think there is a lack of females in the IT and tech sector?
I don't think there is a lack of females in every area of tech but in some there is under-representation, for example Architecture and Software Engineering. There's also an imbalance in the more senior levels, in most digital organisations the majority of senior roles are still filled by men.
Do you find there is a stereotype that a career in IT or technology is just for men?
For some areas of technology yes. This isn't helped by the fact that many of the big tech companies and popular Apps used by kids have been developed by and are run by men Google, Facebook, Apple, Samsung etc.
As step-mum to my husband's grown-up daughter, I know how important it is to nurture our young women and help them realise the potential and opportunities at their finger-tips. The role of women has changed massively this century: when labour exchanges first opened in 1910, men and women were strictly segregated and, until 1945, female civil servants were required, by law, to resign on marriage! A lot has changed during my 30-year career, in part thanks to the Sex Discrimination Act of 1986, which came into force the year before I started work, ending discrimination in training and removing restrictions to women's working hours and conditions. Now, we've got young women training as software engineers – and thankfully that's the norm. If you consider what has changed in this short space of time, then think about what changes we can help to bring about for our future generation.
What would entice women to study technology related courses?
We need to talk more about the different roles available and broaden-out opinion – it's not just about sitting in a darkened room coding – it's about 'tech for good' and showcasing the difference you can make through tech.
We need more female role models and to be the best role model we can be. I hope the women I work with are inspired by my positive outlook, and I'd like to think that I'm somebody that the next generation of women joining us can look up to.
Are there barriers when it comes to women getting into tech?
I don't think so, in a world where we are roughly split 50/50 by gender, it's important that we get that balance. It's not just about fairness; a diverse team has been proven to increase effectiveness and levels of success.
I feel so proud to be part of an organisation that values diversity and gives everyone an equal chance to reach their full potential.
How could we encourage more women to start a career in tech?
Talk about the difference the products and services we deliver in tech make a difference. That we value diverse input.
Our aim is to increase gender diversity at all grades, particularly female technical subject matter experts, to 30% by 2020.
DWP Digital holds an annual cross-industry Women in Digital event. It positions DWP as digital leaders, and a modern, inclusive employer of women, with exciting career opportunities. In its third year, this year's themes will focus on women moving into leadership roles and returners.
Our key priorities for 2019/20 are achieving better gender parity in each of our digital professions, improving the visibility of women in digital to inspire others to find their voice, and taking practical actions to encourage the next generation. As well as being visible active role models for normalising inclusion.
What advice would you give young women today at the start of their career?
Digital and technology is changing, and I believe passionately that women can really help with this change. Keep learning throughout your career, don't be afraid to try new roles outside of your comfort zone, take time to get to know colleagues, stay true to yourself, get yourself and coach or mentor at work who can help guide you.