We interviewed Scarlett Crofts, Graduate Software Engineer at Experian, on her experience and thoughts on women in tech.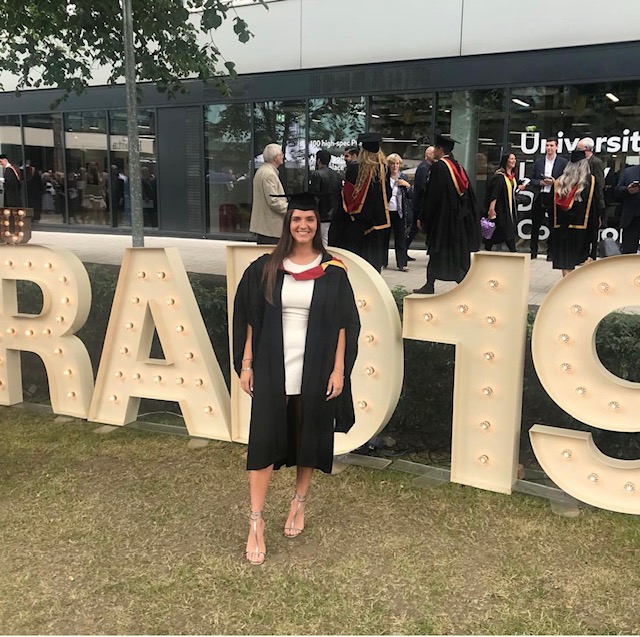 What made you consider this career path following your studies?
During both degrees I was very much impressed with what technology could do and always enjoyed problem solving. But during my Masters Degree my dissertation focused on improving the security of blockchains which is where my interest in financial technology grew. It was during my dissertation module where I became exposed to different software, networks and cloud computing and I felt I wanted to know more about it and work on in the future.
What does your day-to-day role involve?
I currently work in Decision Analytics on one of Experian's cloud based decisioning software products (PCCA) which is sold to a variety of business'. I add new features to this product weekly to keep up to date with our existing and new client needs. I could be adding new datalinks from Experian's bureau to bring forward more credit information. I could be changing the visual gui of our product. I could be testing the new features that id implemented. I could be querying the database to ensure all data is secure and saved.
Everyday my team and I have a stand up to talk about what we are working on, to see how things are going and if anyone needs any help to ensure work is completed. My team also has a daily 'hot house' to discuss any problems or any knowledge that's needs to be shared. We follow an agile methodology in two weeks sprints and have a retro and planning session to prepare tasks that are needed to be done in the following weeks.
What stood out about Experian/Why did you apply?
Experian is a global FinTech company. The more I researched Experian the more I found that they are so much more than just a credit score. I found many success stories during Covid-19 of how Experian had helped struggling people and businesses, and how they evolved in order to support people in the future. I looked at current technology roles at the company alongside the graduate scheme that detailed different tools and software that Experian exercised; and I wanted to get involved and learn more. The application/recruitment process was very easy and made me look forward to the job more and more.
How do you feel the EC Development Programme has helped with your learning journey so far?
The graduate scheme has allowed me to learn many soft and technical skills. I have the freedom to rotate into different teams to further my knowledge, network and grasp a better understanding of the business. The early careers programme has allowed me to work with other graduates on the programme that I wouldn't necessarily work with day to day from different departments. There are different workshops that take place during the Early Careers Programme that encourage me out of my comfort zone and spurred me to contribute to activities that I would not necessarily have committed to by myself. On the programme there is so much support from so many people eg mentor, buddy and a massive understanding on the amount of training that may be required and no expectation.
What has been a key achievement/stand out moment so far? Soft Skill or Technical or Project you have been involved in
In my first role at Experian I delivered our decision software (PCCA) to businesses as a client support specialist. I reduced the delivery time from five weeks to three due to a demand from one of our clients. Knowing I completed the build and testing within the time frame and configured certain parameters and strategies to the client's desire gave me a great sense of achievement with only being at the company three months.
I also had the opportunity to be a panellist on the Experian Code First Girls merge Q/A inspiring young females to get involved in tech roles and courses. Discussing my struggles and achievements being in a technology roles so far. What advise I give to new beginners that haven't come from a technology background.