We interviewed Ami Abbott, Scrum Master at Fruugo on her experience and thoughts on women in tech.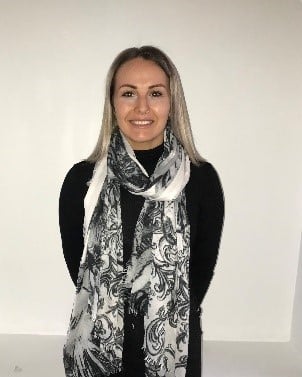 1. What does your job involve?
I'm currently a scrum master at ecommerce marketplace, Fruugo, which serves consumers in 42 countries. The main aspect of my job is to oversee and coordinate the work of the software and engineering scrum team which includes product owners, software developers, testers, etc. to ensure we provide our sellers with the greatest experience possible to help them grow their business.
As a team, we aim to effectively and efficiently build actionable intelligence for sellers on our platform. This includes regular backlog refinement, in which we review user stories that will provide value to our sellers, as well as sprint planning. Scrum sprints are short, time-boxed periods that help us define what new developments we can deliver and in what timeframe. Once the developments are live, we perform regular retrospective updates to see what went well and what can be improved.
As we are a global marketplace, we sell a variety of goods in different countries, and so a lot of the job requires translating our work into alternative languages and currencies, to ensure all our sellers are being supported.
2. What made you choose a career in technology?
My first job was at a UK-based insurance company, where I worked as a sales executive, before moving into the role of a claims handler. A big benefit of working there was that the company supported employees with any required training, and so when I saw an upcoming position as a test analyst, I thought it was a great opportunity to gain some new experience. I was successful in my application, which then started my career in technology.
By working as a test analyst, I gained useful insight into the world of technology as we worked under the waterfall methodology before moving into agile, which involved working alongside the scrum team. Gaining this experience and seeing the work of the scrum team in action influenced me to apply for the role as a scrum master.
One key influence at the time was my manager, who gave me the opportunity to progress by taking on project leads and running project meetings. I took such pride in my work by taking on this extra responsibility and it added a sense of enjoyment to the projects I was running. Since then, the only roles I now look for are those within the tech sector.
3. Did you study an IT or technology related subject at GCSE, A-Level or University?
Whilst I studied IT at GSCE, I did not go to university, or do any A-Levels, as I wanted to kick-start my career early. I did not initially have an interest within the tech sector, but by gaining valuable in-work experience, I was inspired to try other roles within the industry. This shows that you do not need your life set out by the age of 18 – there are multiple roads available to take down the line!
4. Did you get any work experience in IT or technology before this job?
I gained work experience in tech at the insurance company I worked for where I was a test analyst. I spent two years in this role, which involved helping ensure data solutions were designed, tested, and delivered to meet the demands of the business. As previously highlighted, by working alongside the scrum team I successfully applied for the role of scrum master in 2019 and enjoyed two years in this position before a brief stint as a test manager in 2021. However, after one year I realised how much I enjoyed my time as a scrum master, and so when I saw the opportunity to join Fruugo in 2022 I could not turn it down. I have really enjoyed the role so far since it has given me more experience in the tech sector, but also more varied experience from having moved from a company in the insurance industry to retail.
5. Do you think there is a lack of females in the IT and tech sector?
When I first started in 2017, it was a lot more male dominated. However, as time has gone on, I have certainly seen a lot more female recruitment – myself included. Not only in starting roles, but also managerial roles such as product owners, which has been really positive to see. That's not to say there aren't areas still with a male majority – development and testing for example seem to prove more popular with men. From my perspective, having more females and female managers in tech has inspired the younger generation to get more involved in the tech sector, as there are more role models for them to look up to.
6. Do you find there is a stereotype that a career in IT or technology is just for men?
I personally have not experienced any stereotyping or sexism within the workplace throughout my career. Fruugo has a very inclusive company culture and my colleagues have always treated me fairly. Generally, as time has gone on, there have been many more women applying and successfully progressing in IT and tech roles, so the gender gap is starting to become more balanced.
Whilst I have been lucky enough to work at inclusive companies, I do understand that there are many women in the tech industry who have experienced attitudes and behaviour where men are assumed to be inherently better built for tech roles. As more and more women are inspired to join the sector, we must ensure they receive the same respect as men in the workplace. The same outlook stands for all industries, not just tech.
7. What would entice women to study technology related courses?
Tech is the future, and the importance of technology within the younger generation will play a role in getting more females involved in the sector. Social media is now a dominating presence, and the shift to ecommerce is only continuing to grow. In a world ran by technology, I believe young women will start to become more curious about how they can enhance some of the platforms they use every day with the skills they have.
The rise in technology use offers many more opportunities to involve young women in the industry. For example, online training courses are much more accessible and social media channels, such as LinkedIn, are beneficial for networking with other women and viewing paths of success, which may inspire other women to follow a similar route.
I also believe it is important for organisations to offer support and training to new recruits or existing female colleagues. Take myself, for example, who did not originally start in tech. Having the opportunity to train on the job was a key reason why I applied for a role in technology. Organisations offering more opportunities for women within the industry is one step but providing regular support and training throughout their career is important when it comes to retaining female talent and enabling them to progress.
8. Are there barriers when it comes to women getting into tech?
In this day and age, I believe the barriers are certainly lowering for new female starters in tech. Organisations are more aware of the importance of diversity, inclusion and flexibility and are making more efforts to overcome unconscious biases they may have previously had. I also believe the new way of remote or hybrid working now allows women who may be at home with children, or who live in more remote locations to consider more roles in tech and advance in their careers, as they have more flexibility in their set-up.
A key barrier now is enticing the younger generation into joining the tech industry, and I believe this will only grow in popularity as tech continues to dominate, and the variety of tech roles becomes more well known.
9. How could we encourage more women to start a career in tech? What advice would you give to young women at the start of their career?
The main advice I would give is to just go for it! The tech sector is continuously growing, and new advances are being made every day, so it is a really exciting career to pursue, and you are able to constantly learn and take on new challenges.
From my experience, I have thoroughly enjoyed my career in the tech sector so far. The companies I have worked for have made me feel welcome, they have treated me fairly, and have given me opportunities to progress in my career.
The beauty of tech is that there are so many different avenues to go down that match different strengths – it's not all about coding! I would advise women to explore the many roles that are available and to not hold themselves back by doubting their ability.