We interviewed Tara Ojo, Software Engineer at FutureLearn on her experience and thoughts on women in tech.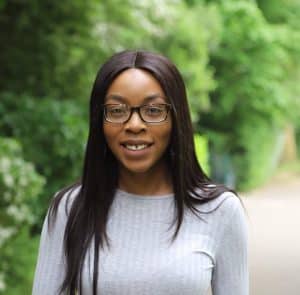 What does your job role involve?
I work as a software engineer on Europe's largest online social learning platform, FutureLearn. My role sees me add new features to FutureLearn and improve the experience our learners have on the site.
I work predominantly on the front end, writing HTML, CSS & JavaScript. My day-to-day can involve anything from talking about how we ensure consistency in our design system components and in our codebase, to working closely with other developers (on one computer) in a way that's really collaborative and allows a joined-up effort to build on learners' user experience.
What made you choose a career in technology?
I used to watch my Dad build computers at home growing up. He's great with hardware and I was fascinated by the process, that's where my interest in technology started. I always picked IT subjects at school because of his influence and loved being creative with computer programs.
Did you study an IT or technology related subject at A-Level or University?
Yes, I studied Multimedia Computing at Aston University.
Did you get any work experience in IT or technology before this role?
I was fortunate to work at my university's tech company for students and get some experience building software for clients like the Birmingham Police and Birmingham Council. The only programming experience I had before this was attempting to build a website for a youth group with minimal knowledge of HTML and shockingly bad CSS!
Do you think there is a lack of females in the IT and tech sector?
Absolutely. I'm grateful to have worked with lots of amazing women in the tech industry, but it is nowhere near equal and needs to be improved. At university there were about 3 women in a group of 20 — and that ratio was the same across the other computer science subjects too.
Do you find there is a stereotype that a career in IT or technology is just for men?
I think in certain roles in the IT/tech industry, the ~IT/Tech = Man~ stereotype is not as bad, but you only see this when you're already working in the industry. I think when you are on the outside looking in through the lense of the media and the big names in IT/Technology like Bill Gates, Steve Jobs and Mark Zuckerberg, it's easy to see why the stereotype exists.
What would entice women to study technology related courses?
Representation and awareness. Lots of people don't realise these careers exist and others just don't see people that look like them in those kinds of roles. That can be really off-putting. Women need to be represented more in those roles and in the media. I'm big fan of Shuri's character in Black Panther for this exact reason. She was a technical innovator in the movie and it was seen by huge amounts of people from different walks of life.
Are there barriers when it comes to women getting into tech?
I think the biggest barrier is getting that first role as a junior. It's hard to know what you need to learn and everyone expects you to have some experience.
How could we encourage more women to start a career in tech?
I'm a STEM ambassador and volunteer at a primary school with Code Club. I love giving talks at events and schools about what it's like to be a software engineer and believe more people can — and should — do this. We can get the word out and give kids more career options! I think this will also help us portray a career in tech as something that isn't hard to reach but as something anyone could do.
What advice would you give young women today at the start of their career?
Set a goal and make your decisions based on whether it will get you closer to the goal you want to achieve. Things will never go to plan and that's fine! Re-assess and re-define your goal regularly and keep going! You got this!