We interviewed Daniela Paredes, Co-Founder at Gravity on her experience and thoughts on women in tech.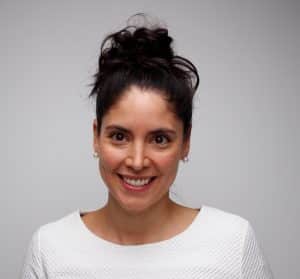 What does your job role involve?
I am one of the two co-founders of Gravity Sketch, a fast-growing UK technology start-up which has developed a 3D sketching application that is changing the game in design. Unlike traditional CAD based models and pen and paper drawings, Gravity Sketch designers use a headset and controllers to become immersed in their creative process and fully understand the space they are working on. Together with Oluwaseyi Sosanya, with whom I founded the business, I am responsible for the day to day running of the company in addition to developing the growth strategy for future markets, one of which is education. My role is to explore these markets and to understand how Gravity Sketch evolves in the designer's workflow by creating tools and mechanisms which allow the users to get the best out of the software and to meet their objectives. Together we are also responsible for developing our overall sales pipeline and business strategy and for working closely with designers who use the tool on a daily basis as part of their work.
What made you choose a career in technology?
I have always been interested in technology but specifically how it intersects with design / art and science. For centuries designers have worked at the intersection of cultural trends, however over the last few years these cultural trends have been accelerated by technological advancements. The fact that I am in a position where I can take design to new levels, transforming the way that people use design tools through disruptive technologies, is both hugely inspiring and an ongoing challenge. Whilst there is a constant need to adapt to the ever- changing technology curve, what my career has enabled me to do is to make a very real difference in a sector about which I am hugely passionate.
Did you study an IT or technology related subject at A-Level or University?
I studied Innovation Design Engineering at The Royal College of Art and Imperial College London, which is where I met my co-founder Oluwaseyi Sosanya. Actually, it was there that we started Gravity Sketch – at the time it was a university project however it ended up growing into a viable commercial solution for designers.
Did you get any work experience in IT or technology before this role?
Yes, when I graduated from The Royal College of Art and Imperial College London, while I was starting up Gravity Sketch, I was also working as an Innovation Designer at Jaguar Land Rover. The fact that my role focused on developing interiors technology that would combine smart materials and AI to create alternative experiences for autonomous vehicles, provided valuable insight into how technology could radically transform the design process. My last year at RCA ran in parallel with the first year of running Gravity Sketch as a business.
Do you think there is a lack of females in the IT and tech sector?
Absolutely. It is a well-known fact that men dominate the tech sector with recent stats I believe recording women as holding around 15-20% of tech jobs. This seems crazy but it is an unfortunate fact. That said, over the last couple of years there has been a conscious effort to not only raise awareness of the fact that women are extremely under-represented in this industry but to address this issue with the ambition of increasing gender parity. There is still a lot of work to be done as it is almost impossible to find female talent in this industry. I do believe that we will start to see a more balanced industry given that change is beginning at a younger age. For instance, if you go to high schools and universities, the split has already been made. Our job is to change the paradigm from an early age so that, in the next 6-10 years, we can see real progression regarding having more women in tech. At the moment, I am usually the only woman at the table, and I will probably be for the next 5 years. At Gravity Sketch we are conscious about this and are actively working towards changing this, from supporting early education to going out of our way to find female talent.
Do you find there is a stereotype that a career in IT or technology is just for men?
Whilst there is a stereotype that a career in IT or tech is more geared towards men, the bigger problem is the lack of education and support in making this sector more accessible to women. People will always stereotype, whether consciously or subconsciously – what we need to do is to challenge these stereotypes and to teach people that there should be no barriers to learning or to employment based on a person's sex or ethnicity etc. It is a constant battle but one that is worth fighting.
What would entice women to study technology related courses?
There are multiple barriers. Fear, lack of opportunity, lack of info about what is available / how women can get into technology, minimal stats that demonstrate that women are as successful as men in STEM, male dominated leadership teams, lack of role models and mentors, gender bias, unequal career opportunities and compensation. The list goes on. What is important however is breaking down these barriers.
How could we encourage more women to start a career in tech?
There are many ways that we could do this. Getting women enrolled on technology courses and involved in STEM from a young age. Providing the right role models and mentors for them throughout their career. From a business perspective, ensuring that employees are treated equally in the workplace so equal pay scales, equal performance metrics, equal career progression opportunities. Removing gender bias and holding those accountable who try to enforce rules that do not allow for equality.
What advice would you give young women today at the start of their career?
I would advise them to believe in themselves, to follow their dreams and to realise that the world is changing in a positive way and that society is tackling a lot of the problems that have traditionally held women back. I would also advise them that gender parity is not something that is going to happen overnight so they will have tough days and they will be judged, so prepare for this but don't let it put them off from being the best they can be. And most importantly understand how powerful it is that you are a woman and embrace the differences you have with men instead of trying to adapt and fit into a male dominated environment.