During the initial stages of lockdown, travel was only permitted for essential reasons such as key workers travelling to and from work, which saw travel companies experience a devastating drop in passenger levels almost overnight. 
So when COVID-19 grappled the country, travel tech company Trainline immediately set to work helping as many people as possible avoid the headache of uncertainty surrounding pre-booked travel. At the start of the pandemic, they asked rail companies to relax their rules regarding refunds to ensure that they were able to provide the best service to customers affected by the lockdown. They have also been sharing vital public health information and updates on their site. 
The pandemic has impacted everyone in some way, and for those in society who were vulnerable before COVID-19, they are reliant upon the help, compassion and kindness of strangers now more than ever. Due to the lockdown many cancer patients have had treatment put on hold, people suffering from mental illness have become more isolated and vulnerable than before, single mothers have all of a sudden had to become teachers as well as full-time parents, and the list goes on. So as well as a donation to National Emergency Trust Coronavirus Appeal, Trainline have been using their social platforms to shine a light on as many charities as possible and connect people with the vital work they're doing during these uncertain and troubling times. By making people aware of these charities, Trainline are empowering them to help themselves or others where they can.
With over 53K followers on Twitter, over 11K on Instagram, and over 295K on Facebook, Trainline have an impressive social reach and influence. To connect people with a whole host of important charities they have established the hashtag #CharitySpotlight which they are using specifically to highlight all the charities tackling coronavirus in the community. 
But they don't just stop at putting these charities names out there, they are also engaging in conversation with people about the work these charities are doing, the impact it's having and how they can help. For example, in the tweet below they have explained exactly how donations are put to use.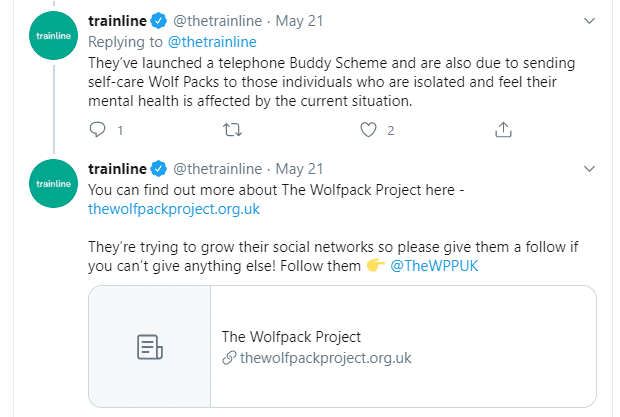 Examples of the charities Trainline have championed are:
Devon and Somerset Air Ambulance – ensuring people can get critical care fast

St Martins – supporting homeless people through coronavirus

The Wolfpack Project – ensuring no one has to go it alone through the crisis

Gingerbread – offering a lifeline to single parents struggling to manage during the crisis

Anthony Nolan – making lifesaving connections between people with blood cancer and stem cell donors

The Cares Family – creating virtual social events to connect elderly neighbours during isolation

Samaritans – being there 24/7 for people who are struggling to cope
Trainline are a company that cares about the community and are using their influence to actively contribute to helping people in need. They are also passionate about issues specific to the tech industry such as gender diversity and equal opportunities for all. To explore more about how they are helping to close the gender gap in tech, click here.