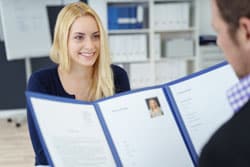 IT Graduate Cover Letter
A covering letter is a vital piece of documentation for any job application. It's the first page of your application and not simply an addition to your CV. A covering letter highlights your main skills to an employer and makes a statement about yourself and your suitability to the position on offer. This presents IT graduates with the opportunity to add the personal touch that a CV might lack.
Presentation of an IT Graduate jobs covering letter
Some job advertisements ask for a cover letter to be hand written. This can be done for a number of reasons; including a test of how legible your handwriting is for communications purposes. If you are required to handwrite the document you must ensure that your handwriting is neat and easy to read. Try not to use lined paper, plain white copy paper is perfect, and always use blue or black ink for a covering letter.
If you are applying for a vacancy via email, ensure to include the covering letter in the main body of the e-mail. If you simply attach it as another document and leave the body of the email blank it may be regarded as spam and put directly into a junk folder. Even when applying for IT graduate jobs by email it is important that your covering letter is written with a formal tone and presented neatly.
Content of an IT Graduate jobs covering letter
As with your CV, keep the cover letter clear and concise. The idea is to keep everything quick and easy for the employer to read. You can achieve this by not waffling and ensuring that only key points relative to the position are covered.
Another important thing to remember when constructing a covering letter is to relate your skills and experience to the position that you are applying for. Consequently, if you have skills in a particular area of IT, be sure to say how those skills will be of use to the company should they decide to employ you.
Covering letters need to be addressed to someone. If a name is not disclosed then try to find one by calling the company directly. Using a name and not simply writing 'Dear Sir/Madame' will help to make the recruiter feel special and aid you to stand out from the other candidates who have probably not addressed the letter personally.
Ideally a cover letter for IT graduate jobs should be kept to just one side of A4; three or four paragraphs are plenty.
View IT Graduate jobs here.