We interviewed Kate Hatchett, Digital Designer at Leighton on her experience and thoughts on women in tech.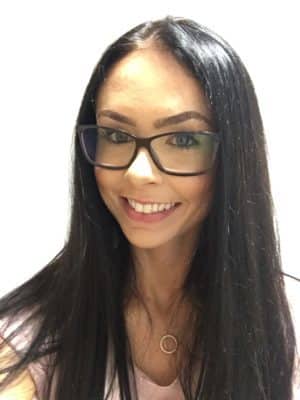 What does your job role involve?
As a Digital Designer, I am involved in the creative output of the business, getting heavily involved in UX workshops with clients, putting together wireframes, creating visuals, prototypes and style guides to support development through to testing.
What made you choose a career in technology?
I'd have to say that the legend that was Myspace was the platform that sparked an interest in web design and coding, as geeky as that may sound… Back in the day, I spent hours in my parents' loft on the family computer making my profile look exactly how I wanted by editing the front end code, changing the font styles, backgrounds and making the music on my profile play on page load. It was interesting to learn how editing the front end would mean I could design the page exactly how I wanted, but I didn't think I'd be able to do it as a full-time job so didn't take it further and was just a bit of fun.
Did you study an IT or technology related subject at A-Level or University?
My passion for art and design started at an early age, so I focused on Fine Art throughout school and because there was a lack of computers at school, there wasn't an option to take IT. Therefore, as a school leaver, I decided to do an NVQ in graphic design for print to combine my creative side with computers and learn more about IT while doing so. It was during this time that I was accepted to begin a foundation degree in Web Design which was ran by a woman, who was amazing and had extensive knowledge of web design and had good connections with leaders the industry, but, the class was very male dominant. Although I was surrounded by men, I ended up graduating with distinction, the highest grade you can achieve on the course, with just one other male.
Did you get any work experience in IT or technology before this role?
Before completing my degree, I had already secured a role at a mobile app development company creating visuals for iOS and Android apps, after this, I moved onto a company who focussed on their own responsive travel website before landing a job at Leighton.
Do you think there is a lack of females in the IT and tech sector?
I used to think there was a lack of females in the IT and tech sector and for a few months in my first role in the industry, I was the only female in the office and was expected to answer the phones because apparently, we sound better on the phone. Despite this, I continued to work in the sector I loved, as I believe women have a lot more to offer with different points of view and ways of thinking whether it's in project management, design, development, testing or support.
Up until I was offered a role at Leighton, I'd taken roles where I was one of two or three females or even the only female in the office. Leighton is the first place I've worked where there is a distribution of men and women in different departments, which is refreshing.
Do you find there is a stereotype that a career in IT or technology is just for men?
I think there are stereotypes that have been associated with certain roles in the IT or tech industry, but I think there has been a lot of initiatives to promote women in tech, so going forward, I hope women do feel encouraged to consider careers in tech.
What would entice women to study technology related courses?
The career fairs at school had one person to represent different sectors and each person from each field would talk about the careers you could consider, and although this was 10+ years ago, there wasn't anyone to represent the tech industry and what careers you could consider that involve IT, and not just to use in another field like customer service call centre staff. Maybe if there had been someone there from the tech industry, I'd have known sooner what I could do and as there are more female professionals in tech willing to represent the industry, it would be good to get them involved in these careers fairs to change any misconceptions young people may have.
Although it never fazed me that I was one of very few women to start the Web Design course and was the only one to graduate (as I was so interested in the course I didn't let that bother me), I think it could potentially throw other women off who don't feel as comfortable in a male dominant class.
Are there barriers when it comes to women getting into tech?
I think there are women out there who have thought about starting a career in tech, who may be lacking in confidence and don't feel comfortable taking a male dominant course or job as they feel they won't be as good as the males. I also believe there are still some places who aren't very welcoming towards women and there's still a stigma that women aren't as good at the job and are often kept at junior levels.
How could we encourage more women to start a career in tech?
There should be more promotion around tech in schools to encourage people from a young age that you can have a career in tech no matter your gender. I would also like to see more women in tech become creative directors or tech managers, as it's not very often you see this and it could help to change the way people think about the sector being male dominant.