We interviewed Kerry Dawes, Head of Personalisation & Optimisation Operations at The Rank Group on her experience and thoughts on women in tech.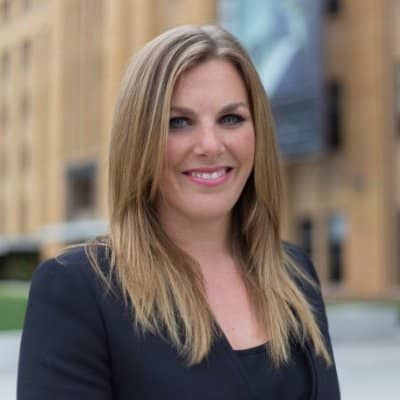 What does your job role involve?
I manage a team of incredibly smart people who manage, implement, configure and drive value out of our digital tech stack across our websites & apps and harness that capability & insight to optimise & personalise the customers journey online. As an online gambling company running Mecca Bingo & Grosvenor Casinos we are always looking for the most seamless journey for the customer and also provide the right tools to improve their experience whether it be their favourite games or responsible gambling tools.
What made you choose a career in technology?
I didn't, I made a decision early on in my career to follow opportunities and trust my gut and that's how I've ended up where I am today. I was working at a small web dev agency and after just 6 months got a call from a connection who said there was a job going up in London and he thought I'd be spot on for. That was where I started 4 years at Experian in a variety of roles. My next big jump was into another small agency that ran tech, analytics & optimisation for some of the largest brands in Australia. Embarrassingly on my first day I realised when they were talking about optimisation, it was search but onsite. That was a steep, but fantastic learning curve. We need to remember we don't need to know everything about the next job, there's always an opportunity to learn.
Did you study an IT or technology related subject at A-Level or University?
I did an engineering degree focusing on Product Design. The degree was essentially sold as more 'creative' to get more girls in to the engineering department and I swallowed up the sales pitch. There was 5 of us out of the class of 30, better stats than the main engineering course where there was 3 out of 300.
I knew the course wasn't right for me from day one but I stuck through it, challenged the curriculum, learnt a lot and grew enormously as a person!
Did you get any work experience in IT or technology before this role?
Not specifically but I had always been surrounded by computers & IT. My dad had an incredibly successful career in the Marketing tech industry and so we were the family that had the latest computer, phone system….the internet! It wasn't intentional but I have now ended up following some of his footsteps so it must just be in the blood.
My dreams as a kid was like any young girl, to be a vet!
Do you think there is a lack of females in the IT and tech sector?
That's a rhetorical question right….. Look around.
I attend and speak at many conferences and I always look in the sea of people and mainly see suit and ties. Do you know what though, us females stand out in that crowd and that's not a bad thing. I aim to use it to my advantage.
Do you find there is a stereotype that a career in IT or technology is just for men?
I don't think in tech there's many stereotypes left. The industry is so nuanced and intricate it surprises me all the time the people doing roles that didn't exist last year. Gone are the days of techies being the geeks with glasses stuck in their bedrooms. The great thing about a career in tech is that anyone is welcome from all types of backgrounds that that what makes it a great place to be.
What would entice women to study technology related courses?
More accessible role models. Young girls need to see positive role models that show a job in the tech industry isn't just about being a developer. I don't know how to code but I lead a team who do. A job in tech is expansive and creative. Girls and women need to see this so it becomes more accessible and attractive.
Tech & digital is exciting, innovative, dare I say it's cool! Let's show that to girls in school and help them choose the right paths to it along their education & career.
Are there barriers when it comes to women getting into tech?
Roles models as above but also the confidence just to go for it. Tech job specs can look like an intimidating list of tasks and technical requirements so we need to change the way we recruit women, we need to go out and find them, don't assume they'll come to you.
We also need to promote the vast range of jobs I tech, from creative, strategic, operations to technical. You no longer need to be technical to be in a tech job and we need to promote that to female audiences.
How could we encourage more women to start a career in tech?
Companies also need to promote the culture and environment of the business, not just the role.
At Rank we are innovating and growing at a rate of knots and have a fantastic team of fun, dynamic and engaging people so a great place to be, no matter what role you're in. As such it's important that when we recruit we look not only for capability but our decision is based on the person and how they can positively contribute to our incredible culture & team. Women can leverage that to their advantage so I'd encourage women to apply for roles even if they aren't 100% confident on the spec, you have a lot more to offer and companies like Rank are welcoming those people in.