We interviewed Khrystyna Andronova, Front Office Technology Consultant at Delta Capita on her experience and thoughts on women in tech.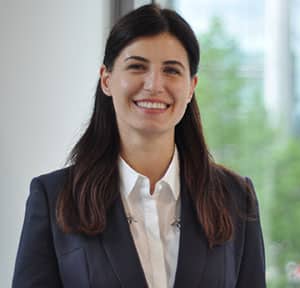 What does your job role involve?
As a front office technology consultant I help clients to select, design, analyse and implement fit for purpose front office technology solutions. The full cycle includes gathering and understanding business requirements, and potentially selecting the right vendor through an RFP process, business analysis, design and implementation. The role requires understanding of the technology used in Front Office, knowledge of the marketplace and different vendor offerings/products.
What made you choose a career in technology?
Technology is part of everything we do. I've always enjoyed creating new solutions to solve financial firms' real issues that can boost productivity, are innovative and help people to be more efficient in what they do. To see the final solution being implemented from scratch, successfully, makes me proud.
Did you study an IT or technology related subject at A-Level or University?
Yes, I studied computing during my A-level and have completed an MSci degree that combined computer science subjects together with business management subjects.
Did you get any work experience in IT or technology before this role?
Before starting a position at Delta Capita I worked at Société Générale, London in the Cash Equity Technology team.
Do you think there is a lack of females in the IT and tech sector?
The number of females in IT is certainly growing, however the industry is still male dominated, especially when it comes to core development and coding. From my experience in the financial world females tend to do more Business Analysis/Project Management roles within IT rather than pure development roles.
Do you find there is a stereotype that a career in IT or technology is just for men?
I would say yes, the stereotype is there.
What would entice women to study technology related courses?
Technology jobs are in high demand and a woman that has an understanding of technology will have cutting edge knowledge that is crucial for starting a successful career. Technology jobs can be challenging at times but you will always learn something new and have a steep learning curve.
Are there barriers when it comes to women getting into tech?
Nowadays companies try to encourage more females to join their technology teams in order to diversify the male dominated areas. I believe if women have passion for technology combined with the knowledge and expertise in the technology field there should be no barriers to entry into technology sector.
How could we encourage more women to start a career in tech?
Focusing on the benefits and the growth of technology sector should certainly lead to higher interest among females. Also, technology is an enabler to solve business challenges, therefore the exposure is much wider than the pure technology environment.