We interviewed Marion Cayla-Faure, Software Engineer at EON Reality on her experience and thoughts on women in tech.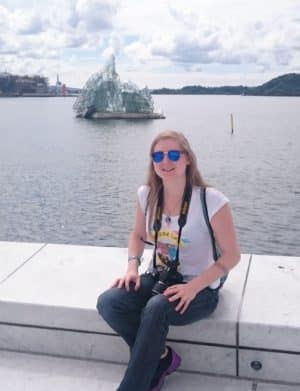 What does your job role involve?
As a software engineer at EON Reality, my tasks mainly involve solving technical issues, programming and debugging. I sometimes take part in the process of designing system architectures, I take part in the development of our applications and I am teaching my colleagues who have less experience in programming. EON Reality recently gave me the opportunity to take part in a Transitional Lead Development Programme to explore this through mentorship for our junior developers.
What made you choose a career in technology?
I have always had an interest in technology. I learned some basic HTML when I was a teenager and I was amazed to be able to write what seemed to be "incomprehensible code" in a file, that could then be displayed as a website in my browser. However, I didn't know programming and I would have never imagined that I would one day work in tech. This was just a hobby to me! The truth is, I didn't know what I would do for a living until I was a software engineer. I had many interests, so I tried to keep as many options as possible. After high school, I started a 5-year engineering degree. After 2 years of core curriculum, I chose IT between the six options I had because I had enjoyed learning my first programming language (Pascal) and it had felt easy for me.
Did you study an IT or technology related subject at A-Level or University?
Yes. I went to the University of Technology of Compiègne, which is an engineering school in France. After two years, I picked IT as a specialisation. I also did a double degree at the Polytechnic school of the University of São Paulo (electric engineering – option Computation).
Did you get any work experience in IT or technology before this role?
When I was at university I did two internships in IT: one as a web developer (3 months) and one as a VR programmer (6 months). The latter got me passionate about VR and AR.
Do you think there is a lack of females in the IT and tech sector?
That's what I feel. In most places I worked, I was one of the few females with a technical role. We definitely need more women to occupy technical roles. I think women think more about accessibility than men. Also, we've seen many examples of AI systems being sexist (because AI just replicates it from our society). I think more diversity is needed so that such issues can be fought and hopefully avoided in the future. Along the lack of females which tend to reduce, I think there is a lack of representativeness.
Do you find there is a stereotype that a career in IT or technology is just for men?
I think it depends on the culture but in general, there is (in a more-or-less subtle way!). I want to believe that this stereotype doesn't exist anymore however, some people still associate IT and technology to men (unfortunately!).
I know many initiatives to promote women engagement in tech exist and I think it's great. I personally try to encourage girls and women I know to consider careers in tech. I think we need to continue doing this until this is not needed anymore (hopefully soon).
What would entice women to study technology related courses?
It takes time to change mentalities, but I think it goes through education. Tech workshops led by women to introduce children and young people to IT would probably help, as well as focusing on girls to promote these kind of events so there is at least a presence of 50% of girls. This might create a stronger vocational trend.
Are there barriers when it comes to women getting into tech?
On one hand, many women can lack of confidence. On the other hand, some places are not really welcoming to women. Oftentimes, women have to do more to gain trust and respect. Some places even perpetrate or tolerate bullying. That's unfortunate but we still must do a lot to move the society in the right direction!
How could we encourage more women to start a career in tech?
I think we should empower women by showing them examples of successful females in tech, offering them mentoring, and proving that it's wrong to think that IT or tech is only for men. We should make women feel welcome and provide them with a safe environment.