We interviewed Megan Poortman, Information Security Manager at Manchester Airports Group on her experience and thoughts on women in tech.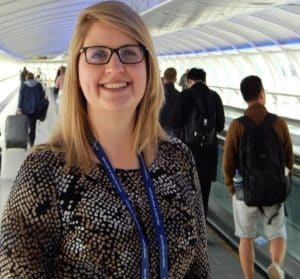 What does your job role involve?
As the Information Security Manager I am responsible for information security, risk and compliance involving our people, processes and technology. Each day offers its own exciting and varied challenges. My responsibilities include dealing with security incidents, tackling new technology challenges and supporting the business by being secure.
What made you choose a career in technology?
I have always enjoyed technology and my interest started with basic computer programming at school. I had to attend classes at the Boy's only school as it wasn't offered yet at the Girl's only. Technology plays an important part for any organisation to enable and achieve their strategic goals.
Did you study an IT or technology related subject at A-Level or University?
No, I did a Bachelor of Commerce in Accounting and a Post-graduate diploma in Accounting, becoming a qualified Chartered Accountant. Subsequently I achieved my Certified Information Systems Security Professional certification and ISO27001 Lead Auditor certification.
Did you get any work experience in IT or technology before this role?
No I did not have formal IT training before this role. I worked at PwC Manchester, my core background was in assurance, financial audits, risk and governance.
Do you think there is a lack of females in the IT and tech sector?
Yes, I feel more women should feel empowered to be part of the tech sector and I believe this starts at school level. We should be encouraging young ladies to have the confidence to pursue their talents and not only follow traditional career paths.
In general, the stereotypical career barriers created by society's gender conformity needs to be broken down. This does not only relate to IT, but stretches to engineering, medicine and aviation.
Do you find there is a stereotype that a career in IT or technology is just for men?
Firstly IT/tech stereotypes are poorly portrayed by film and media that it is similar to something out of ''The IT Crowd'' sitcom. IT is much more than just technology, with the changes and advances we are seeing IT is becoming pivotal to business goals. Cyber Security is high up on senior board agendas globally and the career opportunities available allow individuals to have a direct impact to support an organisation achieve their strategy.
What would entice women to study technology related courses?
Technology and IT poses very exciting career opportunities, with a job for life. A career path that allows you to be part of something that is defining the way we live and interact in our daily lives. Protecting information and systems will be more and more prevalent in the years to come.
Are there barriers when it comes to women getting into tech?
Self-confidence is one's biggest barrier. Supporting others and helping them find opportunities is critical to building up talent in this sector. I believe strongly in mentorship programmes and that through showing kindness and compassion to others who are starting out in their careers or at a turning point it will result in future mentors paying it forward.
How could we encourage more women to start a career in tech?
Reaching out to young talent at school level. Skills shortage is a problem in cyber security across genders. More young people need to be supported to get involved and excited about the possibilities available in technology and IT roles.