We interviewed Chinwe Nze, Head of Technical Analysis and Design at Metro Bank on her experience and thoughts on women in tech.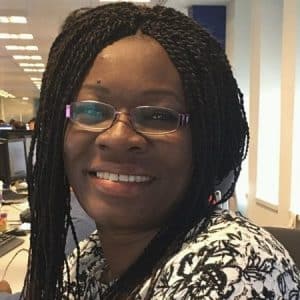 What does your job role involve?
I lead a team of technical analysts and we are responsible for all design related matters for our core banking systems. We interact with the wider teams to deliver banking solutions such as internet banking, mobile App, and customer facing or back office systems.
What made you choose a career in technology?
I grew up wanting to study Engineering at University, as I always wanted to build things. Female engineers were a rare thing and my Dad encouraged me to study Computer Science instead. It was the best decision I've ever made; I absolutely love technology and haven't looked back.
Did you study an IT or technology related subject at A-Level or University?
I studied Computer Science at University.
Did you get any work experience in IT or technology before this role?
Yes, I have worked in a few places over the past 20 years and all technology based.
Do you think there is a lack of females in the IT and tech sector?
It is improving, but there is still a long way to go. The initiatives around STEM in secondary schools is certainly helping.
Do you find there is a stereotype that a career in IT or technology is just for men?
Yes, I think so and have personally experienced it over the years.
What would entice women to study technology related courses?
I think being made aware of female role models who are successful in technology roles will really help. We also need to provide more access to inspiring activities and resources that can help develop an interest in technology from an early age.
Are there barriers when it comes to women getting into tech?
I find that preconceived ideas and prejudice about male-domination tend to stop women from joining the field.
How could we encourage more women to start a career in tech?
We need to increase the awareness of opportunities in tech and showcase more role models who are successful and enjoy their roles.
What advice would you give young women today at the start of their career?
Be bold, go after your passion and enjoy the journey.