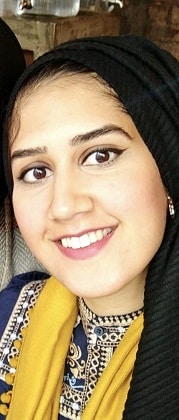 We recently interviewed Sadiah Ahmed, Software Developer at Moneysupermarket on her thoughts and experience on Women in Tech.
What does your job role involve?
On a day-to-day basis, my role involves developing and maintaining Java applications via implementing new features, fixing bugs and testing code. Although this has been my primary responsibility at MSMG, my role has been considerably varied.
My job requires a lot of problem solving and even though I'm a back-end developer, I've had the opportunity to learn and develop my knowledge of front end technologies.
In addition, I have participated in a range of initiatives, helping to promote diversity and inspire the next generation of girls into tech-related roles.
What made you choose a career in technology?
My journey into tech was somewhat unconventional. I graduated from University with a first class honours degree in Mathematics with Computing and I had no idea what I wanted to do. I knew that I had a passion for Mathematics and that I wanted to make a difference; so I embarked upon a career in teaching. After a few years, I got tired of trying to convince stroppy teenagers that Maths was fun and decided that this was not the career that I wanted to endure.
I later came across a training opportunity to develop my technical knowledge and programming skills, so I took the leap. I enjoyed it, thus continued pursuing this career.
Did you study an IT or technology related subject at A-Level or University?
I hate to admit it – but I didn't have the best experience of IT. At school, I opted to study this subject at GCSE level. Unfortunately, our class were neglected and we ended up with different cover teachers for the duration of this course. As a consequence, I hadn't learned anything.
I continued through to A-level, avoiding IT as a subject, choosing Biology, Chemistry and Mathematics. I had intended to go into the healthcare field, but as I loved Maths so much, decided to study this at degree level instead. It was through the first semester in my degree that I was introduced to Java. This insight was a positive one and propelled me to convert my degree from a BSc (Hons.) in Mathematics to a BSc (Hons.) in Mathematics with Computing – which I have never regretted!
Did you get any work experience in IT or technology before this role?
After graduating from University, I worked for an SME (small-to-medium enterprise) specialising in tailored loans and management systems. I started off with a fellow graduate and rotated between two roles; an Analyst Programmer for the first 3 months and a Systems Support Analyst for the next 6 months.
Before my role at MSMG, I was employed with The National Security Academy (BAE) for 6 months, where I had training and I gained practical experience of Software Engineering and all the facets which it encompassed.
Do you think there is a lack of females in the IT and tech sector?
I think there was a lack of females in IT and the tech sector. Since then, women have come a long way in the workplace in terms of what roles they are involved in within this sector.
Do you find there is a stereotype that a career in IT or technology is just for men?
The impression that I had when I was in school, was that a career in IT felt like a "mans" job. A lot of schools did not teach "computer science" as part of their curriculum – it was just ICT. So, I wasn't aware of coding or tech jobs.
Since then, there has a big drive to encourage more girls into tech careers and this "stereotypical" perception is changing.
What would entice women to study technology related courses?
Taster days and workshops, accessible for all abilities may really help spark some interest, especially if it's fun!
Providing mentorship and support for women who want to enter this profession.
A better curriculum in schools and colleges.
Are there barriers when it comes to women getting into tech?
I think the biggest barrier is our mindset. I can't speak for every female out there, but I feel women need to start believing "they can and they will". Society and influence has been the main factor which has shaped peoples minds to believe that women are not capable of doing the same jobs as men.
A new culture needs to be fostered and women need be supported, and feel empowered. Equal career opportunities and pay also need to be prevalent in the workforce.
How could we encourage more women to start a career in tech?
I think women would benefit from seeing other women who have pursued a career in tech. This wil inspire them and make them feel included.
Raising awareness of the different careers in tech would encourage women and engaging with and encouraging those women that are already in tech, to inspire others.
What advice would you give young women today at the start of their career?
Go in with a growth mindset. It's okay if you don't have much technical knowledge right now, this is something that you can develop and get better at. Things are always changing within tech and you're going to have to constantly adapt to this change.
It's okay to ask for help. If you've started a new role and you don't understand what's going on – don't be afraid to ask for support.
Get out there. If you're unsure of what you want to do, go and explore! Attend tech meetups (meetup.com is a good resource) and meet other people working within the tech industry to get more information. Build your connections and get advice.