Starting a new job should be an exciting time. It can also be an unnerving time and the unknown can cause some anxiety. A poll has shown that as many as 87% have experienced 'new job jitters', 53% say starting a new job is scarier than a performance review, visiting a dentist, and skydiving, and 65% felt imposter syndrome. In fact, over half of tech workers report feelings of self-doubt in their careers, some from big companies like Apple and Amazon. However, the more prepared you feel, the less likely you are to feel nervous. To help you out we have some tips below on preparing to start a new job.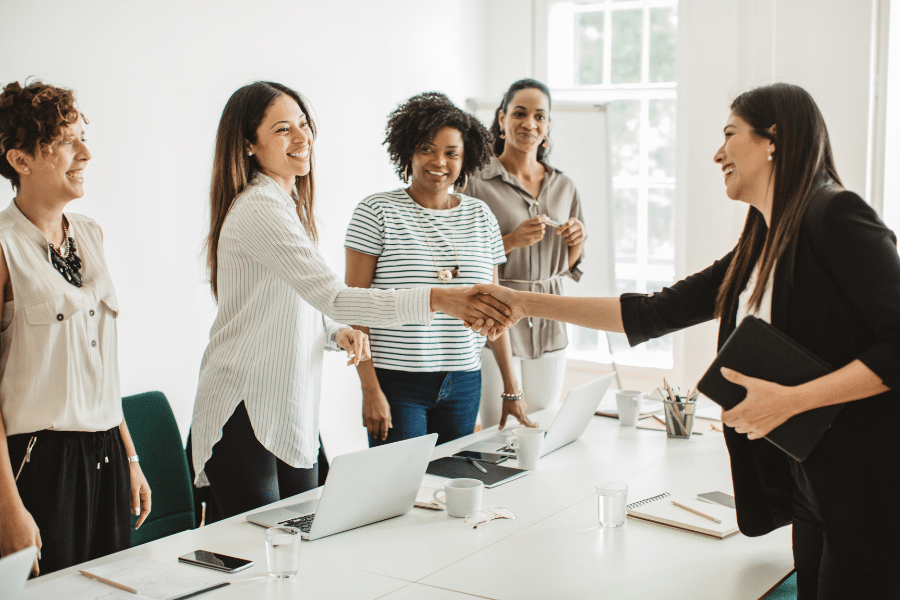 Plan your journey:
Make sure you know the location of the office in plenty of time. This will allow you to plan your route and do a test run, ideally at the same time you'd usually need to leave the house to be at work on time. This will allow you to get a better understanding of how long it will take you and give you time to work out the best route to take. During your first week, you should also aim to get to work a bit earlier than you usually would, which subconsciously shows the employer you are good with time management. On the other hand, if you are late this can cause the horn effect to come into play. This is when something negative (such as being late) overpowers any positives you might show on the day. It means if you are subsequently late again it reinforces the thoughts that you're always late, even if this doesn't happen again until months later and they might generalise this to you being lazy, which you don't want!
Brush up on your knowledge:
Review your job description to remind yourself of the skills and knowledge you need for the role in plenty of time to start the new job. This will give you time to remind yourself of anything you might have forgotten and research any new techniques that might have changed since you last worked or worked in this field. This might involve watching tutorials, practicing your skills on the software you'll need e.g., WordPress, reading books, reading old notes, or googling. This might be particularly important if you are returning to tech after a career break and we have some further tips for this here.
What to bring with you on your first day:
If you haven't been told what to bring with you on your first day, it would be a good idea to ask HR or the contact you have been given as you don't want to feel underprepared. This might include documents, such as ID, DBS, or banking information. Also, check the dress code if you are unsure but when in doubt, go with smarter clothes, rather than casual as this will give a better first impression. Some other useful things to bring with you are listed below:
Notepad and a pen – make sure you take notes in the first couple of weeks as you are likely to be given a lot of information in a short amount of time which can seem overwhelming and easily be forgotten.
Lunch
Water
Money
Watch
Mobile
Tissues
Jumper (they might have the air con on!)
Hair tie
Deodorant/perfume
A list of any questions you have – don't be afraid to ask questions. It's better to ask so that you know the answer for the future, than to carry on working without any understanding, as this can be when mistakes happen. Also, review your job description and company information so you have all the information fresh in your mind and you know any questions you want to ask.
Build a rapport with your new colleagues:
There are many benefits to getting along with our co-workers, including better psychological health, reduced work-related stress which can lead to burnout, a sense of unity, and increased progress at work. Therefore, it is important to try to build rapport with them early on. One way to do this is to find common ground with your new colleagues. This might involve slipping your hobbies or TV programmes you're watching into a conversation to see if anyone has this in common and can be a conversation starter. Or asking how their weekend was/what they're doing at the weekend is a natural way to start a conversation as they are then likely to return the question.
Below are 8 questions Forbes suggests for finding similarities with colleagues:
What's the coolest thing you're working on right now?
What's the last book you read?
What podcast are you listening to right now?
What are you currently watching on Netflix, Amazon?
What did you love to do as a kid?
What was your first concert?
What did you study in school?
What's your secret talent that few people know about?
Also, offering to help someone or sharing knowledge can be a good way to start a line of communication whilst demonstrating your skills. However, make sure it is an appropriate time to do this, so it doesn't come across as showing off! In addition to this, make sure you ask questions if you're unsure about anything. This will help improve your knowledge and show your colleagues that you are engaged and keen to learn.
It is likely your manager will sit down with you on your first day, but if not, see if they have any time to have a meeting with you, even if it's just a 5-minute chat. Research has shown that when new employees met with their manager one-on-one during their first week, they benefited in three ways: They had a larger internal network, which boosted feelings of belonging and increased their chances of staying longer. They had better meetings. They spent more time collaborating with their team than those who failed to have the one-on-one.
Here are some other ways to help build a bond with your new co-workers:
Be respectful
Smile – it might sound silly, but it makes a difference!
Put your phone down to make sure you seem interested and engaged
Be friendly
Remember people's names – this can be tricky when you hear a lot on your first day, but try to remember them and see if you can see them on your company messaging tools e.g. Slack, or ask another member of staff. A way to remember their name is by shaking their hand, smiling, and saying it back to them.
Working from home:
With IT and computer jobs being the top industries for remote workers in 2023 it might be that you'll be working from home in your new role. If you are, there are still ways you can help prepare yourself to start your new job. Firstly, make sure you have an area in your home that you can adequately work from that has everything you need e.g., screen, keyboard, mouse, desk, laptop and ensure it is all working properly. If you're unsure what you need, make sure you ask HR or your contact in the company ahead of time, so you have time to get anything you don't already have. Sometimes companies might offer you some office supplies if you're working from home, but make sure you check this first. It would also be beneficial to ask if you need to download any apps or software on your laptop if you are using your own e.g., Zoom, Microsoft Teams, or Slack. This will show initiative and save time on your first day.
A study showed that 54% of employees said that a strong sense of community, great coworkers, celebrating milestones, and a joint mission are the main reasons that kept them in a team longer than their best interest. Likewise, 27% of employees leave a company within the first year because they feel "disconnected" from the organization and co-workers. Therefore, it is important to build a rapport with colleagues whether you are at home or in the office.
However, it can be harder to do this through a computer screen or phone when working remotely. So, make sure you smile, nod, and ask questions to show you are excited to be starting your new job and getting to know your new coworkers. In addition, try to work out how each employee likes to communicate, whether this is by email, a video call, a phone call, etc. Another simple, yet effective, way to keep up communication when working from home is to say 'Have a nice evening' or weekend when you log off for the day or week.
It is highly likely your manager will schedule a video call with you on your first day to introduce themselves, to let you know what you'll be doing in your role, or to see how you're getting on. However, if they don't, don't be afraid to ask to schedule one. This will help you to build a rapport with them and make you feel more comfortable to message them if you are ever unsure of anything.
You can find more tips on working from home here.
Don't forget, they picked you for a reason, so just try to be yourself!