We interviewed Sarah Louise Markley, Service Desk Analyst at British Transport Police on her experience and thoughts on women in tech.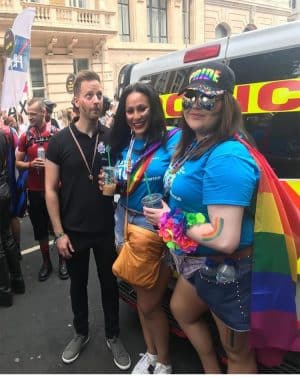 What does your job role involve?
My job role involves being the single point of contact for all IT related issues.
My role is very customer facing, whereby I deal with users via a walk in or email or over the phone which means I must always remain professional, friendly and confident.
I am very young to be working in IT but at the same time it's so fulfilling, I enjoy every aspect of it as within BTP they always encourage development and progression and you can learn so much from working on a service desk how important you really are to any company. It isn't an easy job at first having to deal with challenging customers adapting to your new environment. But with IT everyone knows you are not going to pick everything up straight away. Rome wasn't built in a day.
What made you choose a career in technology?
It was in 2015 when I applied for public services in college, at the same time my sister had also applied for me to take over someone in service desk. I got an interview a few days down the line and then after that was over I heard back from the company, on the same day I was due to start my first day in college. It was a tough choice but I couldn't pass up a 3 month contract in a Japanese bank (Mitsubishi) also knowing I had my 4 year experienced in Windows BAU sister there to support me. But when I started I had no clue what Active Directory was or how to use one note or even feel the confidence to even speak to someone over the phone to try and resolve their issue. I chose IT as from working in the bank I really enjoyed knowing the technical side to fixing MS office and getting that experience working in a cooperate organisation; I thought I would be terrible at it! But IT (information Technology) is really not that hard to grasp it's a little bit of trail and improvement. It wasn't just the technical side that lead me into IT, having that professional image, coming to the city to work Monday – Friday was exciting for me. Also, the friendships I have made in the company. Only being her for 17 months I have built so much rapport and amazing friendships people you really do grow as a person in IT, yourself as well your knowledge/ experience
Did you study an IT or technology related subject at A-Level or University?
I did not study IT in college or University, as I didn't choose to go down that path. I found myself getting straight to work being hands on is way better for me. But…
I don't really think you need to be in education to learn IT, you can learn on the go and just write the process down, but write it down in a way only you can understand. Since being in IT including BTP I have learned way better than sitting in a lecture or reading out of a book, everyone has different ways of understanding IT. But I do know that both I and my sister both came in to this industry only having ICT skills from secondary school only.
Did you get any work experience in IT or technology before this role?
I have never had IT experience before working in IT, I had 15 months' worth of experience working in a Japanese bank before I came to BTP. But it really more admin work with the odd desk move here and there
Do you think there is a lack of females in the IT and tech sector?
I haven't been working in IT for too long 2 and half years, but when I was in the bank and even in BTP, I can see there is a lack of females in Technology. If I had to say in each department that makes Technology of IT there is about 2-3 max, of females in each department and the rest are males. On my team there is one female Team leader and two female service desk analysts.
Do you find there is a stereotype that a career in IT or technology is just for men?
In my opinion, I think that there is a stereotype, as when people think of IT they think of heavy moving or doing things that require getting your hands a bit dirty. IT can be anything from an application engineer, to mobile support engineer, to desktop engineer, to project and even SMT (senior management team). Yes there are elements or scenarios where men may be better suited to, but being a man does not mean they are the only gender that has the knowledge to be able to do IT.
What would entice women to study technology related courses?
I think getting that skill in being very technical, as you can apply some of the knowledge you have from here to everyday life at home. All IT skills are transferable, you can jump from one job to the other and even though it's a new company with new processes, you can transfer what you knew because everywhere does the same thing at the end of the day. Also, the friendships you will make, I work for first line service desk so my role is very customer based, but every day I build a stronger rapport with end users and colleagues and I love it, working in IT you find it is very sociable, most people like to get a drink after work or got to lunch together. I know I am very sociable in my department!
Are there barriers when it comes to women getting into tech?
Being in BTP I found and have been told that we are very competency based, so we care about how you will handle different scenarios/ challenging events. Yes it adventurous to be technical, but with IT you can learn on the go. But I don't think there are any barriers when it comes to anyone applying especially women. Some departments can be very particular when it comes to manager's role, as there may be courses or certificates you need to have achieved before applying. But if you are apprentice or fresh out of college/ high-school, male or female nothing is stopping you from applying. As I said before working in IT/Tech it can be very customer facing so having confidence, team work, organisation, time management ETC will be more eye catching to a employer than having 20 years of IT experience because young souls means fresh ideas and take on things.
How could we encourage more women to start a career in tech?
Being 21 working in IT started at 18, it was so difficult to show the experience you may not have, including being young and a woman there was so much competition. Companies might want people who have 10-15 years of experience worth on their CV. But I find most companies just want people who are enthusiastic, great people skills, excellent customer service skills and just being able to work to as part of a team. Being a young woman I didn't think there would be many females in IT as I had the idea women work in retail, offices doing admin, receptionist. I think that if you are women and you are a big computer nerd and you love working around servers or databases or even project work go for it. Working in BTP in IT, I have met so many people that anyone outside the organisation would find impossible meeting, on top of that I have been able to again build a strong rapport with them where they come to me personally to fix their problems.