We interviewed Sarah Parker, Head of Studio and Front End Development at Salmon on her experience and thoughts on women in tech.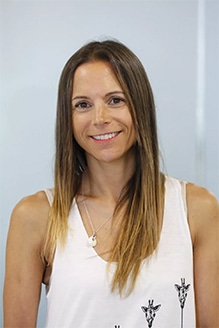 What does your job role involve?
In my role of Head of Front End (FE) Development, I manage over 35 Front End developers, both contract and permanent, ranging from graduates on my Graduate training scheme to Senior Team Leads. These developers are allocated to projects mainly on-site at Watford but also a few off-site at clients around the UK. I am directly responsible for resourcing both across FE and the wider Customer Experience team. I also work closely with the Account Executives and Project Managers in order to maintain pipeline visibility in order to manage the work effectively.
I am the direct line manager for all the permanent Front End Developers which involves managing their career paths, carrying out annual reviews and setting objectives. I am also responsible for allocating FE resource to projects that fit their skillset and experience – this is the case for both contractors and permanent developers.
Cross-collaboration of our FEs is important to me so I encourage innovation projects, hackathons and forums to share knowledge. I am always looking at ways to create a stronger team environment.
I also work closely with all our grads having devised an intensive 3-month graduate training programme which has proved to be very successful and has ensured that all the grads are able to become a productive member of the project team in under 3 months.
I have recently undertaken an additional area of responsibility that being Head of CX Studio, which allows me to extend my management experience out across all areas of Customer Experience – managing resourcing, reviewing tooling and implementing new briefing and workflow processes to improve quality and productivity.
What made you choose a career in technology?
I first got a taste of technology after graduating, whilst working as a PA for an IT team (I had fallen into PA/Secretarial work as I wasn't sure where my career lay). The programmers delivered internal support software for a large car manufacturer, either working on mainframe systems or bespoke systems software solutions. Watching the IT programmers at work, writing code and building interfaces, gave me the insight on where I wanted to pursue my career – I also wanted to be an IT programmer. Within a few months, I took the decision to resign from my PA role and pursue a career in IT development.
I signed up for an evening Visual Basic programming course and started to apply for trainee programming roles. Luckily, I was taken onto a scheme within 6 months of resigning from my PA position and have not looked back since.
Did you study an IT or technology related subject at A-Level or University?
No, not at all! I graduated from University with a 2:1 in Geography. Even during my A-Levels I wasn't sure what I wanted to do. I consistently gained good results from Geography (gaining an A grade) so I decided to continue studying within a subject I enjoyed, and I found a career path I wanted to pursue.
Did you get any work experience in IT or technology before this role?
As mentioned previously, I was lucky to find a trainee developer role where the company gave me 1-2-1 training to upskill on all aspects of programming. They were impressed that I found and paid for my own programming course and saw that I was determined to make a success of this career.
Do you think there is a lack of females in the IT and tech sector?
Definitely. Since I started out in IT nearly 20 years ago, every IT department I have worked in has been predominantly male. However, over time as I moved into predominantly Front End development, I witnessed increasingly more women in this sector.
Do you find there is a stereotype that a career in IT or technology is just for men?
I believe Front End development has less of that bias, maybe due to the fact that the roles traditional leant towards creative rather than technical. I definitely saw more women in Front End Development earlier on in my career – as the role now demands more technical aptitude through the progress of JavaScript development, I have seen fewer women in the industry than ever before. This may be a direct correlation or due to other contributing factors.
What would entice women to study technology related courses?
There are so many opportunities for women in IT nowadays, it's not all about programming. They could focus on the creative side, the user experience side, the client side functionality or the back-end logic. As JavaScript becomes more powerful with frameworks ever-evolving and website logic moving towards the Front End rather than back-end, the opportunities for developers to grow and expand their knowledge and career are endless.
Are there barriers when it comes to women getting into tech?
No – there shouldn't be. IT development skills are not biased towards a specific gender – writing functional code does not require a developer to be either male or female. The only barriers may be in their own perception of the individual when considering a career in IT.
How could we encourage more women to start a career in tech?
It would start at an early age through education on what IT means in today's society. Computer skills are being taught at primary schools so now the next generation will already have the awareness and skill of the IT basics. If we want to see women pursue a career in IT, we need to educate them prior to stepping on to the University Ladder. An IT career isn't just Computer Science – there are so many different avenues to explore and Education can open up these opportunities for not only students, but those women looking for a new career challenge.
Since I started out in IT nearly 20 years ago, every IT department I have worked in has been predominantly male. However, over time I have witnessed increasingly more women in this sector.