We interviewed Sneha Sangoram, Cloud Solutions Architect at Sogeti UK on her experience and thoughts on women in tech.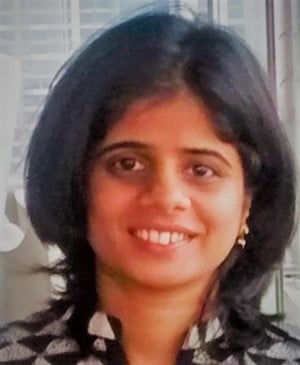 What does your job role involve?
In my current role, I design & build solutions for my clients who are keen to modernise their IT estate through automation across varied hosting platforms. I work with our Sales & Account Executives to understand our clients' challenges and how our solutions can help them resolve their business challenges & goals. It's a great sense of achievement to be part of a clients' journey and see them succeed in their business objectives.
What made you choose a career in technology?
I am fascinated by the power of technology which helps businesses across domains to scale to demands and yet achieve the quality every business strives to attain for its customers. Being part of this lifecycle excites me as I get to contribute with solutions using technology for my client's needs.
Did you study an IT or technology related subject at GCSE, A-Level or University?
Yes, I did my Bachelor's degree in Computer Science and Masters in Software Engineering
Did you get any work experience in IT or technology before this role?
I have been part of the IT industry for more than a decade, played multiple roles through my career as a developer, solution designer, domain specialist, business analyst, and cloud consultant. I have thoroughly enjoyed all the roles which have helped me develop personally & professionally.
Do you think there is a lack of females in the IT and tech sector?
This was a fact many years ago, which has improved a lot from then. Now it is encouraging to see more and more females in IT and in leadership positions.
Do you find there is a stereotype that a career in IT or technology is just for men?
Not anymore, women are conscious of their capabilities and are sharing a healthy workspace with their male co-workers. I have personally seen many male mentors for females and vice-versa. The industry is welcoming for capable individuals, gender doesn't matter.
What would entice women to study technology related courses?
I believe increasing awareness in the early years of education or webinars like TED talks on opportunities about varied roles available within IT will genuinely help. There are so many things within IT that can be explored be it male or female. This awareness should not be limited to young girls and women, but also to women who are looking for a restart after personal changes in life. There is an abundance of talent and passion which can be tapped into. Bringing speakers (male/female) who have been able to carve a niche place for themselves, managed to restart successfully to share their experience would certainly motivate women.
Are there barriers when it comes to women getting into tech?
There can be some based on gender, location, or position but they can be addressed with the right setup. Women go through many milestones during their career which can alter their priorities for a period. Most organizations are going the extra mile in supporting women during their careers, these initiatives need to be advertised more often to increase awareness and enable talented women to shape their careers.
How could we encourage more women to start a career in tech?
There are many ways such as introducing young girls to the tech topics in the school curriculum, group talks or sessions explaining various roles in IT industry, it's no more just developer or tester. Apprenticeship programmes helps to assimilate new talent (irrespective of age/gender) giving them real work experience, boosting confidence, and in turn helps in meeting the growing demands of IT talent pool.
Additionally, some sessions which explain how technology related courses are useful in IT jobs and benefits of working in technology can encourage women to start/restart IT career.
What advice would you give to young women at the start of their career?
Be brave and believe in yourself from day one. Everyone has been a beginner once. Surround yourself with people who are positive, stay away from "complainers". Get a mentor as early as possible.