We interviewed Sophie Hodgson, Project Manager at Fujitsu on her experience and thoughts on women in tech.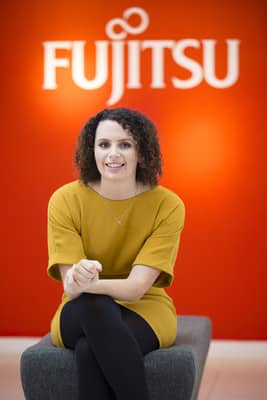 What does your job role involve?
It involves a little bit of everything really! As a Project Manager, I plan projects, track the costs in cost models and keep them progressing. I have quite a hands on approach so also do training, device/platform configuration and putting collateral together depending on the needs of the project.
What made you choose a career in technology?
Both my parents work in the IT industry and for the most part enjoy their jobs and as I have similar skills to them I thought I might too. There's also a lot of cool technology out there that I wanted to be involved with implementing to customers, such Ubiquitousware that improves worker safety. I was particularly drawn to Fujitsu because of their focus on Human Centric Innovation and reputation as a responsible business.
Did you study an IT or technology related subject at A-Level or University?
I did not, I studied Economics but after a year working as an oil & gas economist, I didn't like the report writing element of it and wanted to be more customer focused.
Did you get any work experience in IT or technology before this role?
I always was seen as the more technologically 'switched on' person in other roles but I have had no work experience in IT or technology.
Do you think there is a lack of females in the IT and tech sector?
I am aware that there are more men than women in the IT and tech sector from looking at the leadership team in my company. However, in my business unit there is actually a lot of women in management which is inspiring.
Do you find there is a stereotype that a career in IT or technology is just for men?
I do think it could appear that way to those outside of the industry, however from my experience there are a lot of women in teams I work with and around the office in general. I feel like I have a lot of successful female role models at Fujitsu although I don't necessarily see that across the IT and technology industry as a whole.
What would entice women to study technology related courses?
The skills needed to excel in careers in technology actually lend itself to women, such as problem solving and organisation skills. Maybe if these were highlighted to potential applicants then they could see how the course could help them use this skills in the technology industry. It would also be helpful to make successful women in technology and their careers more visible to show where a career in technology could take them.
Are there barriers when it comes to women getting into tech?
I suppose it is still seen as a male orientated industry and that could put women off applying.
How could we encourage more women to start a career in tech?
Highlight all the cool technology and how it's being used to benefit customers and people in their day-to-day lives. The technology sector has a wide variety of roles, not just developing. If women were able to see the diversity of jobs they could go in to maybe this would make starting a career in technology more inviting.