We interviewed Divya Unni, Product Owner at S&P Global on her experience and thoughts on women in tech.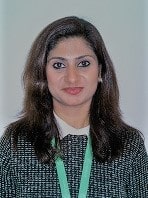 1. What does your job role involve?
I have been working as a Business Analyst/Product Owner for over 8 years now. As part of my role, I am involved in gathering business requirements from different stakeholders and to convert these requirements to Product Backlog by slicing and dicing the gathered requirements into Epics, New Feature and User stories in Jira platform. I am also involved in writing detailed Acceptance Criteria that are required to be met for the user stories to be marked as complete, prioritizing the user stories, and having regular backlog grooming session with the technical team. I also create a roadmap to make the business users and technical team aware of the future releases. My major task is to act as a bridge between business and technical team as I understand both business and technical language.
2. What made you choose a career in technology?
I have always loved working with technology from a very young age. I am a self-learner and an explorer which has helped me build my career in technology.
3. Did you study an IT or technology related subject at GCSE, A-Level or University?
Yes, I have done my bachelor's in engineering in Information technology
4. Did you get any work experience in IT or technology before this role?
Yes, I have volunteered in number of IT related jobs before choosing my career in IT
5. Do you think there is a lack of females in the IT and tech sector?</h2?
During my initial days which is over 10 years back I did notice having less female IT colleagues than men colleagues however I feel the gap between female and male folks in IT sector is reducing over time.
6. Do you find there is a stereotype that a career in IT or technology is just for men?
Not anymore, there used to be a time initially however I feel the gap is reducing drastically now
7. What would entice women to study technology related courses?
Having more technology related subjects during school and university can help to learn tech skills. Also taking technical mini projects online can be of help.
8. Are there barriers when it comes to women getting into tech?
Learning tech skills is an important think to look when trying to get into tech industry. This is not gender specific. With the right attitude any individual, be it a woman or man can get into tech industry
9. How could we encourage more women to start a career in tech?
This can be done by encouraging girls from an early age by providing exposure to tech skills. Also, we need to ensure companies have diversity policies and programmes – not just for women, but all aspects of diversity.
10. What advice would you give to young women at the start of their career?
An important career advice to young women would be to come out of their comfort zone and not to fear failures. Embrace failure, follow your effort which will in turn lead to success. Live your life, and not someone else's!