There are a number of tech sectors, it's not just coding!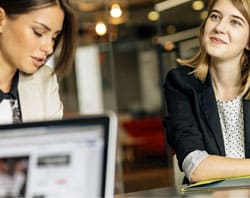 "I am not a developer or a Computer Geek so I can't work in technology". WRONG – there IS a career for you in Technology.
Technology or Digital is such a broad term and covers a diverse range of roles and opportunities. There are many job opportunities that perhaps you might have the skills for, but never thought of doing.
The Army run a TV advertising campaign that explores the range of opportunities beyond a solider – i.e. mechanics, nurse, communications, logistics etc. Technology can be compared in parallel.
There are so many tech sectors to explore. Some examples include:
Analysts/Analytics
IT Security
Project Management
Developers
IT Support / Helpdesk
Web Design and UX
Database Admin
Testing
Software Sales
Working in IT offers so many different career paths and tech sectors that are often understated. For example, for those that are highly numerical and good at analysing data there is a world of opportunity in business intelligence and analytics. The phrase 'Big Data' encompasses the explosive growth in data driven solutions and companies that are driving cutting edge services and products.
Additionally there is a renaissance in the usage of "Digital" which embodies a broad range of jobs including UX, Digital Design, Front-End Development, Digital project management, Web Analytics and many more. There is an increasingly blurred line between Digital Marketing and IT and as these worlds converge, joint skill sets are in higher demand. Digital is not purely building the engine of a website – it is very much the user journey, the aesthetics and reading the data inside. The global digital revolution continues to evolve.
Future growth sectors within the world of Technology include Virtual Reality, Artificial Intelligence and Health Tech.
Coming back to the original point is that Technology shouldn't be a daunting word. I was given a tour of a secondary school recently by a couple of very passionate and articulate students. We were looking on behalf of my son. I asked one of the students – a girl – How popular is Computing for GCSE's? "Very Popular" she said "….but of course it is only boys that do it".
I sighed with disappointment. This was a realisation of the gender perceptions within Computer Science and Technology. In Education, students should be opened up to the diverse world of Technology. Computer Science and broader IT subjects should be actively encouraged to both genders. Unfortunately too many women predetermine at secondary school that IT is not for them.
The marvellous opportunity in Technology is that 1) a degree is not a pre-requisite at all and you can enter the industry at any time – later in your career (Here is a great case study of a decorator turned web designer) 2)Online training courses are plentiful. 3) Part-time work and the growth in Contracting and Freelancing mean that there are opportunities outside the normal 9 to 5. Many companies will offer great flexibility to specifically encourage female workers.
Join the revolution!
Author: Anthony Sherick, MD of IT job site Technojobs