We interviewed Theresa Meyer, Head of Technology at Time Out on her experience and thoughts on women in tech.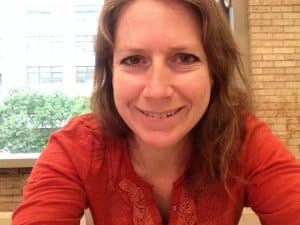 What does your job role involve?
I manage the technology team at Time Out. Our team of product managers, engineers, UX designers and data specialists collaborates with stakeholders across the business to understand our global audience's needs, both internal and external, and create the tools and experiences that meet those needs to support a growing business. At Time Out, we are dedicated to helping people go out better in the greatest cities around the world – my team and I build the products to drive this.
What made you choose a career in technology?
Around the time of the original dotcom boom it seemed all the exciting job opportunities were in tech companies, so I landed a job at one as an account manager for advertising sales. I realised I was more interested in the tech side of things and liked being at that intersection of business and technology. I also like problem-solving and building stuff – I find it incredibly satisfying to build products that people use every day to make their work or personal lives better.
Did you study an IT or technology related subject at A-Level or University?
I received two undergraduate degrees (in the US) unrelated to technology – architecture, and German language. When I realised that I wanted to pursue a career in tech I started with online courses in basic coding (HTML, basic scripting) and IT, and then went on to attend a joint degree program for an MBA and MS Information Systems.
Did you get any work experience in IT or technology before this role?
I've been working in tech related roles since completing my MBA/MS Information Systems. First at Deloitte Consulting as a functional lead in their tech integration practice (before Product was called Product), then in healthcare and an TripAdvisor, and now at Time Out. My background and experience are primarily in Product. This is my first role leading product, UX, data and engineering, and while I've always collaborated closely with colleagues across these disciplines, I currently work with and rely heavily on talented team leaders in each of these areas to keep me honest, help drive the team and deliver for the business.
Do you think there is a lack of females in the IT and tech sector?
Yes, absolutely. I see less of a gap in product management, especially at the more junior levels. But there's a significant gap in engineering, as well as in many leadership roles, in general. I'm proud that at Time Out the leadership team is quite balanced. On the engineering side, we are taking active steps to build a more balanced and diverse team.
Do you find there is a stereotype that a career in IT or technology is just for men?
I think this stereotype was quite strong until recently, and still holds in some places. But it is slowly fading.
What would entice women to study technology related courses?
There are a number of things that could increase interest. First, more opportunity from an early age to build skills and understand tech concepts and more exposure to the variety of roles and disciplines available within tech. Second, an emphasis on the role tech plays in problem-solving, collaboration and building sustainable systems and businesses.
Are there barriers when it comes to women getting into tech?
Yes. Some are self-imposed, like impostor syndrome or fear that they are not the right "fit" for a career that has typically been male dominated. And some stereotypes and biases still exist when it comes to being taken seriously. This however shouldn't hold women back!
How could we encourage more women to start a career in tech?
Start in schools with more STEM programming from an early age. We need more programmes specifically designed for girls who may have different learning styles than boys. Following that, more support for young women in university is needed, where many drop out of computer science or other tech disciplines. After graduating, more networking and mentorship opportunities for women early in their careers would certainly help. Finally, emotional intelligence, collaboration, problem-solving and other soft skills, in addition to the hard skills, are needed to be a success in tech, especially at leadership levels. Women tend to be strong in these areas and really do bring a lot to the table when it comes to driving a productive organization.
What advice would you give young women today at the start of their career?
Keep looking for opportunities to learn and never sell yourself short. Nobody ticks ALL the boxes when it comes to a career in tech or leadership. We all bring our individual strengths and styles to the table and the highest performing teams I've worked with have represented a wide range of skills and experiences. Find mentors and advocates who will help you grow and have your back. Don't stress too much about things like title. Instead, focus on finding work you find interesting and challenging with a group of people you like to work with.