The technology industry is booming, with the global value of IT spending expected to hit $4.6 trillion in 2023. So, it's no surprise that half of the people considering a career change are thinking about moving to an IT career. If you think a career in technology could be a good option for you but you don't know where to start, why not consider taking a free online course? In this article we round up our 5 of our favourite free coding courses.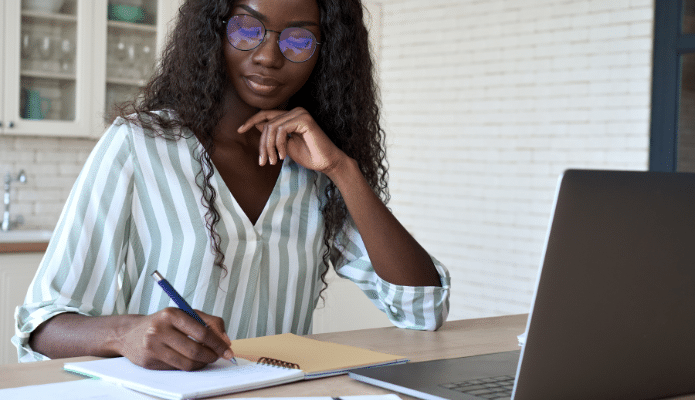 Codecademy
Codecademy was set up to offer a variety of free coding courses to help individuals learn programming. It's a great option to consider if you're wanting to learn the basics, and the free membership includes loads of great courses on various different programming languages and specialisms. If you're not too sure which area of programming you want to explore, Codecademy covers all bases, with courses in specific languages like Python, JavaScript and HTML, as well as specialist areas like game development, cloud computing and AI. You can also choose to pay for more premium memberships which offer more courses and career services like qualifications and interview prep.
freeCodeCamp
freeCodeCamp is an online, self-paced bootcamp which has taught thousands of people how to code. It is made up of a community of people who are all learning to code, and is a non-profit organisation. On the website are over 9,000 tutorials in the forms of videos, projects across 11 core certifications. At the end of each certification you then build 5 projects, which if you complete, you gain that certification. Everything is completely free and your progress is saved along the way, meaning you end up with a portfolio of your work online to take away.
CS50's Introduction to Computer Science
Harvard University's CS50 course is an introduction to computer science and offers a top level view of programming for free. The course is 12 weeks long, and it's advised that students spend 6-18 hours per week completing it – it's completely self-paced. The course covers topics such as algorithms, data structures and software engineering and covers some of the most common programming languages including C, Python and SQL. This course is a great option if you're unsure which area of coding / programming you want to pursue, as it gives a really good base knowledge level of all areas and teaches you how to think like a computer scientist.
Code First Girls
Code First Girls has delivered over £75 million worth of free technology training to women across the UK. They offer various length courses for university students, refresher courses for returners and introductory courses for anyone wanting to change careers. Some courses are delivered in person across the country and some are based online. Code First Girls work with loads of different tech employers to help their graduates find work in technology to help close the gender gap.
CareerFoundry
CareerFoundry offers a free short web development introduction course, designed with the absolute beginner in mind, to help you decide if programming could be for you. It's completely cost and commitment-free, offering a great way into tech if you're unsure. The course is very hands-on, and comes in the format of 5 daily lessons which take around 15 minutes each to complete. There's an optional assessment at the end to test your knowledge too.
Programming can be a very intimidating prospect for a beginner, and it can be easy to simply say "that's not for me". However, the career prospects in coding are huge, and women are currently hugely underrepresented, with just 25% of coding jobs being women. At a senior level, coders can earn upwards of £60,000 per year, and the technology industry as a whole offers great benefits and an exciting, fast-paced career. If you're thinking about changing your career, consider investing some of your time into a free coding course to see if it could be for you.