We interviewed Priyanka Roy, Director of Customer Success, International at Validity on her thoughts and experiences on women in tech.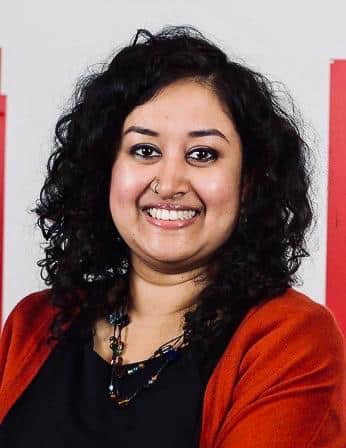 1. What does your job role involve?
I am currently the Director of Customer Success, International for Validity, which helps customers optimise their data quality and email deliverability to improve business revenue and growth. As a Director, my role involves leading a team of customer success managers who work together with our clients to enhance their customer relationship management (CRM) and email programs and provide best practice recommendations.
2. What made you choose a career in technology?
I think I've always been quite technically minded, but it took me a little while to realise that technology could and should be the focus of my career. So, when I left university, the first job I had was being a frontline insurance writer at Aviva in India, but I soon discovered that it wasn't truly my passion. As soon as I came to the realisation that the technology sector was where I should be heading though, I decided to move jobs and began working in a core technical role within Oracle's Account Management team.
I really enjoyed stepping into a more technical role, so when I later moved out of India I knew I wanted to continue embracing my love of tech. When I arrived in the UK, I joined Validity (then Return Path) at an entry-level position and within eight years, I have progressed through the company to now be in my current leadership role.
3. Did you study an IT or technology related subject at GCSE, A-Level or University?
Not really! My background is actually more in science as I chose to study Biotechnology at university. Although I enjoyed my studies, so much so that I have a Bachelor's and Master's degree in Biotechnology, I decided not to pursue a pure science career. I wanted to be doing something a bit more fast-paced, and science is a field that is a bit too theoretical and slow moving for me.
4. Did you get any work experience in IT or technology before this role?
My first steps into the technology sphere was when I decided to switch careers and join Oracle – one of the biggest computer software companies in the world. I learned a lot about the technology landscape during my time there, first as a Business Development Consultant, and then a Core Technology Account Manager before my husband and I decided to move countries and I came to Validity.
5. Do you think there is a lack of females in the IT and tech sector?
Definitely. Although I work with a team that is mostly comprised of women, unfortunately, the technology sector overall still has a way to go in getting more women on board. This is a real shame as I believe the industry is missing out on a lot of untapped talent and ideas!
6. Do you find there is a stereotype that a career in IT or technology is just for men?
Sadly, this stereotype does seem to be sticking around, and I think part of the problem comes down to women not putting themselves at the forefront. It was the same for me when I first began my career in tech, but women tend to shy away from public engagements and speaking at events compared to men, which probably emphasises the stereotype that the technology space is male-orientated.
I am proud to now be a strong female voice within the technology industry that is confident in public speaking, and I want to encourage other women to feel the same. I try to encourage everyone, but especially the women on my team, to gain public speaking skills so whenever an opportunity arises, they feel confident and ready to stand among their male peers and talk passionately about their technology skills and interests.
7. What would entice women to study technology related courses?
Touching on the point I made earlier, I think if more women in the technology scene were able to be visible and be more outspoken, it would help massively in showcasing the technology sector as being a welcome space for women. The more we break down the stereotype that certain roles are only for certain genders, the more confident the next generation will feel in choosing their courses, degrees and careers based on what they can and want to do, rather than what they think they should do.
8. Are there barriers when it comes to women getting into tech?
I think one of the major barriers is the phrase "women in technology". I think we need to have a lot more clarity on what working in technology means, as before I started in tech, I always thought that you needed to be great at coding or developing for example. But actually, a highly technical role doesn't necessarily require coding, and my current role is proof of that! As long as you are technically minded and great at problem-solving, you will be a great asset in a tech team.
This is why I don't necessarily look for individuals with experience in email or degrees in software when I'm hiring. Instead, I look for people who have the attributes to be technically minded and open to learning. I'm willing to hire someone based on their unexplored potential, as I know from experience that just by having the right training and guidance, you can go on to be successful in any role.
9. How could we encourage more women to start a career in tech?
A huge factor that has kept me going on my technology career path is having amazing mentors along the way. I believe mentors can be key in helping more women to understand what the tech world truly involves, what their next steps could be, and they can give good guidance.
10. What advice would you give to young women at the start of their career?
I would first encourage women to learn where their interests lie. Once you have established what you enjoy doing and can start to do that job for a living, you will find that you are much more likely to work hard at it and succeed!
It is important to note as well that no matter what role you have within a technology company – whether it's technical or not – you must focus on building your core product knowledge. Having a deep understanding of the company's core product offering will be of great benefit in every aspect of your day-to-day job, and it will definitely help steer you towards a more technical role if that is your goal.
Knowing that there are great mentors out there, I would finally recommend to women wanting to start a career in tech to find a mentor that can help them. I found it hugely beneficial when working with my mentors to set myself personal objectives to be achieved within a timeframe, and it is why I'm so passionate about now being a mentor myself for other women around me that are starting out in their careers.