Employees that identify within the LGBT+ community are more likely to experience workplace conflict or harassment compared to their heterosexual or cisgender equivalents. A 2021 CIPD research report identified that 40% of LGB+ employees and 55% of trans employees have experienced workplace conflict compared to only 29% of heterosexual, cisgender employees. It was also found that LGB+ (16%) and trans workers (18%) felt psychologically unsafe in the workplace, which is an extremely unsettling figure when thinking of the workplace as a second home.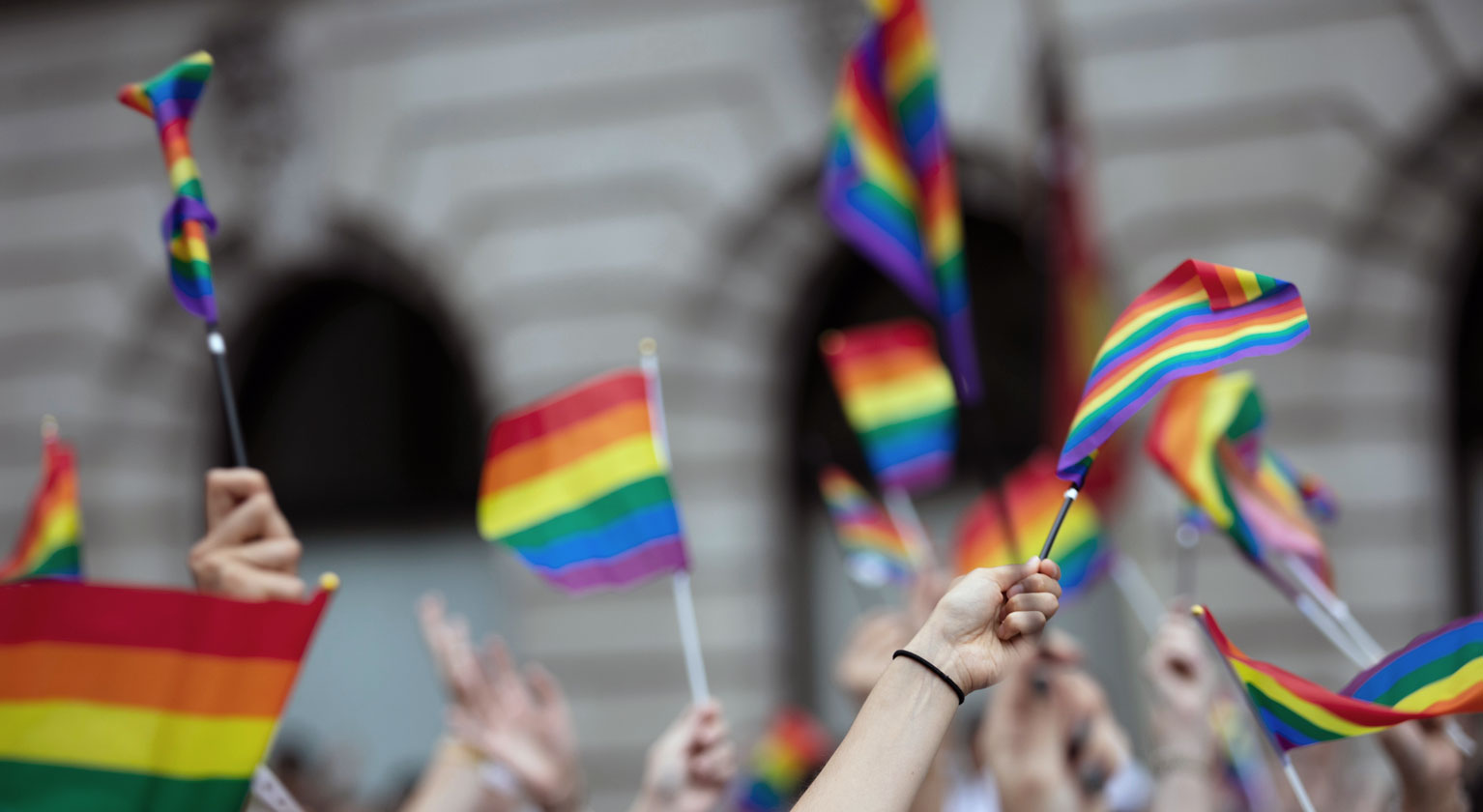 Over the last few years, organisations have begun to understand how crucial it is for all members of staff to feel safe when working, however for many it is still not classed as a top priority matter. One company who are proud and making great strides in perfecting their inclusion in the workplace is Lloyds Banking Group. Throughout this article, we will take a closer look into how Lloyds are impressively providing support and celebrating their amazing LGBT+ employees whilst creating a diverse and fair place to work for all, and what lessons other companies can take from this.
LGBT+ in the workplace
Lloyds Banking Group are going above and beyond to ensure their employees feel safe, secure, and welcome, no matter their position within the company. With an estimated 2500+ LGBT+ and non-binary colleagues within the group, Lloyds have been acknowledged as a leading employer when it comes to equality, diversity and inclusion within the workplace.
In 2020, Lloyds launched their #AlwaysProud campaign to emphasise just how important it is for them to celebrate and encourage all sexualities and identities. They are continuously looking to push the boundaries, not only committing to a safe work environment for all but also extending their inclusive views throughout their marketing and advertising to introduce a more diverse and representative view of their customers and colleagues.
Recognition
Lloyds has an impressive reputation when it comes to creating an inclusive and open working environment for their LGBT+ colleagues which has been recognised in several ways. Lloyds Banking Group was named Top Financial Employer and 7th overall in the 2019 Stonewall Top 100 employers lists, which is an award dedicated to those who take giant strides in creating inclusive workplaces. Several of Lloyds LGBT+ role models were also recognised externally in power lists with two colleagues named in the 2020 OUTstanding lists. Not only are Lloyds set and focused on their amazing contributions towards their LGBT+ achievements, but they are also proud to be an anti-racist organisation. Lloyds have been recognised for their commitment and dedication towards combating this negativity within the workplace and have won Outstanding Employer Award at the Investing in Ethnicity Awards for 2 continuous years!
Rainbow Network
Lloyds Banking Group created their very own network specifically to accommodate colleagues of the LGBT+ community. Founded over 10 years ago, Rainbow has become one of the largest networks of its kind within the UK, having over 5,000 members and supporters with a commitment to help encourage connection and support for their LGBT+ members across the group. The Rainbow network has achieved several milestones since its creation, from becoming the first UK listed company to extend their private healthcare to include treatment and support for gender dysphoria to launching their first LGBT+ and Allies Role Models lists in 2019. With all these efforts dedicated to creating a safer environment for their colleagues throughout the group, Lloyds were named No.1 on the Stonewall Top 100 Employers list and it's certainly easy to see why!
Rainbow has continued to grow and support the LGBT+ community throughout the 10 years of existence by getting involved in volunteering and fundraising challenges. In 2020, Rainbow achieved an impressive fundraising challenge goal by raising £10,000 using virtual events held throughout the year. Rainbow has also supported five LGBT+ charity partners including Mermaids, MindOut, Albert Kennedy Trust, Opening Doors London, and Waverley Care. By donating thousands of volunteering hours and fundraising events, they managed to raise over £250,000.
Over the past three years, Rainbow has compiled a list of employees that help to showcase how proud they are of their employees, which is also recognised as an Ally Role Model list. The Ally Role Model List helps to recognise colleagues who've been nominated for their outstanding impact towards LGBT+ diversity and inclusion.
Transgender Support
It can be a difficult time in a person's life when they are struggling to express their gender identity. Lloyds were eager to introduce a working environment where their colleagues felt safe, supported, and free to express their gender identity in whichever way they choose. Lloyds committed to this safe environment promise by having specially trained advisors within their HR function who have specific training and are experts in the field of transitioning at work. This element of safety within the workplace is crucial for employees to feel comfortable in the place they spend most of their time and Lloyds are putting in an excellent effort in achieving this safe space for all!
Career Development
Throughout the years, Lloyds developed a LGBT+ leadership programme to help push their employees to be the best they can. Since its beginning, over 500 colleagues have completed the programme, with some describing the experience as life changing. This opportunity Lloyds presents for their employees allows growth and development for both their personal and professional lives and is heading in the right direction to create an entire network of outstanding beings.
Pride
2015 was an important milestone for Lloyds LGBT+ network as this was the first year the company took part in and celebrated Pride. Since then, Lloyds have continuously put their best foot forward in contributing to celebrating every aspect of Pride and those that find comfort in the community through fundraising and volunteering to help raise important funds for LGBT+ charities. Lloyds pride themselves on being visibly supportive and #AlwaysProud of their LGBT+ history, of their contribution to society and positivity in order to help overcome the challenges and changes thrown at the LGBT+ community to continue to build a more inclusive world for all.
Lloyds invite their colleagues to participate and enjoy Pride each year, however, due to COVID-19, the usual festivities took an abrupt halt, so they took their Pride virtual! Across the course of eight weeks, colleagues were invited to join a series of events that helped to raise awareness of the LGBT+ needs but to also celebrate just how far the entire network has come throughout the years and hardships. It is quite clear that Lloyds are doing everything in their power to showcase just how proud they are of all their employees. Creating such a tight-knit and inclusive workforce is extremely commendable and Lloyds are hopeful they can continue to express their passion to do this in the next Pride event, virtual or in person.
How can other companies achieve the same level of LGBT+ inclusion as Lloyds?
There is a drastic need for non-inclusive workplace attitudes to be completely changed to create an enjoyable place for all employees to work without the fear of judgement, harassment, or conflict. It is crucial for organisations to understand how to better handle these harsh elements of the workplace and just as Lloyds Banking Group have demonstrated, it is easily achieved.
Ways in which organisations can help build their awareness and understanding of the LGBT+ community, just as Lloyds Banking Group have, could include developing your own LGBT+ network, encouraging career development across all levels, introducing special roles to allow employees access to a trusted and inclusive support system and in general, celebrating all lifestyles. All of these initiatives can help improve and contribute to a safer work environment for all.
To put it in simpler terms, look deeply into how your LGBT+ employees are feeling and simply listen to what would make them feel more comfortable at work, this element of safety is one we should all be guaranteed no matter our gender/sexual preference. Take note of Lloyds' contribution to the LGBT+ community and consider what you can do to make similar improvements to inclusion in your workplace.