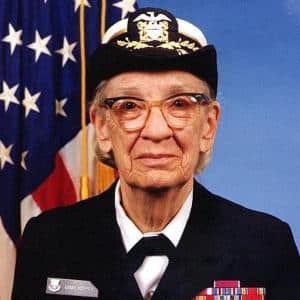 Grace Brewster Murray was born on the 9th December 1906 in New York City. Grace studied mathematics and physics at Vassar College in 1928 and then proceeded to further her studies at Yale University in 1930. She also married Vincent Foster Hopper in the same year which is when she then became Grace Hopper. In 1931, Grace started teaching at Vassar College whilst studying a Ph.D. at Yale University. She became the first woman to receive a Ph.D. in mathematics at Yale University in 1934.
Grace taught as a professor at Vassar College up until 1943 when she left and joined the U.S Naval Reserve in the December. She joined the Navy WAVES (Women Accepted for Voluntary Emergency Services) before being commissioned as a lieutenant at junior grade in 1944. Due to her background in mathematics, Grace was assigned to the Bureau of Ordnance Computation Project at Harvard University. During this time, Grace and her team produced the Mark I, a prototype of the electronic computer. Along with this, Grace wrote a 500-page manual of operations for the automatic sequence-controlled calculator which outlined the operating principles for computing machines.
In 1949 when the war had ended, she became an employee of the Eckert-Mauchly Computer Corporation as a senior mathematician. Here she joined the team who was developing the UNIVAC I computer and started to compile mathematic code into language. By 1952, Grace's team had created the first complier for computer languages. This complier was a precursor for the common business orientated language (COBOL) which is widely used around the world. COBOL enabled computers to respond to words as well as numbers. Although Grace didn't invent the common business orientated language, she encouraged its adaption. She predicted that one day, computers would be small enough to fit on a desk and people who were not professional programmers would be able to use them in everyday life.
At the end of 1966, Grace Hopper resigned from the Navy Reserve but was recalled to active duty in August 1967. She was recalled initially for 6 months, but this turned into an indefinite assignment. For 10 years, from 1967-1977, Grace served as a director for the Navy Programming Languages Group in the Navy's Office of Information Systems Planning and was promoted to rank of captain in 1973. During her time in the Navy in this group, she developed software for COBOL and its complier as part of a standardisation programme for the Navy. Grace was later promoted to commodore by special presidential appointment in 1983, however the rank of commodore was renamed in 1985 to rear admiral lower half. Grace retired in 1986, shortly after being promoted the year before. A year later, in 1987, Grace was awarded with the defence distinguished service medal, which is the highest decoration given to those who didn't participate in combat.
After retiring from the Navy, Grace went back to teaching where she inspired students until she passed away in 1992. Grace had several career accomplishments, but one of her greatest joy's came from teaching.
What is she known for?
Grace Hopper was known for her development of the first computer complier and the first programming language which helped revolutionise the world of computers. She was awarded with the national medal of technology and was the first and only female to be honoured with this award back in the 90s. The University of Missouri honoured Grace Hopper by having a computer museum on their campus called 'Graces Place'. Here they display early computers and computer components to educate visitors on the evolution of technology.
The Grace Hopper celebration of women in computing conference is a technical conference that encourages women to enter the computing world. Along with the career accomplishments, Graces' legacy includes encouraging young people to learn how to program and code.