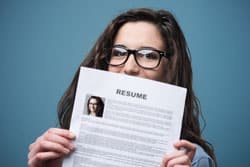 The Information Technology or IT sector has been one of the industries which were historically heavily male dominated, but now this situation is reversing as more and more women see this as a viable career. Nowadays women are taking up roles as Programme Managers, IT Directors, CIOs and more technical positions as Developers, Enterprise Architects and Systems Analysts. The skills required to perform in these challenging IT roles is not down to the gender of the candidate, but more on whether they have the relevant experience to deliver results and operate within fast-paced technological environments that require a comprehensive knowledge of new innovations.
To compete at this level is difficult but not impossible as many successful women in rewarding IT careers will confirm, but a strong CV is vital to ensure you stand out against other candidates and give you an competitive edge. The common misconception is that IT CV documents need to packed full of technical terminology and this is simply not the case, as ask yourself 'Would you read a CV that resembled a technical manual?'. There must be a balance between ensuring that the appropriate platforms, tools and applications appear within the CV, in combination with softer skills such as analytical thinking, strategy, leadership and operational management.
It is extremely difficult to take an objective look at our own CV as when you are so close to this important document then feel compelled to add everything into it, but this can have a detrimental impact on its effectiveness. Why not take the stress out of this process and let TopCV do it for you? We offer a FREE CV Review Service that will evaluate your existing CV and provide constructive feedback including:
How your CV looks to an experienced IT recruiter?
An insight into keywords and how the content of your present CV stacks up against the Applicant Tracking System or ATS
An overall report that rates your CV based on a percentage out of 100%, anything from 90%+ is deemed excellent and anything <60% means you have issues that need to be addressed
So take the first step to giving your CV a competitive edge and a much needed makeover, try our FREE CV Review Service and get an un-biased view of how your looking in today's IT recruitment market.