Many people think that to work in tech, you need to be good at STEM subjects, and be 'geeky'. However, this couldn't be more wrong, as there is a huge demand for creatives within the technology industry. From designing the front-end of websites and apps to leading a content strategy, there are plenty of roles which suit people with a good eye for design and creative flair. In this article we look at 8 jobs in tech for creative people.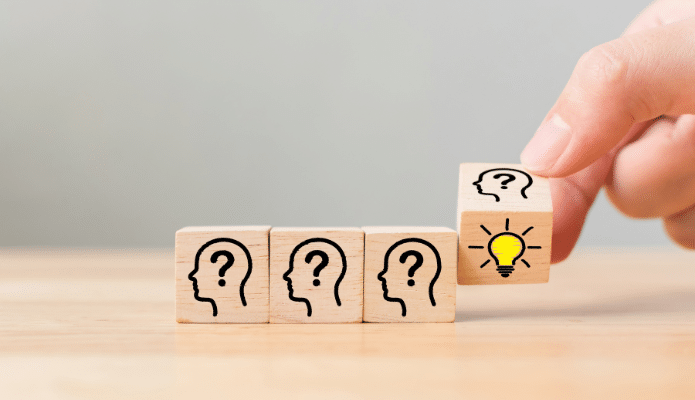 UI/UX Designer
Average UK salary: £45,000
The first example of a creative job in tech is UI/UX Design. Behind every well-designed and user-friendly website or app are a good team of UX and UI designers. The two professions, often combined, work on similar areas of the website and in tandem with each other. In some companies, UI & UX design will be one role performed by a single person. Elsewhere it's split out into two roles, working closely together.
UI Designers work on the user interface, with their main responsibility being to create visual designs of the website/app. Then, UX designers (working on the experience of the service) integrate these designs and features whilst ensuring they deliver an excellent user-experience. If you have a flair for design and are able to come up with intuitive layouts and interfaces, UI/UX design could be a great career option for you.
How to become a UI/UX Designer:
UI/UX designers often need to have a degree in a relevant subject area. These include things like Graphic Design, Computer Science, Digital Design, Digital Marketing and Web Design. Some companies will consider people without a degree, especially if they have a knowledge of programming and/or work experience in relevant companies and positions. There are also short courses available to take in UI/UX to develop your skills and progress in the area.
To excel in UI/UX Design, the following soft skills would be beneficial:
Problem-solving

Communication skills

Detail-oriented

Concentration

Resilience

Adaptability
Video Games Designer
Average UK salary: £50,000
The video game industry is growing at an unprecedented rate, made faster by the COVID-19 pandemic. With this growth comes demand for a highly-skilled technology workforce. The industry as a whole is extremely creative, with innovations like AI and VR accelerating the development of new ideas. So, it's the perfect sector to go into if you're the creative type.
A career as a video game designer is a varied one, from designing characters, settings and even storylines, you could be behind some of the biggest games in the world. With so many platforms now able to host these games, the demand for skilled developers and designers has never been higher.
The responsibilities of a game designer include building prototypes, developing in-game mechanics and functionalities and bringing new ideas to the table for storylines/gameplay. Usually, game designers don't need to have programming knowledge and won't typically do any coding, but some smaller companies may combine these roles.
How to become a Games Designer:
Having a degree is not essential to becoming a game designer, but it is a common route. Around 80% of games designers have a degree according to UKIE, the trade body for the interactive entertainment industry. Relevant degree subjects include Computer Games Design, Computer Science, Interactive Media and Computer Games Art, however STEM degrees are also useful. Many people enter the role from internships, as young people often aspire to work in game design and seek out apprenticeships in gaming companies.
Ensure you build an online portfolio of your work, showing your experience of game design. It's also good to show you keep up to date with the latest gaming trends and show your enthusiasm for the industry.
To excel in game design, the following soft skills would be beneficial:
Communication skills

Teamworking skills

Innovative thinking

Enthusiasm to learn

Problem-solving skills

Adaptability
Front-End Web Developer
Average UK salary: £55,000
Web development is considered a very technical career, but there are developers who specialise only in the front-end of websites/apps. These developers are responsible for the presentation of the website, including the layout, functionality and copy. Whilst this generally involves aspects of coding, it can suit a creative person well, due to the use of design flair and artistry.
Front-end developers often work closely with back-end developers and UX designers, solving problems and making sure the end product is user-friendly and efficient. They will also ensure websites are optimised for purpose and responsive across multiple device platforms.
How to become a Front-End Web Developer:
A degree in computer science might be helpful to becoming a front-end web developer, but it is not essential. If you do have a degree, relevant subjects include Computer Science, Software Engineering and Web Design & Development. There are also many certifications for developers to further their knowledge and support their career growth in front-end development.
Another route may be an apprenticeship or internship which requires no previous experience but teaches you the skills you need on the job. Your starting salary will be lower for these types of roles, but you will gain invaluable practical experience of front-end web development.
The following soft skills are desirable in front-end web developers:
Attention to detail

Logic

Problem-solving

Autonomy & teamwork

Communication skills
Digital Marketing
Average UK salary: £37,500
Digital Marketing sits somewhere between traditional marketing and being a technical role. There are aspects of it which are extremely technical such as SEO, and this is why we've included it as a career on our list. When working in a digital marketing role in a technology company, you can expect to be heavily involved in tracking metrics like customer acquisition, traffic growth and revenue. Often seen in technology companies are roles such as Growth Marketing Manager, focused on the initial growth stages of companies and tracking performance metrics.
Digital Marketers will often work extremely closely with tech teams in a business, as they often act as 'product owners' of things like websites and platforms. Whilst you don't need a huge amount of technical knowledge to be in digital marketing, it can help to have an understanding of functionality and programming.
How to become a Digital Marketer:
Marketing is a career which is fairly open, in that you can pursue it without having a specialist degree. Entry-level positions of Marketing Assistant will usually not require previous experience, and you will learn whilst on the job. Many people enter the world of Digital Marketing via graduate schemes, which generally require a degree to join. If you don't have a degree and wish to get into marketing, it's a good idea to show your enthusiasm by taking courses and qualifications yourself, such as the free Google Digital Marketing course.
Digital marketers need to have the following soft skills:
Mobile Designer
Average UK salary: £49,000
49% of people open mobile apps an average of 11 times per day, and there are more than 6 billion smartphone users worldwide. With the global usage of mobile apps so high, there is an increasing demand for mobile designers, who are responsible for designing and creating these apps. With so many apps to choose from on the market, successful ones must stand out from the others and be beautifully designed and efficient. Much of a mobile designer's job utilises creative flair; the application needs a smart design which not only looks good but performs what it's supposed to do. Many companies are investing in mobile design due to the huge rise in people using their smartphones to do things they previously might've used a laptop for. App designers often then pass their designs and plan on to app developers to then build, so programming knowledge isn't essential.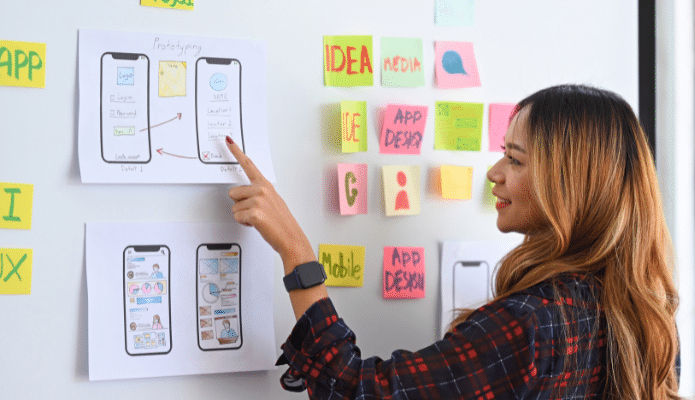 How to become a Mobile Designer:
To become a mobile designer, having a degree in a design-related subject can really help. However, it's not essential, employers look for a design flair and familiarity with mobile operating platforms and trends in the market. Having a keen interest in mobile apps, their functionality and the platforms they run on will help you to stand out to employers. Alternatively, many people start their own apps from scratch and work with freelance developers to launch them.
App designers will need the following soft skills:
Product Designer
Average UK salary: £47,000
Perhaps one of the most creative jobs in tech, product designers create new and improve old products to suit the needs of their customers. The product design process has four key stages; design, modelling, prototyping and testing. The product designer will first meet with a client or, if internal, the product owner/project manager to understand the needs. Then, from there they will generate design ideas using sketches and on CAD software to present as a solution. The job itself is very creative therefore and would lend well to someone who is great at coming up with new ideas and solutions.
Product designers are also very good communicators and listeners, understanding clearly the brief of a project in order to design the best possible product to solve a problem. The product being designed could be anything from a physical entity to a service, application or website.
How to become a Product Designer:
Most people get into Product Design by studying for a relevant degree in product design itself. However, a HND (Higher National Diploma) is another common route. Entry without a degree, HND or Apprenticeship is unlikely due to the seniority and technical side of the role. Similar to the UX/UI designer roles, it's a good idea to keep an online portfolio of any work you've done in the field to show to employers when applying for jobs.
To excel in product design, you'll need the following soft skills:
Augmented Reality Designer
Average UK salary: £38,000
The virtual/augmented reality market is growing rapidly, with many big tech companies investing in it. The technology is no longer limited to things like video games, and is being used in industries such as sales, hospitality and training. With it being such a new technology, there aren't many 'experts' – leaving a big skills gap and demand for more AR/VR designers. It's an extremely creative role, with the freedom to do pretty much whatever you choose – it is virtual reality after all! The main responsibility of an augmented reality designer is to design a virtual world / scenario based on the brief at hand. For example, a car sales company may want an immersive VR environment to give a customer an idea of being in the car. The AR designer would then go away and design this based on the brief. As an AR designer you'd be working with brand new technologies and pushing the boundaries of what's possible.
How to become an AR Designer:
As VR design is still a relatively new career, companies vary on who they recruit. As with other careers in emerging technologies, relevant degrees such as Computer Science and Programming will be helpful. Additionally, VR design uses 3D design, so any experience in that will be a bonus. Keeping on top of emerging trends will also impress potential employers, as it's an ever-changing technology space.
Key soft skills of an AR/VR designer:
Innovative/creative thinking

Communication skills – understanding the brief

Problem-solving

Autonomy

Presentation skills
Content Specialist
Average UK salary: £38,000
Closely linked to Digital Marketers, Content Specialists are responsible for a website's content strategy. Building a good online presence and focusing on search engine optimisation is a key focus for many businesses, especially those who rely on organic traffic. A lot of SEO is very technical, especially when you get into optimising site content for search engine crawls, and this is why we've included this on the list. Although a content specialist wouldn't traditionally sit in the technology team, what they do is often deep routed in technical aspects. Sometimes in larger companies, a content specialist may not get overly involved in the technical SEO side, as there may be an SEO specialist too. But in smaller companies it's likely that a content specialist would be responsible for both.
Typical responsibilities of a content marketing specialist include;
Writing new & optimising old content to go on a website's blog

Creating and maintaining a content calendar, usually across multiple channels

Monitoring and analysing performance of content including traffic, clicks, time on page etc.

Competitor analysis and research
How to become a Content Specialist:
The route to become a content specialist is fairly open, with many people coming from a marketing-oriented degree. Another common route is from journalism, due to the writing-related background. A good knowledge of content management systems such as WordPress, Drupal etc is also beneficial, as these are the most common back-ends for websites to run on.
Key soft skills of a Content Specialist:
Time management

Adaptability

Grammar and vocabulary

Autonomy

Working in a team
Tech careers are commonly thought to be for people who are good at STEM subjects like maths, science and IT. However, there are many creative jobs in tech which lend well to different skill sets and require less technical knowledge. So, if you have an eye for detail, design and are great at innovative thinking and coming up with ideas, a career in tech could be a great choice for you.