Graduate schemes are an excellent way for someone who has recently finished university to get a head start in their tech career. An effective graduate programme prepares people for lifelong learning, as well as learning the technical skills you'll need for your job, you'll be given the opportunity to develop soft skills such as communication and teamwork.
When you choose Experian as the place to begin and build your career, you're choosing more than just an employer. They are committed to building an inclusive culture, where people can balance successful careers with their commitments and interests outside of work.
Starting a graduate scheme at Experian means you are also enrolling on to a two-year structured development programme which runs parallel to the role and will help you reach your full potential. During the programme you'll undergo training, mentoring, workshops as well as given the opportunity to attend a series of modules focused on personal development, which range from managing priorities, discovering your learning style and understanding leadership.
We asked Sophie Millington and Scarlett Crofts, both Graduate Software Engineers from Experian who joined the programme in 2021; what their experiences were on Experian's graduate scheme. Here is what they had to say: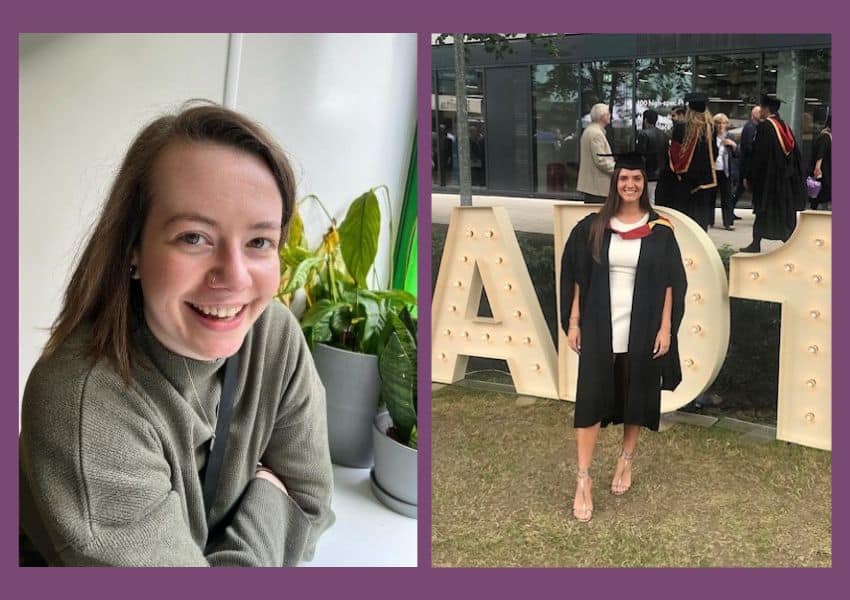 Name: Sophie Millington
Job Title: Graduate Software Engineer
What made you consider Tech as a career path following your studies?
Having been to an all-girls school, and despite loving Maths, Computing and Gaming, a career in tech was never suggested to me as a viable career path. I therefore initially completed a degree in Psychology at Loughborough University which due to personal experiences and interest led me down the path of exploring Mental Health Nursing. After training for 3 years and practicing for 2 years, I decided to take a leap of faith and return to university for a 3rd (and hopefully final time!), completing a Computer Science conversion course. The reason for the U-turn is because whilst practicing as a nurse, I played around with Web Development and completed a Web Development course on Udemy in my spare time. I loved it so much and I knew that this was in fact the career for me. Moving to software development has been the best decision I have ever made!
What stood out about Experian/Why did you apply?
What pulled me in to applying to Experian was not needing to have lots of experience in programming or a huge portfolio of projects I have worked on, as I had little of either, whereas other schemes do seek applicants with this experience. Experian was keen to employee people with varied experience, as they emphasised that the technical skills would be taught on the job.
The talent acquisition team involved in the recruitment process were friendly and supportive throughout. There was emphasis on breaking the view of Experian having a super corporate working culture, which was appealing to me as someone coming from healthcare and hospitality!
Name: Scarlett Crofts
Job Title: Graduate Software Engineer
How do you feel the EC Development Programme has helped with your learning journey so far?
The graduate scheme has allowed me to learn many soft and technical skills. I have the freedom to rotate into different teams to further my knowledge, network and grasp a better understanding of the business. The early careers programme has allowed me to work with other graduates on the programme that I wouldn't necessarily work with day to day from different departments. There are different workshops that take place during the Early Careers Programme that encourage me out of my comfort zone and spurred me to contribute to activities that I would not necessarily have committed to by myself. On the programme there is so much support from so many people e.g. mentor, buddy and a massive understanding on the amount of training that may be required and no expectation.
What has been a key achievement/stand out moment so far? Soft Skill or Technical or Project you have been involved in?
In my first role at Experian, I delivered our decision software (PCCA) to businesses as a client support specialist. I reduced the delivery time from five weeks to three due to a demand from one of our clients. Knowing I completed the build and testing within the time frame and configured certain parameters and strategies to the client's desire gave me a great sense of achievement with only being at the company three months.
I also had the opportunity to be a panellist on the Experian Code First Girls merge Q/A inspiring young females to get involved in tech roles and courses. Discussing my struggles and achievements being in a technology role so far. What advise I give to new beginners that haven't come from a technology background.
Experian believe the workplace should be a place for personal, professional, and emotional fulfilment, they'll make sure you have everything you need at your fingertips to accelerate your career. If you are interested in joining Experian's 2-year programme designed to help you get ahead, then visit: https://www.experian.com/careers/locations-teams/uk—ireland/uk-i-early-careers