Degree Apprenticeships were introduced by the UK government as a response to the skills and talent gap the economy has been suffering from. A degree apprentice splits their time between university studies and the workplace, and gains a salary whilst studying and gaining experience for a degree. But what are degree apprenticeships and what are the benefits to the student and employer? In this article, we take a look at this emerging trend.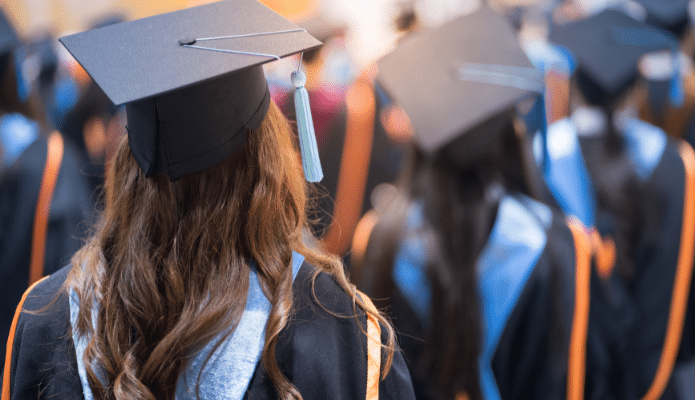 What is a degree apprenticeship?
Overall, during a degree apprenticeship, a student will spend around 80% of their time working, and 20% studying. It offers a hands-on way of learning whilst doing a job, and is fast becoming a popular option for students leaving school. The degree apprenticeship will take around three to six years to complete depending on the subject/specialisation. The apprentice will spend at least 20% of their time during employment studying towards their degree, so the individual might be in university classes one day a week, for example. The rest of the time, they will be fully employed in a role, working amongst a team and learning on the job.
What are the benefits of a degree apprenticeship?
Benefits for the apprentice:
1. No tuition fees
One of the main reasons many young people choose not to go to university are the fees associated with it. As of 2023, UK universities can charge up to a maximum of £9,250 per year, and with courses lasting upwards of three years, this can add up. Across the UK, almost £20 billion is loaned to around 1.5 million students every year, and the government only predicts that around 50% of these students will pay their debt back in full. With interest rates piling, it's unsurprising that some students are looking elsewhere when they finish school. Degree apprenticeships offer a great alternative, as tuition fees are covered by the employer who, in essence, sponsors the student as an employee. So, you won't be left with a huge bill at the end of your degree.
2. Earn whilst you learn
Another one of the biggest benefits of a degree apprenticeship is the fact that you get paid – you have a job! Your employer will pay you a salary and employ you into a role and team in the company. Many students who go to university need to get part time jobs to get by, but when enrolled on a degree apprenticeship, you will be able to earn a living whilst studying for your degree qualification. However, it's worth noting that you won't be eligible for maintenance loans as usual university students are, so you'll need to be able to cover your cost of living yourself.
3. Real life experience
Not only will you earn a salary whilst working towards your degree, one of the most valuable things about doing a degree apprenticeship is the real-life experience you will gain from working in your chosen field. Graduate level employers value experience in roles arguably more than a traditional degree, so this will put your CV at the top of the pile when you do come to look for a role. Further to this, many – if not most – apprentices are offered a full-time position at the end of their apprenticeship.
Benefits for the employer:
1. Develop skilled and experienced staff
By taking on apprentices, a business can mould them to fit the job roles they need or are missing. This will, in most cases, be the individual's first experience working in a full time job, so everything you teach them can be relevant to the role they're doing and your business. Your apprenticeships are also likely to want to stay with the company once they have graduated, meaning you have built loyal and passionate employees.
2. Spread new knowledge throughout the business
As we know, having a diverse workforce breeds innovation, with people from different ages, backgrounds, gender, races and cultures bringing different viewpoints, ideas and knowledge to the company. By employing degree apprentices who are learning on the job and studying university theory, you can bring different viewpoints and perspectives that you may not previously have had.
3. Expand diversity of the team
Following on from that, you can also expand your diversity in your team by bringing in different routes to employment. Many people wouldn't be able to afford to go to university and get a degree, so degree apprenticeships offer another route to employment and higher education and removes common barriers which may exist.
What are the disadvantages of degree apprenticeships?
1. Miss out on university experience
For many people, going to university is not only about studying for a degree. The other side of university is the social element. For many, university is the first time they live away from home and gain independence from their parents/home life. As degree apprenticeships are ultimately full time employment and do not have any loans associated with them, most choose to continue living at home. You also lack the social side as you don't have flat mates/you spend less time in the university environment.
2. You need to balance work & study
A degree apprenticeship is demanding, you need to juggle working a (near enough) full time job with your degree coursework and study time. Some students may thrive under pressure and enjoy having more to do, whereas some people may be more suited to the more free time a traditional degree brings. Many apprentices find that they need to work evenings and weekends on their university studies to catch up, so it is in no way an easy option.
Who are degree apprenticeships for?
Primarily, degree apprenticeships are taken by 18-19 year old school leavers as an option for further education. However, they are also an option for mature students who want to gain a degree. However, for students over the age of 24, some fees may apply for specific apprenticeships. You do also need to be eligible to work in the UK as you will be employed.
Degree apprenticeships are only available in vocational subjects, so the amount to choose from is limited. They are particularly popular in IT & technology, with over 36,000 people joining a degree apprenticeship in 2021/22 in IT. Many employers are offering more degree apprenticeships every year. For example, Jaguar Land Rover announced a record number of degree apprenticeships in February, which will start later this year.
Some of the employers offering degree apprenticeships in tech include:
Rolls Royce

Ernst & Young

Capgemini
Degree apprenticeships are a great option if you would like to gain a degree without the loans and commitment associated with going away to university. The option to earn whilst you learn is becoming an attractive aspect for many students, and with more employers than ever offering degree apprenticeships in 2023, we expect to see many students go down this route in future – especially in technology.
Read our complete guide to graduate schemes here, and download our free Women in Tech graduate guide here.