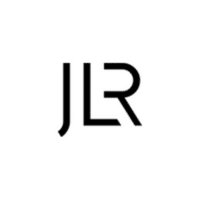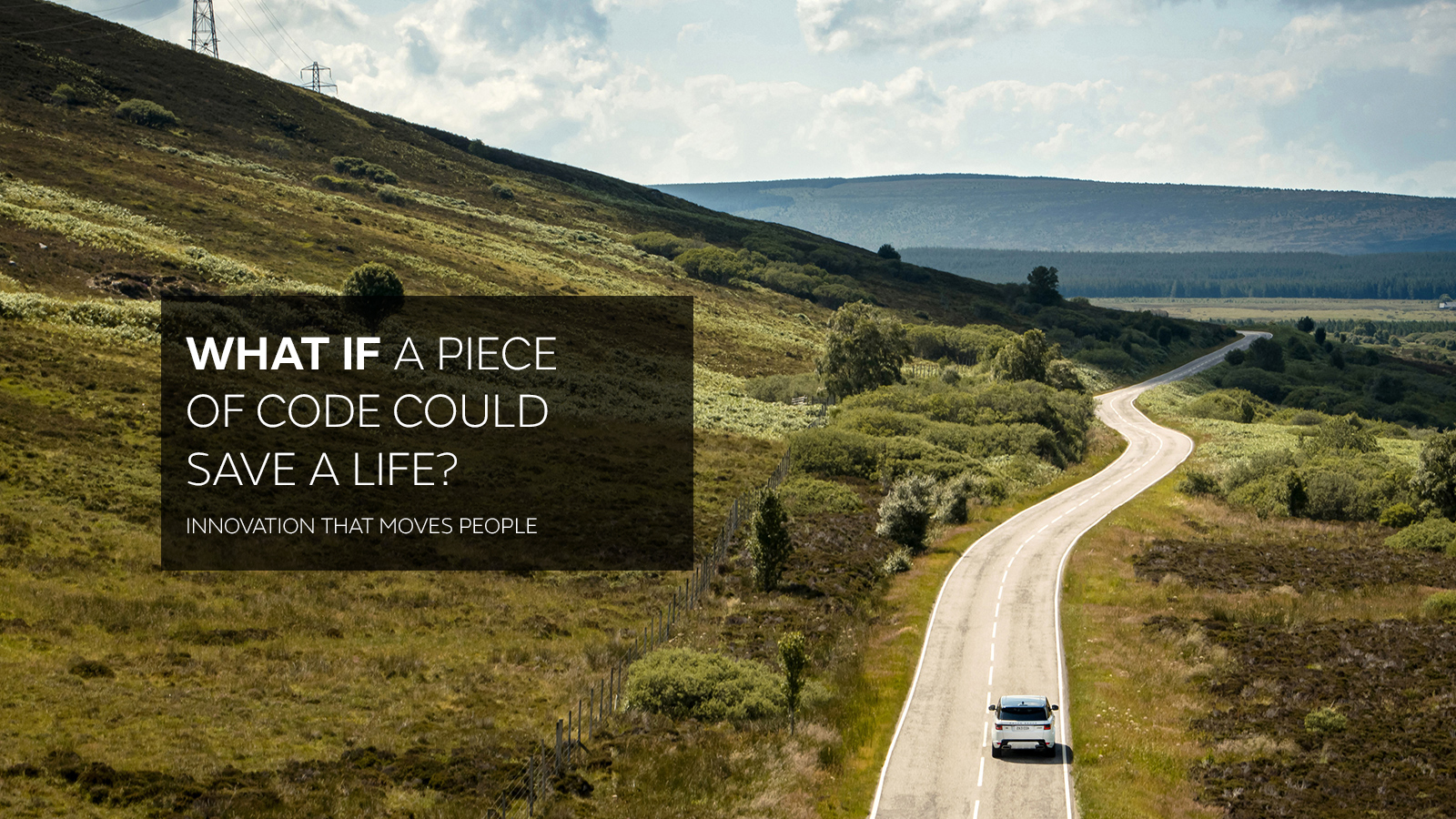 Find out more about our current opportunities here.
We're reimagining the car of tomorrow. Our vision for sustainably-rich modern luxury cars is the biggest challenge we have faced in our history. And it's one that will be achieved through agility, curiosity, creativity and innovative technology. The brightest minds will help us get there. People who question everything in their pursuit of creating innovations that move people.
We make cars that excite the senses, get pulses racing and put smiles on faces. Cars filled with innovations that delight customers. From technology that can read the road, to early collision systems that can read the driver, our cars are filled with innovation that keeps customers safe, secure and supremely satisfied.
The brightest minds will help us get there. People who question everything in their pursuit of creating innovations that move people. People who will drive creative thinking faster than the competition. People who accelerate the change to cleaner, smarter, faster and unique luxury solutions. People who can discover a way of working that suits them and their creativity best. And people who can power the future of JLR.
Reimagining technology, disrupting an industry and developing solutions for a better world will be realised through our strategy, our investment and with the brightest technology minds who can develop new innovations that move people.
Our Technology Hubs
Our teams are global and by joining us you will collaborate with teams within our hubs in Manchester, Shannon, Portland USA, China, Hungary and India.
Shannon on the west coast of Ireland and Manchester in the Northwest of the UK are our primary Hub locations. These tech hubs are developing innovations that will have far-reaching effects in our communities. Our ideas will fundamentally change how people move and interact as a society. We think beyond the car. Creating ideas that will truly change how people move, how business gets done and how lives are lived.
The brand-new facility in Shannon is leading the charge in software development for level four automated driving and electric vehicle architecture. Our high-tech Software Development Centre in Manchester is working alongside and in collaboration with our Gaydon Pioneering Hub, in Warwickshire, to integrate connected technologies in our next-generation vehicles to create premium, in-car experiences.
Hybrid Working
At JLR we offer hybrid working where you can split your time between working from home and in the office. Hybrid working is a voluntary, non-contractual arrangement providing employees with more choice and flexibility around how, when and where they work, if suitable for their role.
Culture
At JLR, we are passionate about our people. They are at the heart of our business. We are committed to fostering a diverse, inclusive culture that is representative of the society in which we live; a culture in which every one of our employees can bring their authentic self to work and reach their full potential. We believe diversity and inclusion is about leveraging the power of the differences and uniqueness that each of us bring, whether it can be seen or not, because we are all different, we are all unique.
We aim to:
• Shape a culture of unity, belonging, inclusion and respect
• Implement progressive policies, benefits and support
• Engage our employees to accelerate our progress
Embracing inclusive behaviours and taking a zero-tolerance approach to any form of bullying, harassment or discrimination is both the right thing to do and will also improve innovation and positive decision-making. Responsibility for fostering an inclusive culture starts with the individual, and we encourage all our people to think about how they can act as allies to others. Through allyship, we aim to encourage continuous education and positive conversations to address knowledge gaps, ignorance and unconscious bias and foster an inclusive community.
We are proud to champion racial equality in the workplace as the first UK car manufacturer to sign the Business in the Community 'Race at Work Charter' and to have joined The Valuable 500, a global movement dedicated to ensuring disability inclusion in business. We are proud to partner with a number of external organisations to drive improvements across our business in Diversity and Inclusion.
Developing your Skills
We have launched the JLR Learning Academy; a home for lifelong learning. We are creating engaging, relevant and personalised learning content and experiences that can impact personal, team and organisational performance.
It is essential people are curious about things and take their own development seriously in order to be better equipped to move into different roles, projects or careers. The value of our people lies in their continued development and in our commitment to invest in their learning and growth in order that they can optimise their performance, whatever their role.
An essential ingredient in our success is the creation of an environment where managers actively share what they are learning and encourage others to grow and stretch and where they coach and mentor others to maximise their team's performance and continued growth. Through the JLR Learning Academy we are seeking to enable people to learn, create, grow and to support others to do the same; daring each other to embrace the changes and the challenges we face and ensure our future is bright.
Rewards and Benefits
A professionally satisfying and exciting role isn't the only thing you'll find rewarding around here. We'll look after you with a host of benefits designed to reward and recognise good work. And we'll invest in your potential with award-winning training.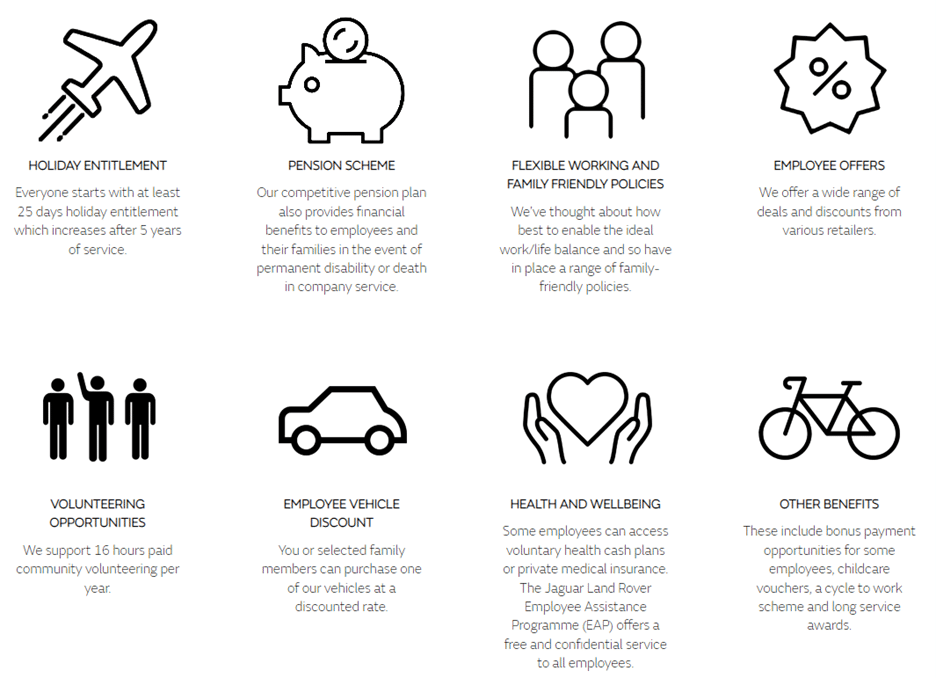 Apply Now
Join us and you'll sit at the very heart of what we do. And the decisions you make will have a direct influence on our success, and yours.
Find out more about our current opportunities here.